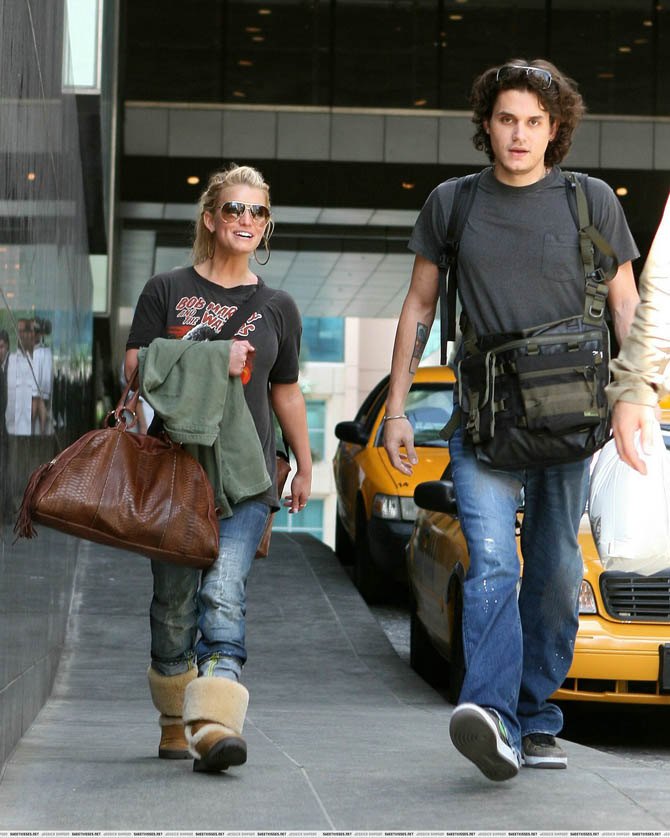 Ugh, I read this "report" yesterday, and I thought it was total crap. But now other gossip sites have picked up on it like it's really going to happen, so here you go: Jessica Simpson and John Mayer: The Sequel. Barf.
Mayer and Jessica were seen lunching together in Calabasas early in April. Mayer has a home in Calabasas, so perhaps Jessica came to him. They were careful not to be seen together, yet "so happy" to be with each other. They should both be ashamed of themselves… or maybe not. Could it that they're perfect for each other? That they got it right the first time around?
OMG! John Mayer is really making the rounds!

An inside source reveals exclusively to X17online that John Mayer and Jessica Simpson had lunch in Calabasas earlier this month! The duo was very careful not to be seen, and the source tells X17online, "Jess and John looked so happy to see each other, and it looked to me like they were more than friends!"

What is going on here?! Would Jess dump Tony for John, or is she just being a great flirt friend to the newly single singer? And what would Tony think of this?! Think the NFL quarterback is scared of losing his lady to John?

Who do you think John is going to wind up with next?
[From x17 Online]
Forget about who Mayer is going to end up with (my guess: about a million random drunk groupies), why is Jessica Simpson throwing away her relationship with Tony Romo? Is this the beginning of the end for the quarterback and the… "country singer"? Is that what Jessica Simpson is now? My guess was always that Mayer dumped Jessica and she was pretty devastated, because she didn't know any better. Because, bless her heart, she's dumb as a box of hair and she really thought John Mayer was the best she could do. Why is she going back for seconds with the guy who broke her heart? Poor Jessica.
Here's Jessica and John back in 2007.