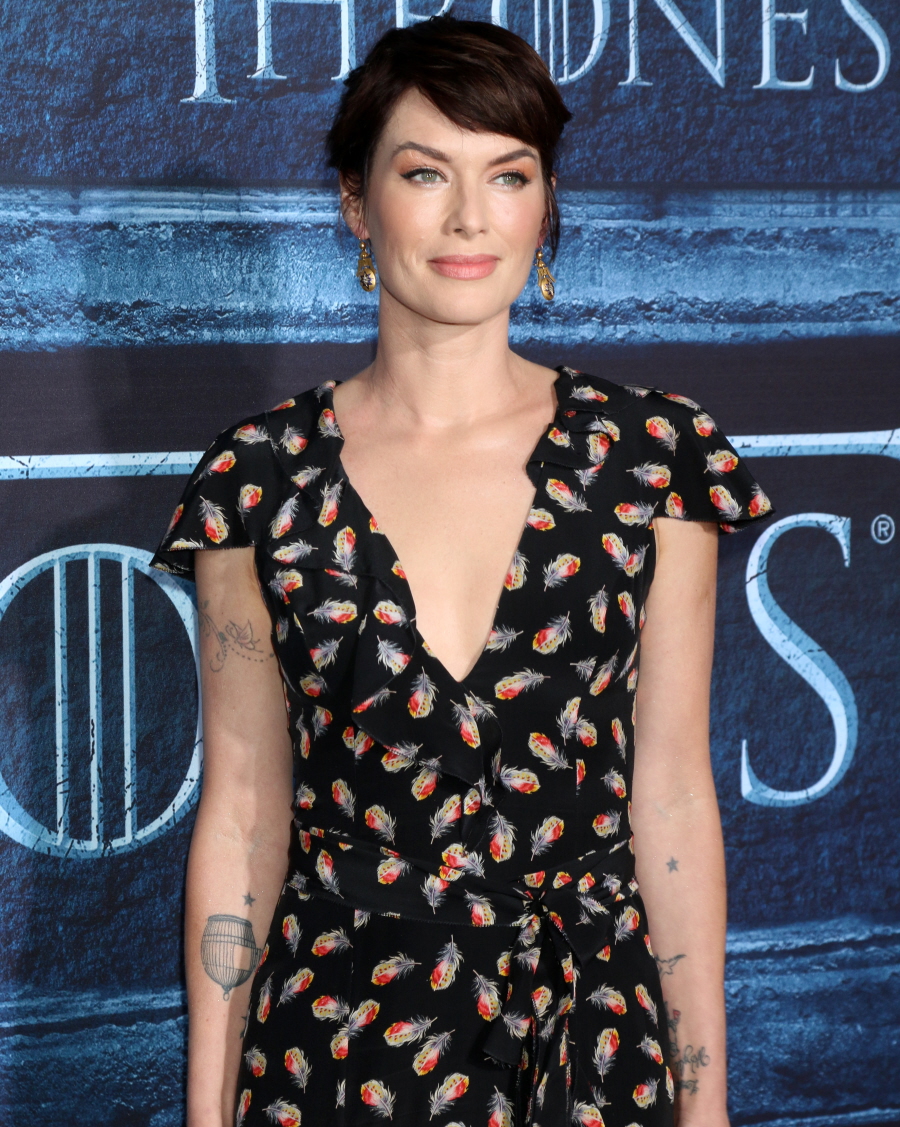 Major SPOILERS for Sunday's season finale of Game of Thrones.
Even though I hate (or love to hate?) Cersei, I find Lena Headey absolutely charming. You can just feel that Lena has so much fun playing Cersei on Game of Thrones, and unlike so many actors, Lena doesn't care if her character is likeable in the least. I honestly thought we would be discussing Lena's exit-interview following the finale – I thought for sure that Cersei would die at the end of Season 6. But she didn't. She played her trump card and burned all of her enemies in one glorious wildfire bang. Then Cersei's last surviving child, King Tommen, committed suicide rather than be a pawn in his mother's throney shenanigans. So what was left? Nothing, except to take the Iron Throne by herself. Cersei's support is a mile wide and an inch deep, and she will obviously not remain on the throne. Even Lena says as much. Here are some highlights from her EW interview, which is all about the finale:
On the prophecy: "Yes, the prophecy finally comes true. Which is horrible. Yet at the same time, she has her greatest moment of triumph. She gets rid of all her enemies, that she knows of anyway. Then there's that moment where she goes to see dead Tommen and she thinks, "Ah. Well. I'll [take the crown]." It's so wrong.

Reading the finale script & realizing Cersei was taking out her enemies: "I was grinning.. Everyone is going to be aghast and thrilled and annoyed they're on Cersei's side for a minute."

On Frankenclegane's torture of Septa Unella: "It's so filthy. It's so great. Everybody's witnessed what happened with the two of them. I don't think people will be able to help going, "Yes!" But it's so depraved, it's brilliant. The scene was meant to be worse, but they couldn't do it. This is like the tame version. It's pretty bad still though. I'd take being exploded in the Sept over that any day."

When she realized Cersei would sit on the throne: "I couldn't believe it, obviously. I was really shocked. I read it like nine times, like, "You're joking!" Then I'm left to wonder who's going to take her down. She may only be there for a second. You do think, "What the f— comes next?" Then we start again to play that game we all play each season, "Who's going to be on the Iron Throne next?"

Whether Cersei will have a long reign: "No. Surely not! Not a chance in hell. It's a moment of punctuation in the madness."

She hopes next season will have a Cersei-Tyrion reunion: "I'm as excited as anyone to get Cersei and Tyrion back together. It just works. Those two characters are so interesting because there's so much hate, yet slight respect too. They'd kill each other if ever given the chance."

Who should kill Cersei: "I think it has to be Arya or Tyrion…No one would relish her death as much as [Tyrion] would."
While I love that Lena name-checked Arya as her would-be assassin – and Cersei is absolutely on Arya's much-recited sh-t list – that would go against the prophecy, all of which has come true thus far. The prophecy was right that she would bury all of her children. And the prophecy is likely right when it predicts that she will die by Volonqar, which is Valyrian for "little brother." Cersei is actually the "older twin," so both Jamie and Tyrion are her little brothers. Who will kill Cersei? Tyrion or Jamie? Lena's BFF is actually Peter Dinklage in real life, by the way. They adore each other and spent several years renting a house together during filming of the show. Lena tells EW that if Tyrion is the one who kills her, "Maybe we could have a dying kiss or something." She just wants to get a snog off The Dinklage!
Also – poor Natalie Dormer also gave a short "exit interview" to People Magazine about how Margaery died because of the High Sparrow's incompetence. Which is true.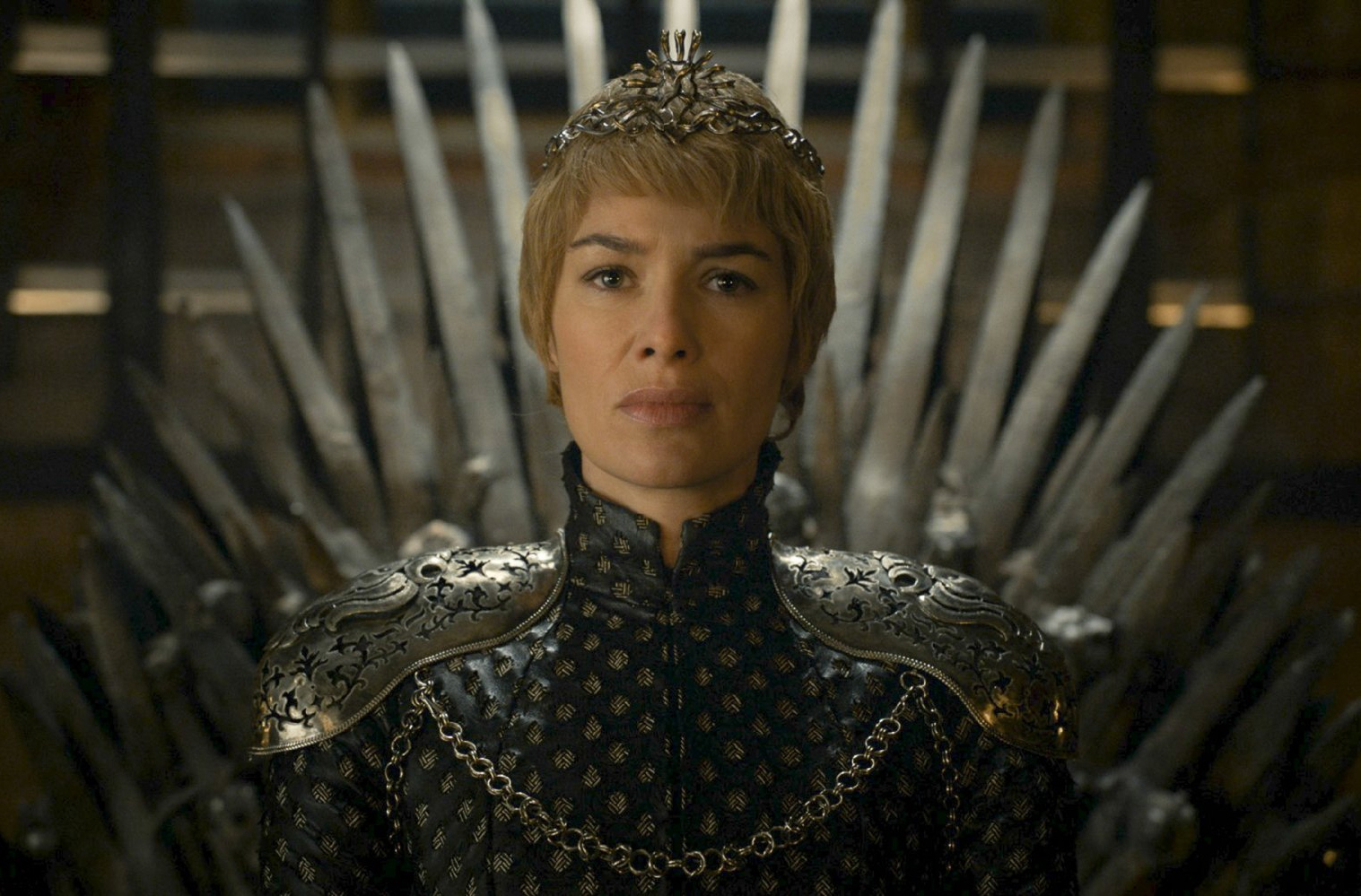 Photos courtesy of HBO, WENN.