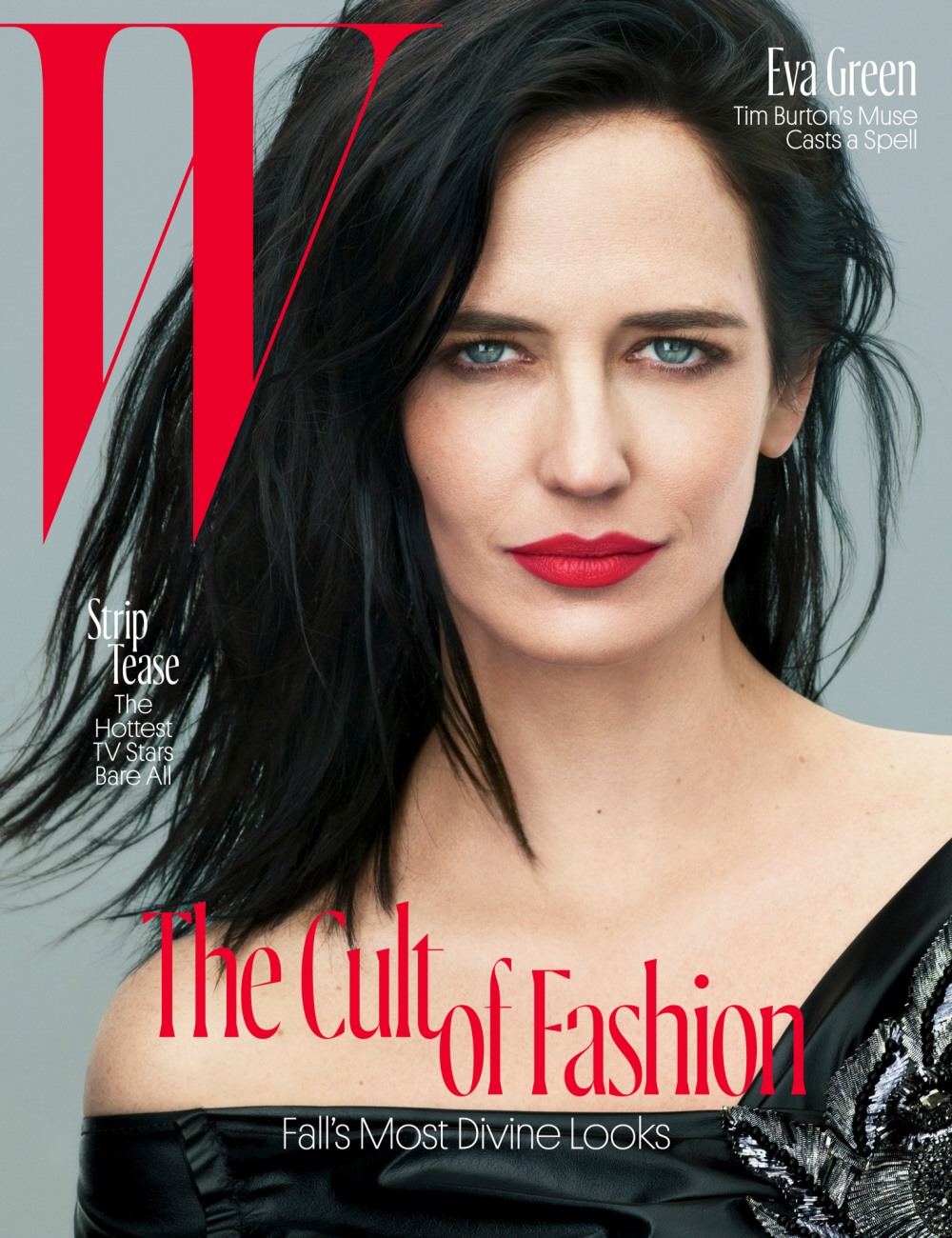 Remember when everyone thought Eva Green and Johnny Depp were maybe/probably having an affair several years back? It was right around the end of his relationship with Vanessa Paradis, during the time we now know he was courting/romancing Amber Heard. But I always wondered if Eva and Johnny had something at one point. We'll probably never know. These days, the rumor going around is that Eva is possibly romancing Tim Burton, who directed her in another film (which she's currently promoting) called Miss Peregrine's Home for Peculiar Children. It comes out in September, so that's why Goth Princess Eva Green is on the cover of the August issue of W Magazine. I think very highly of Eva's beauty, and this editorial does not do her justice at all. You can see W's cover package here, and here are some highlights from the interview:
Her witchy image: "People have this image of me as being otherworldly…"

Miss Peregrine: "Miss Peregrine is like a dark Mary Poppins. She has the ability to manipulate time and uses her powers to protect the children. Miss Peregrine will kill for them… And she does! Which was fun."

What Tim Burton says about his rumored lover: "Eva was not instantly knowable. There was something private and mysterious about her, and that's not common in this day and age. People think she's 'dark,' but she's more interesting than that. People assume I'm dark too, but I'm really not. Is it just because I wear dark clothing? Do people want me to be in a white suit, like Mr. Roarke from Fantasy Island?! Eva faces the same dilemma. We share a complicated way of looking at things. We both have an interest in the unusual." (It has been rumored that Burton and Green are romantically involved. "All I can say is that Eva seems to be his new muse," said a close friend of the director's. "He finds her very inspiring.")

She was a geek in her younger years: "I was not popular in school. I was a real geek, hugging the walls. I blushed whenever the teacher would ask me a question. I was paralyzed."

Early crushes included Jack Nicholson in The Shining & Marlon Brando in Last Tango in Paris. "I love Nicholson when he goes crazy with the ax! And when I was 15, I had an enormous poster of Last Tango in Paris on my wall. I was obsessed with the director, Bernardo Bertolucci."

She's fine with doing nudity: "It is very paradoxical. I am so shy, and, at the same time, I kind of expose myself literally to thousands of people. I don't really understand why I do that. I need to go through therapy!"

Her role in Casino Royale: "At first, when they approached me, I thought it would be me wearing a bikini and being beautiful, so I said I wouldn't audition. Then they sent me the script, and I saw that Bond was falling in love with my character—that she was sensitive and full of secrets. I could understand that. And in Casino Royale, I had to die. I die in a lot of movies. I don't know why—it's one of the unusual things about my career. I guess it's a big rehearsal for the inevitable."
"I was not popular in school. I was a real geek, hugging the walls." I believe that she was unpopular, but I think the word "geek" might be misapplied here? She sounds like a nervous, high-strung kid who didn't have a lot of friends, but not really a "geek" the way we think of geeks these days. And I consistently find it extraordinary that all of these beautiful actors (around the world!) were all so geeky and unpopular when they were young. Bulls—t! Some of them were the popular Mean Girls, some of them were jocks, some of them had lots of friends.
So, do you think Eva and Tim are banging? I went into it thinking "no," but after I read his quotes… maybe? Like, is Eva his new muse after he split from Helena Bonham Carter?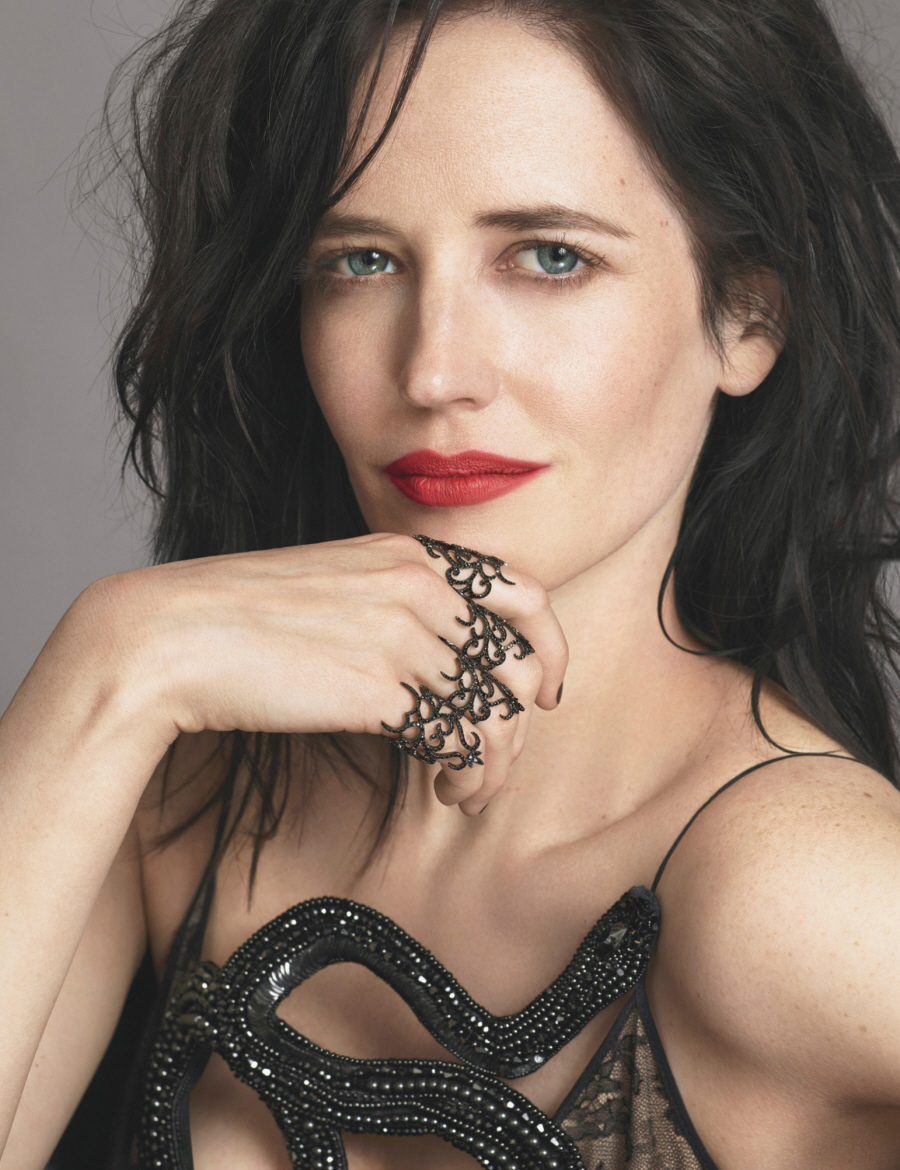 Photos courtesy of WENN and Mert Alas and Marcus Piggott for W.