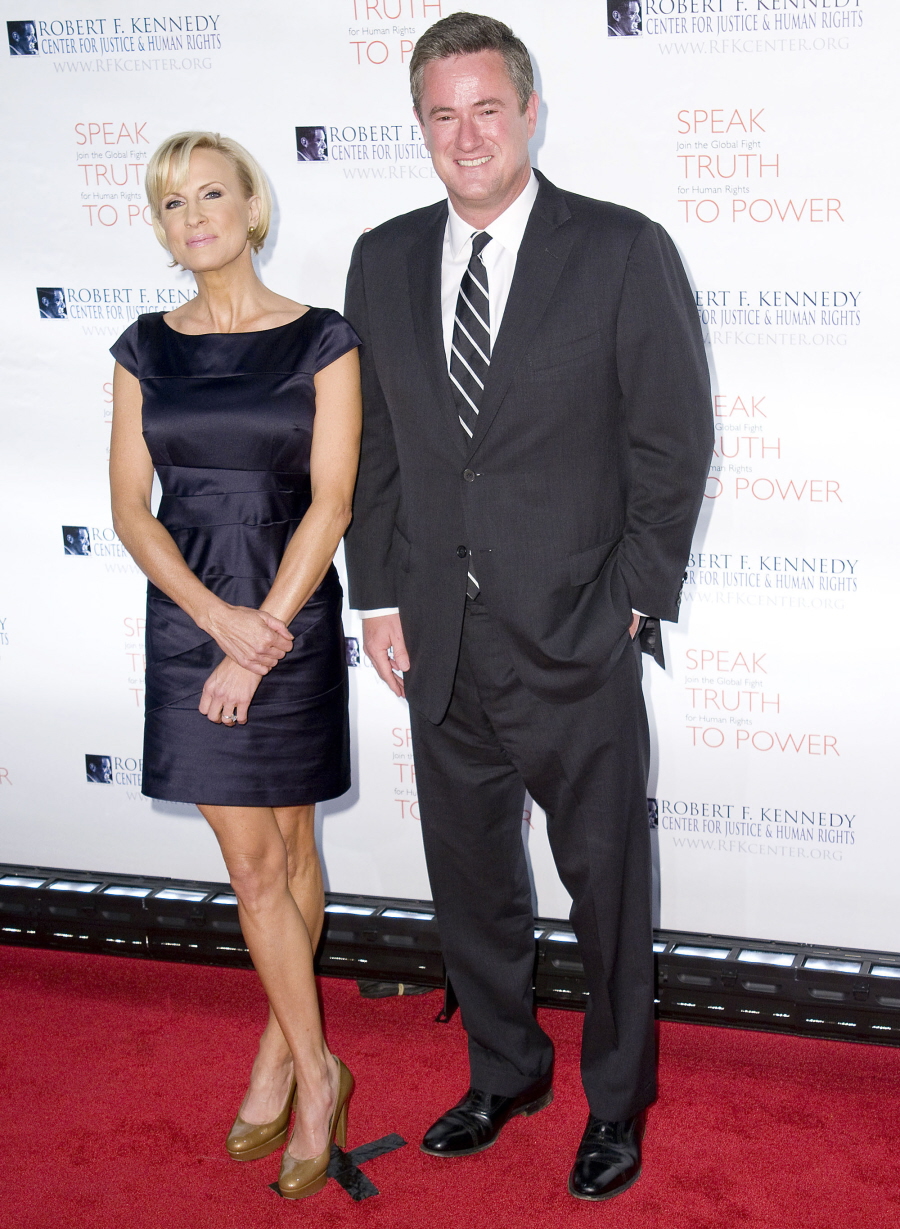 As I get older, I become more and more of a morning person. Which means that on weekdays, I'm usually up and eating breakfast in time for the first 20 minutes of Morning Joe, MSNBC's absolutely awful morning show with hosts Mika Brzezinski and Joe Scarborough. Nothing gets my blood churning in the morning like Joe Scarborough pontificating on politics. I would honestly find a new morning show to watch, except that at 6 am, Morning Joe is basically the best thing on the air. It's sad. Anyway, over the years, people have made a big deal about Mika and Joe's on-air and off-screen chemistry, how they're like an bickering old married couple and they have each other's backs and all of that. I didn't think much of it. As it turns out though, there was something there. Joe quietly got a divorce several years back and Mika has just finalized her divorce. And now everyone's saying Mika and Joe are together?
"Morning Joe" hosts Mika Brzezinski and Joe Scarborough could soon go public as a couple. Page Six has exclusively learned that Brzezinski and her husband of 23 years have quietly divorced. Popular MSNBC stars Scarborough and Brzezinski are widely rumored to be romantically involved — and there's plenty of on-air chemistry for all to see. But while Scarborough is also divorced — since 2013 — the TV duo have never confirmed they're romantically involved.

An NBC insider told us, "Everybody at 30 Rock knows they are a couple . . . They are constantly together, they arrive and leave events together, even on weekends. They are each other's publicists and finish each other's sentences. It's the worst kept secret in TV."

Brzezinski, 49, and her ex-husband, WABC Eyewitness News investigative reporter James Hoffer, who married in 1993, have undergone an under-the-radar divorce, which was recently settled, we're told. They have two teenage daughters. Scarborough, 53, divorced Susan Waren, a former aide to former Florida Gov. Jeb Bush, in 2013 after a 12-year marriage. The former couple, who have two children together, separated the previous year.

An MSNBC spokesperson confirmed to Page Six, "Mika's divorce was finalized in the past year. She's really grateful that it was done amicably and in private. This has, of course, been a painful time for her family. So right now she is focused on her two teenage daughters, and on continuing to heal."

The spokesperson declined to comment on the status of her relationship with Scarborough.

A friend of the "Knowing Your Value" author said: "Mika has always been very open — in her books and elsewhere — about her failures and disappointments in life, her struggles with eating disorders, her career, the ups and downs of parenting." The friend added, "I'm sure down the road she'll want to share more about this experience, but right now she thinks it's best for her family to have some privacy."
I'm genuinely surprised to learn that that Mika quietly got a divorce – she's always making references to her husband and her kids on-air, although now that I think about it, the references to her husband have been few and far between in the past year. So have Mika and Joe been banging this whole time? Did they both cheat on their spouses and make a promise to each other to leave their partners for each other? The only thing nice I have to say about this is that I sort of like that their affair (alleged affair) took place in a work context, and that they're close in age (he's 53, she's 49) and it's not a situation where Joe left his wife for some 22-year-old intern. That's the only good thing I can say about this "morning show scandal." Their poor spouses! Both of the exes are probably wondering how long this affair has been happening.
Photos courtesy of Getty, WENN.