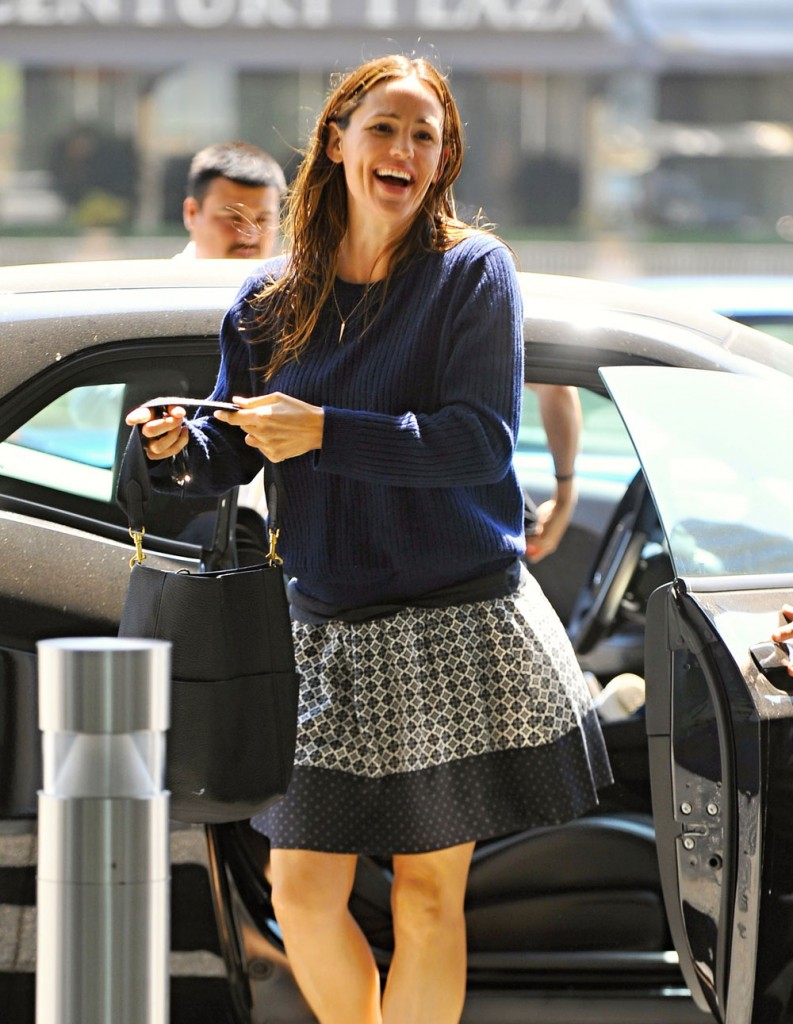 When Ben Affleck gave his kind of slurry arguably drunk sports show interview, many of you noticed that he referred to Jennifer Garner as his "wife." He was telling the same narrative we've heard from him before about how Jennifer Garner made his career possible by holding down the homefront, which is nice because it shows he doesn't take that part of their relationship for granted. I didn't put much stock in Affleck calling Garner his wife, but it may have meaning. ET Online has a pretty long story they're billing as an exclusive, with quotes that they're "making it work" and the detail that their source does not know if these two will ever file for divorce. It's carefully worded, but it hints at a reconciliation. Three weeks ago we heard that Garner was "adamant" that she would divorce Affleck. Does this mean that he's still holding out hope or are they back together?
It's been almost one year since Ben Affleck and Jennifer Garner announced their split, and Wednesday marks the 11th anniversary of their wedding. However, while the two are separated, they still remain legally married.

"They still have not officially filed paperwork for a divorce," a source tells ET, adding they "don't know if that will ever happen…"

Affleck also recently referred to Garner as "his wife" in an interview on HBO. They're "making it work," the source notes about the pair, and as the months have flown by, the estranged couple has settled into a new normal of co-parenting and "the year of wine," as Garner put it in a February sit-down with Vanity Fair…

Affleck didn't travel too far following their separation. Reports swirled shortly after they pulled the plug on their longtime romance that the 43-year-old actor was still a presence at their family home. "He still lives on the property in Brentwood, California, but in separate living quarters," another source tells ET.

There are no boundaries between them when it comes to their kids. The proud parents have been seen out and about together as a family on countless occasions. So much so that it has sparked reconciliation rumors, especially after their family trip to Paris and London in May while Affleck filmed Justice League. But will it happen? A source close to Affleck tells ET, "They're in a good place and co-parenting the best they can."
So are these two still telling the press every up and down in their relationship or did ET ask and get this kind of non-committal answer? ET had another story a couple of weeks ago saying that they were "fine." Whatever is going on, The tipster who sent us this story also pointed to this story in the Daily Mail in which Affleck was seen visiting a "friend's" place in LA over the weekend. (Those photos are below.) He has wet hair so he may have been going for personal training or a massage or something.
People has a competing story that Ben doesn't want the divorce but Jen is "adamant" about going through with it. It sounds just like their story from earlier in June. It was a year yesterday since they announced the divorce and then dealt with nannygate:
A friend of Garner's says that "Ben still doesn't want the divorce" but that Garner has denied reconcilation rumors to pals. She "doesn't seem to mind at all that [the divorce] is not finalized," but "she seems adamant about going through with it," the friend says.

"She did have the best time in Europe with Ben and the kids," says her friend. "She seemed to enjoy spending time with Ben again."

"They have a lot of admiration and respect for each other," adds a source close to the couple.

The couple are continuing to stay together at their family home when they're both in L.A. as Affleck flies back and forth to London for filming.

Another source close to the couple told PEOPLE recently that "nothing has changed" in the relationship: "They're still all about putting the kids first."
So this seems to be the new normal for them. I mean this kind of tentative relationship along with competing stories in the press about whether they're getting back together or not. As long as we're talking about them, right?
Radar reported that Jennifer's mom and dad, who live in Charleston, WV where she grew up, have had their home destroyed by the devastating flooding there and are staying in a hotel. They state that Jen is planning a fundraiser to help, and she has also publicly asked for support for Save The Children, with whom she's worked in the past and which is doing relief work on the ground. Incidentally, Radar claims to have an exclusive interview with Jen's dad which "reveals how she won [Ben] back for good." That's what they write in the title, but all Mr. Garner says is that he is "awful proud" of Jen and "would prefer not to comment on her plans. Any news will come from her and not from us."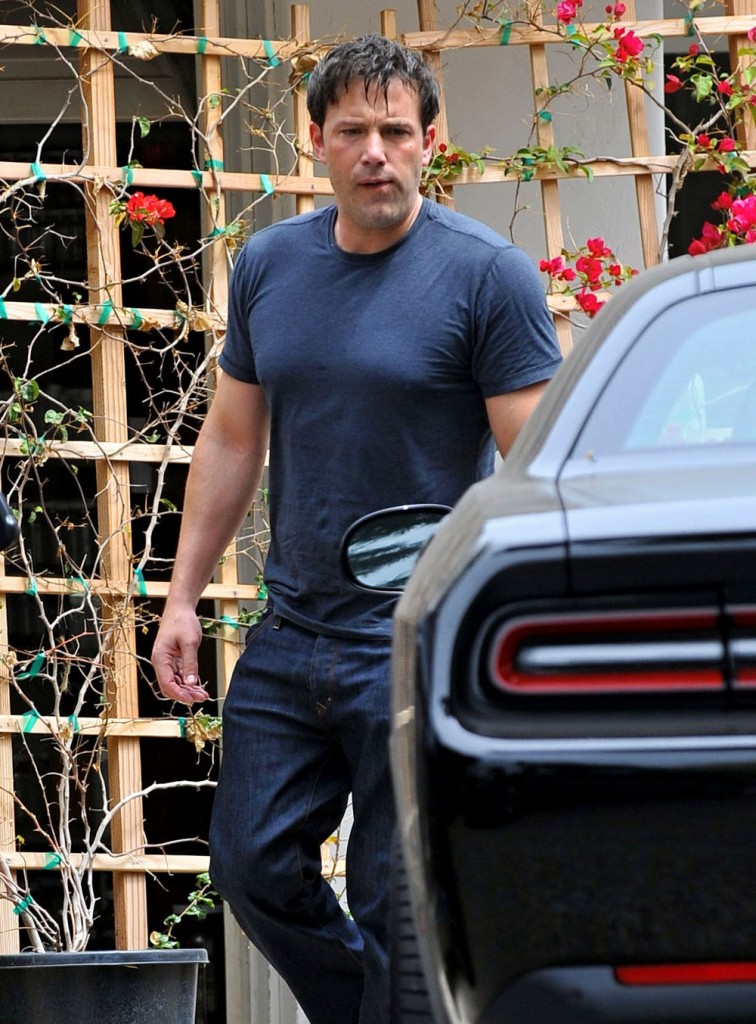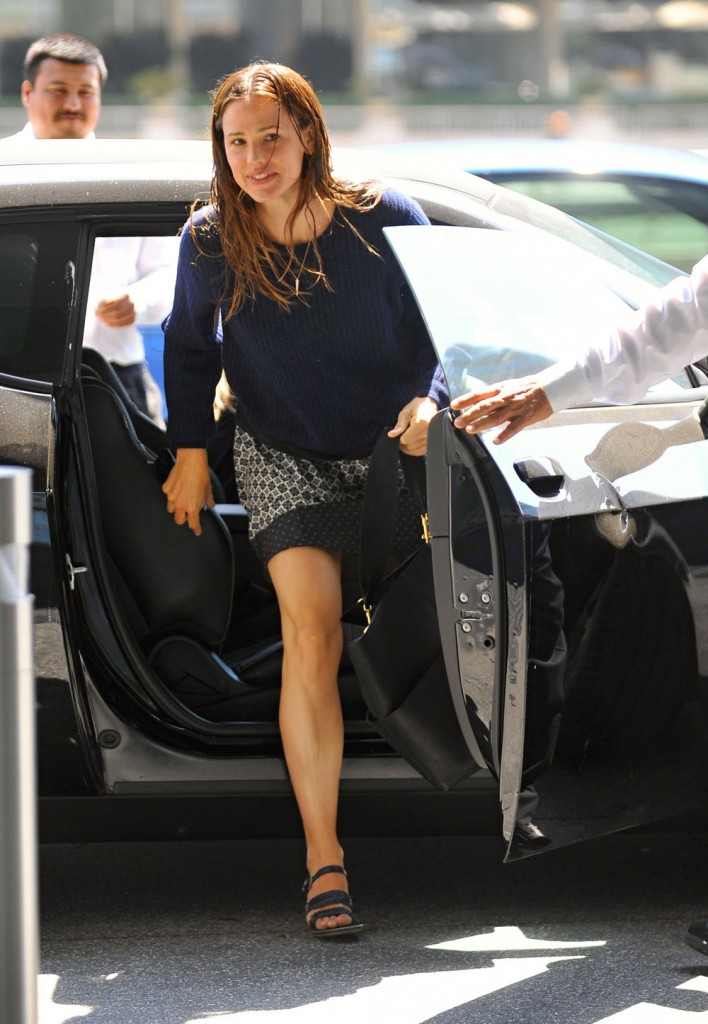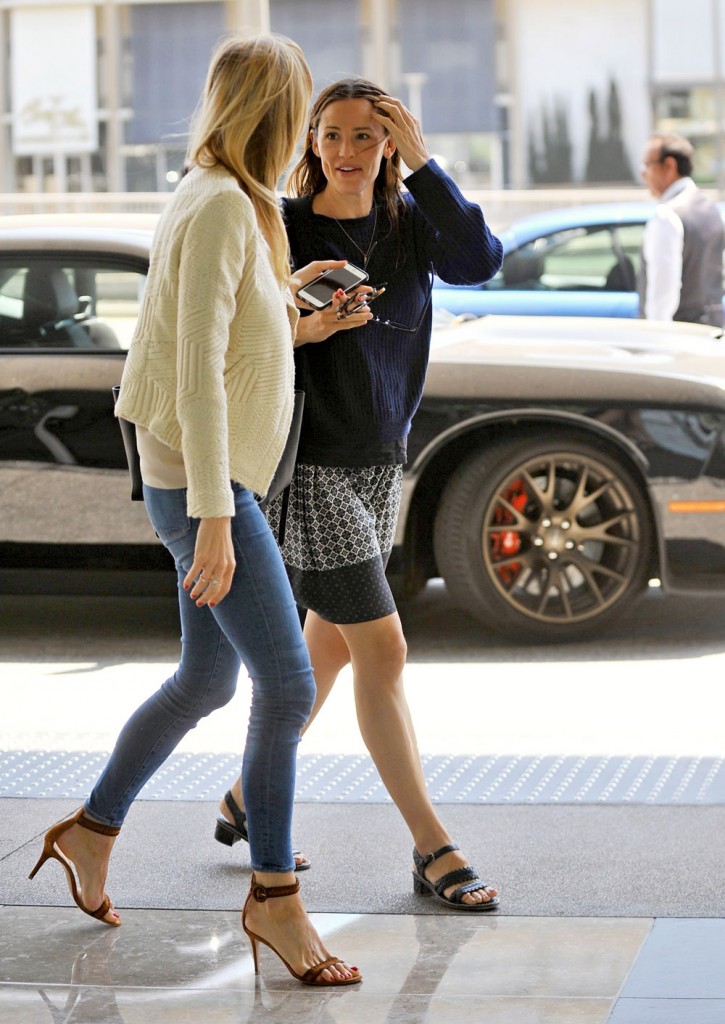 This is Jennifer Garner outside a business meeting. Like Ben, she also has wet hair. Credit: FameFlynet