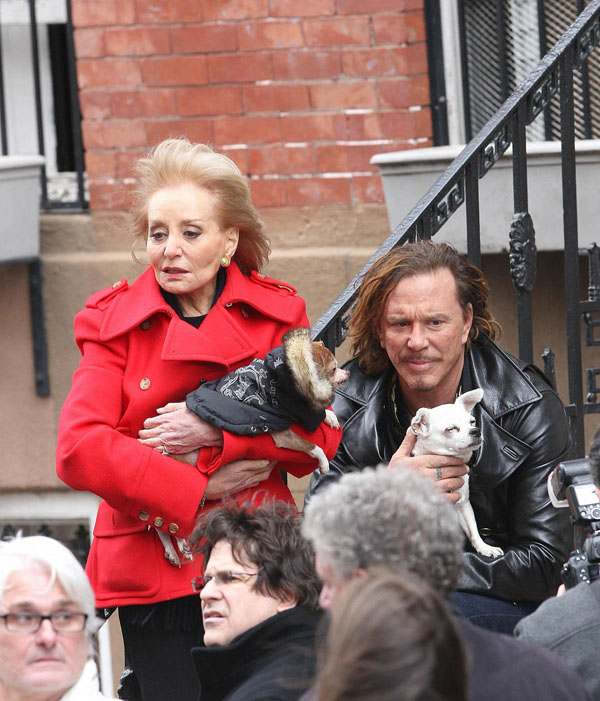 Mickey Rourke has the ultimate wingman – a dog. Specifically, his Chihuahua, Jaws. Jaws does all the work reeling in the ladies, and then Mickey comes in for the kill. "Kill" being "sex with Mickey Rourke". This is honestly how men operate, I've seen it in action. They'll take their dogs to the park or to an outdoor restaurant, and they'll totally use their puppies to win over women. I have to admit, I've met men because I've gone over to pet their dogs. Most of the time, the dog is the best part about the guy.
Jaws is actually new to the wingman scenario. Mickey's favorite wingman was his beloved Loki, who died a few days before the Oscars, in February. Since Loki's death, Mickey and Jaws have become inseparable – Jaws and Mickey travel together, eat together, party together. Jaws gets in everywhere. He's like the Lindsay Lohan of wingmen.
[Mickey Rourke] has been using his new favorite pooch – a Chihuahua named Jaws – to fetch dates for him.

"He's done the math. Mickey loves the ladies, and the ladies love little Jaws," a source told The Enquirer.

"He swears that Jaws has gotten him the phone numbers of many good-looking women."

Despite his broken heart [after losing his beloved Loki in February], Mickey made Jaws his new wingman.

"Mickey sits back, and once he sees that Jaws has done his job of melting a woman's heart, he swoops in and asks for her number," the source said.

Mickey claims he has gotten "dozens of dates" thanks to his popular pooch – and although he's only had Jaws since late last year, the two are already the best of pals.

"After Loki died, Mickey was devastated. But he's now bonded with Jaws, " said the source.

"Mickey takes Jaws with him everywhere. Restaurants, shopping, even on airplanes. Women fall in love with Jaws at first sight."

"Mickey treats Jaws like a king," the source added. "He feeds Jaws organic roasted chicken breast and filtered water. He even had a feather bed custom-made for him."

"Honestly, Mickey's dates should be so lucky to be smothered with the affection Mickey lavishes on Jaws!"
[From The National Enquirer, May 11 2009 print edition]
Organic roasted chicken breast? Damn, that sounds good. Jaws is one lucky little dog. Jaybird and I totally don't get the affection Mickey has for any of these little mongrels, but perhaps Mickey simply doesn't like to be alone, and the smaller dogs are easier to travel with. And if Mickey is only looking at the "wingman" potential for dogs, perhaps he thinks women are more likely to come up to him if he's got a small dog rather than some big, hulking, scary monster. Little does Mickey know, lots of women prefer the big dogs. Am I right, ladies?
Mickey Rourke is shown with Barbara Walters on 2/12/09. Barbara was holding Loki and this interview was done right before Loki passed. Rourke is shown holding Jaws. Credit: PacificCoastNews.com