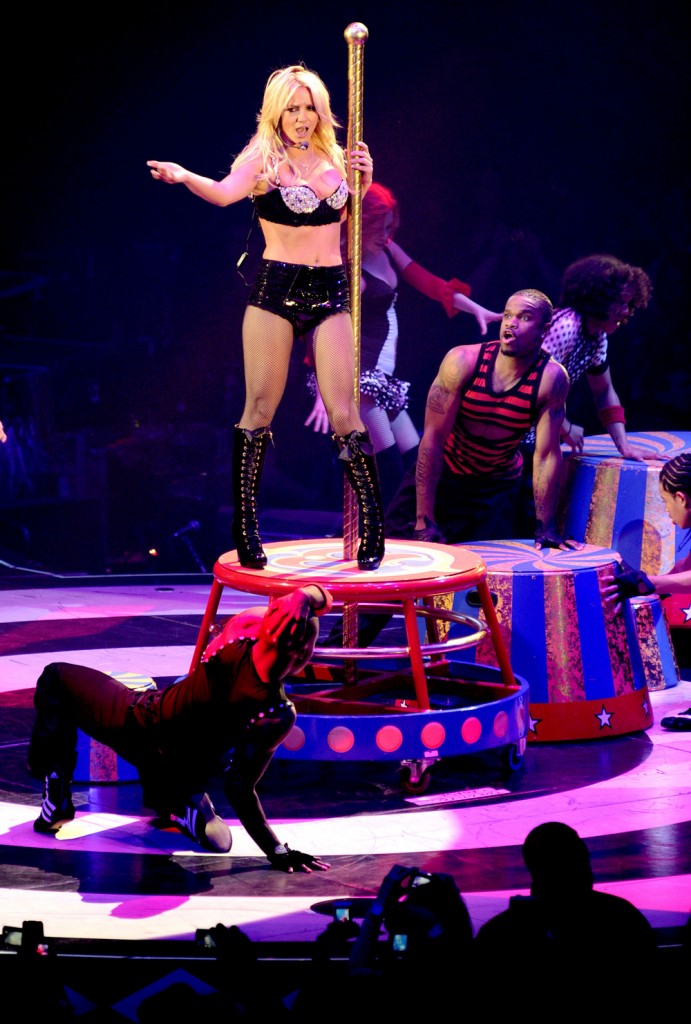 Celebrities have been known to make some pretty outrageous demands. Especially musicians. There's all sorts of stories about concert tour riders with ridiculous requests like how many brown M&Ms can be in a bowl and exactly what temperature the bottled water must be kept at. So I guess Britney Spears isn't that out of line for wanting a stripper pole in her hotel room. But still… a stripper pole.
The Britney Spears circus is well and truly underway in London. The Dorchester Hotel is already making plans for her arrival at the start of June. The singer has asked for a stripper's pole to be installed in her favourite suite in the top hotel so she can work out between shows during the appropriately named Circus tour.

Hardly the most orthodox request they're likely to have received at the five-star hotel. A source said: 'Britney loves pole dancing, it is her new favourite work out. 'She gets the toning that she needs without having to hit the gym, and she wants to be able to do it in the privacy of her own hotel room. Keeping fit on the tour is very important as her show is full of rigorous dance routines, so Britney likes to do her pole dancing work out every morning when she gets up.'

The 27-year-old star, who is known for her love of 'good old-fashioned cuisine' (or junk food), has also asked for a cook from the Nando's restaurant chain to be on hand for the duration of her visit to whip her up some spicy chicken when she feels like it.

The last time Britney was in town she gorged on Domino's pizza instead of eating in any of London's fancy restaurants.
[From the Daily Mail]
I'm glad the Daily Mail got in those all-important gibes about how she's working out but eats like a pig. Thanks guys. I've heard a lot about this whole stripper exercise thing, and I just don't get it. I always thought they stayed trim from all the coke. I had no clue the pole had so much to do with it. Or maybe I'm just naïve.
I love the part about Britney wanting to stay fit with her stripper pole, and preferring to exercise in private. Something tells me not too many gyms have stripper poles, so with that kind of exercise, private is probably her only option.
Images thanks to WENN.com .