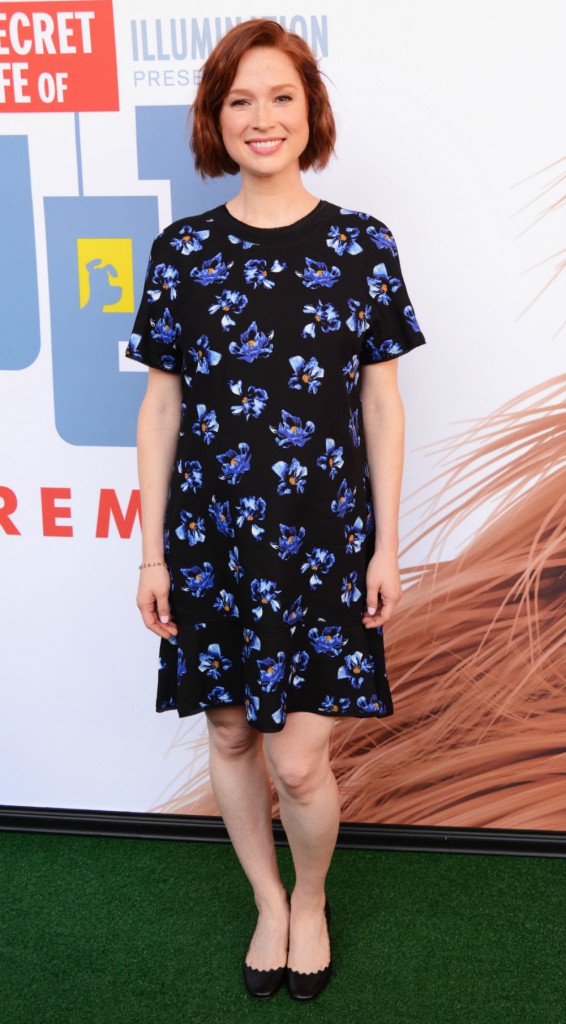 I absolutely adore Ellie Kemper. She is someone that I can watch for hours without ever getting tired of her. Ellie stars in The Secret Life of Pets as Katie, one of the few humans in the film. Soon after the movie's July 16 opening, Ellie and husband Michael Koman will be welcoming their first child. Now that they are in the home stretch, Ellie is discussing some of the odder aspects of pregnancy, like losing her personal space. She told Willie Geist on Today Sunday that when she first got pregnant her friends would reach out to touch her stomach, which she found odd because there was nothing there. However, that was nothing compared to people she doesn't know touching her stomach uninvited. Even though she tried to put a positive spin on it but calling it a "a nice reminder of humanity," she can't quite get away from the fact that some stranger has their hands on her belly.
Sometimes, it's best to keep your hands to yourself

If there's one thing that has fascinated Ellie Kemper during her pregnancy journey, it's the simple fact that people really like to touch her growing stomach.

"Now I'm showing and I don't know what goes through a person's mind—a stranger's mind no less—when they think oh yes, your stomach is something that now belongs to me and I can touch it," she shared with Willie Geist on TODAY Sunday. "It's actually crazy."

She continued, "In a way, I think it's a nice reminder of humanity, but then I quickly go back to the idea that you wouldn't do this if I wasn't pregnant."

It was even stranger for the Unbreakable Kimmy Schmidt star early on in her pregnancy when friends would feel the urge to feel her stomach.

"It was just odd. I'm not a very touchy feely comfortable person so with someone touching me, I'm like ahh personal space violation," she joked. "It was like touching my digestion. There was nothing quite there."
Like Ellie, I am not a touchy-feely person. A handshake is the most intimate I want to be with most people. Her line about touching her digestion is funny because it's so true. If I had just eaten a whole large pizza, no one would grab my stomach and say "oooooh, let me touch the Sicilian Meat Lovers Pie!" It's a bizarre concept and yet some people feel entitled to do it. I think I'll design a Baby Bump Hand Swatter for pregnant women.
When Ellie was on The Late Show she told Stephen Colbert that she had intended to do everything you were supposed to for the baby, like playing classical music. She said she'd heard sardines were good for the fetus due to the Omega 3 oils so she bought a ton but never ate them because she doesn't like them. When Stephen produced a plate of sardines, Ellie was barely able to swallow one but declared she could "feel Baby getting smarter." I was kind of the poster child for not doing what the books said I was "supposed to" while pregnant. I think the most sophisticated thing I played for my fetuses was Bohemian Rhapsody.
Seasons 1 and 2 of Unbreakable Kimmy Schmidt are streaming on Netflix. Ellie not only loves the show but describes Tina Fey as a "very grounded, very kind, very polite boss who treats everyone well." The show is coming back for a third season, which thrills me because I live for Titus and Lillian's interactions.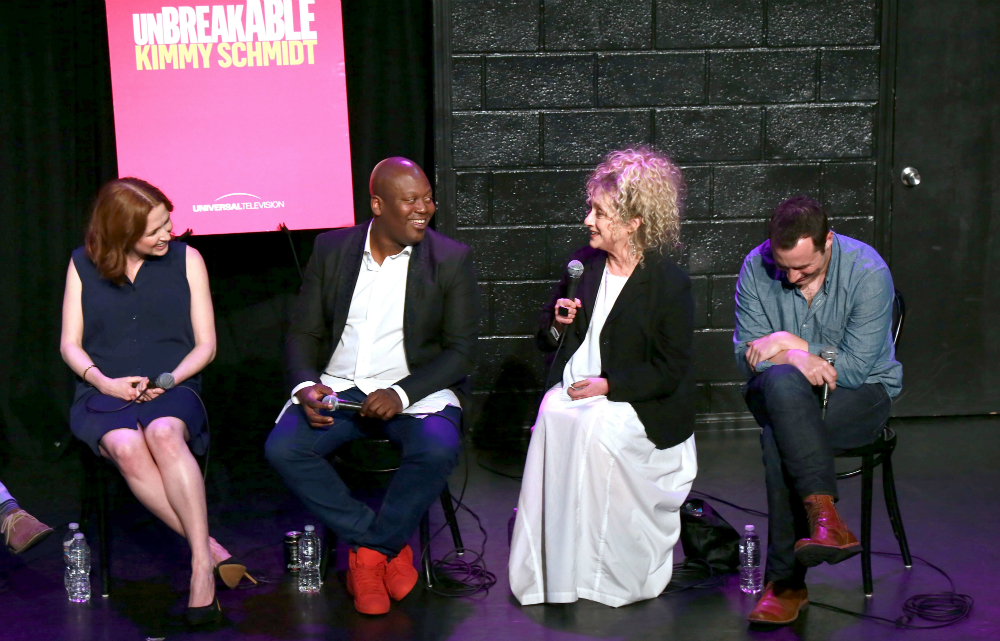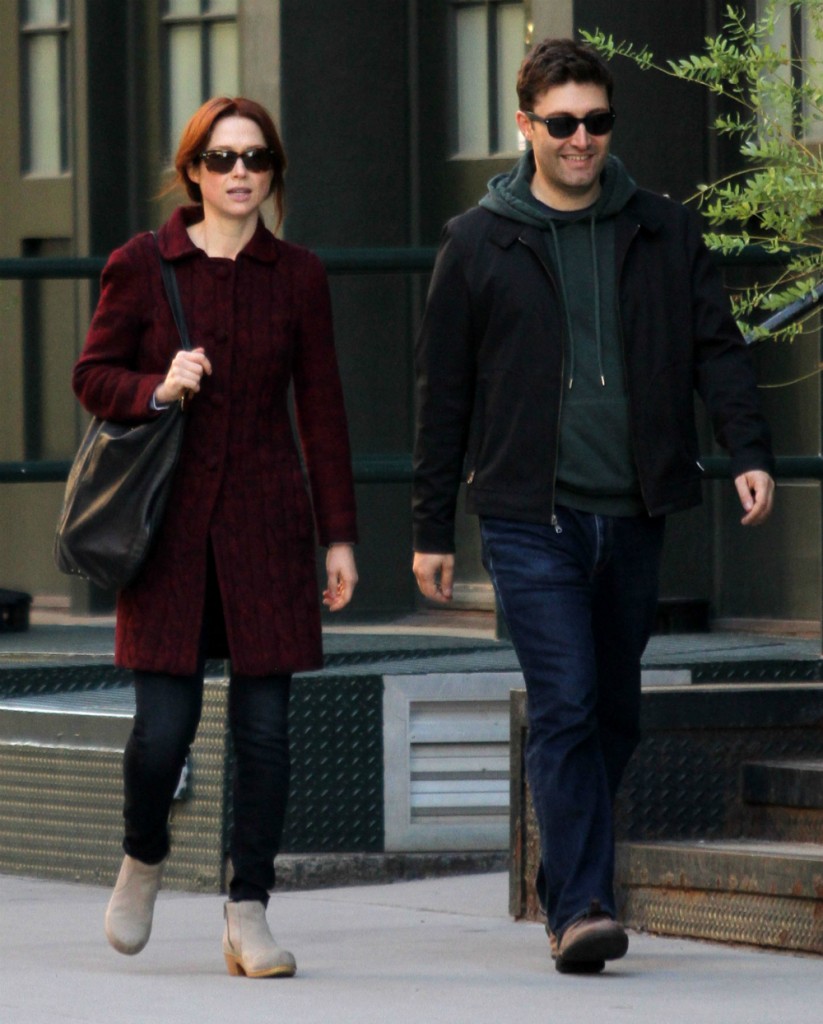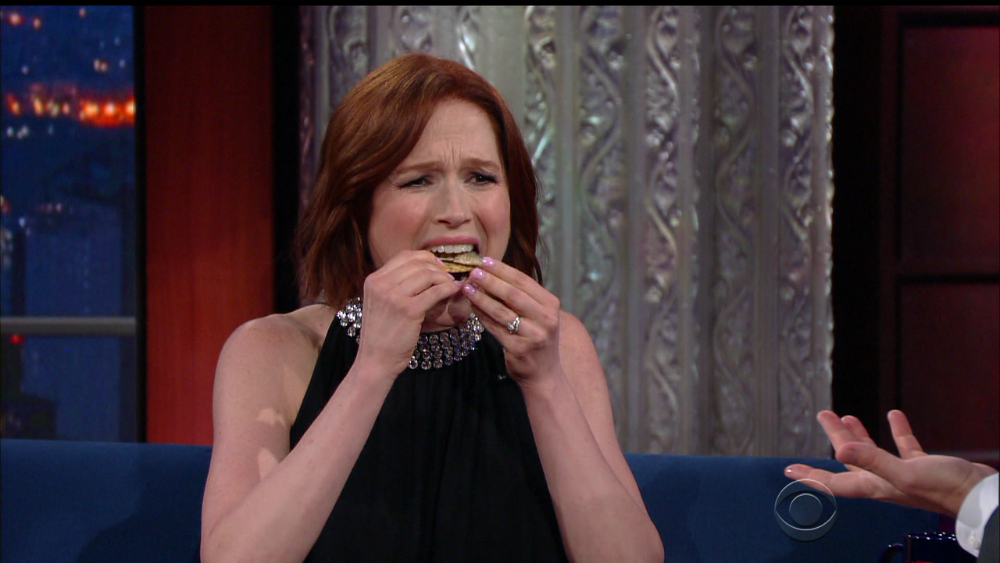 Photo credit: WENN and Fame/Flynet Photos