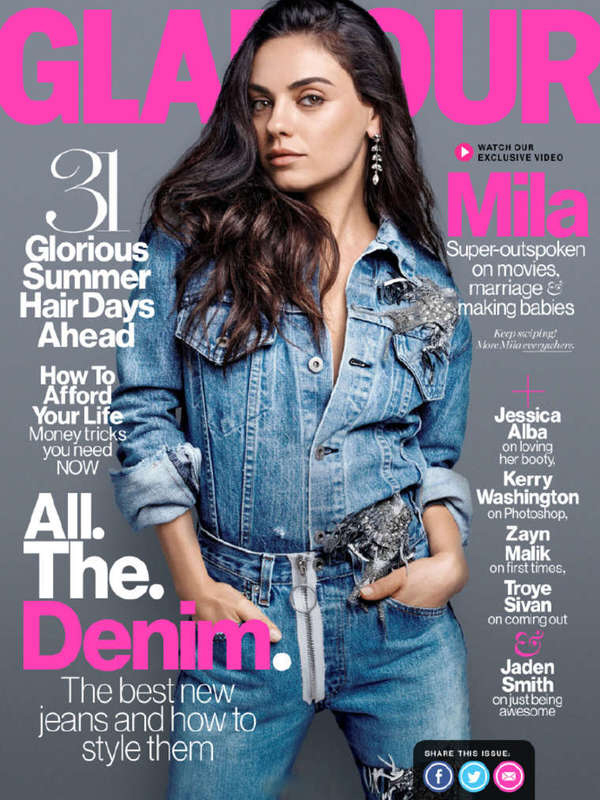 Mila Kunis covers the new issue of Glamour Magazine to promote her new comedy, Bad Moms. The movie doesn't really look like my jam, but I'm glad she's working and taking on riskier material. I also like that she's not selling us her particular version of Mommy Inc. You know? Some celebrity ladies get pregnant and have their first baby and they turn it all into their brand, their industry, their job. Mila's not doing that, thank God. She comes across really well here, actually – you can read the full Glamour piece here. Some highlights:
Choosing between career & motherhood/marriage: "I got—knock on wood—very lucky. But I did choose. I took a chunk of time off. If it were up to [Ashton], we would have had kids much sooner. But I had contracts for films I had to do. I was like, "Let me finish this last thing, Jupiter Ascending, and we're a go. I'm going to take a solid break from acting." And let me tell you, when I would get a call with an offer, I wouldn't even flinch. I was like, "No, I'm pregnant." "No, I have a baby." I wasn't ready to go back. I was so happy saying no that I knew it was the right decision.

Being an Ukrainian refugee, her thoughts on Donald Trump: "The whole Syrian-refugee thing—we came here on a religious-refugee visa, and I'm not going to blow this country up. I'm clearly paying taxes. I'm not taking anything away. So the fact that people look at what's happening and are like, "Pfft, they're going to blow sh-t up"? It saddens me how much fear we've instilled in ourselves. And going from there to the whole, "Hey, let's build a wall between Los Angeles and Mexico".… I don't even have to answer that one. There's no point. It's a really great sound bite. And it got him far. Nobody should be mad at him; we did it to ourselves.

Her new movie, 'Bad Moms', was written by men: "The movie was written by the same writers as The Hangover, as an homage to their wives. And as heightened as the dialogue is—everybody speaks fast—those scenes aren't heightened. They're 100 percent from somebody's experience… [The writers got it right about women's] desire to be perfect. Women innately have this weird thing where they try to have a perfect persona—to look perfect, be perfect, act perfect, have their kids look a certain way. Women put so much pressure on themselves."

Doing a makeup-free photo for the shoot: "[It felt] fine! I don't wear makeup. I don't wash my hair every day. It's not something that I associate with myself. I commend women who wake up 30, 40 minutes early to put on eyeliner. I think it's beautiful. I'm just not that person."

Hard truths about motherhood: "Children are f–king crazy. They're also suicidal. Like, at the park, certain jungle gyms have an opening for older kids to jump out of. She's 19 months; she can't jump. She just walks off it as if she's on a pirate ship. Another important thing to learn is that kids have a personality that has nothing to do with you. I have a really sweet daughter. She wants to hug all the other kids. I didn't teach her to be sweet. It has nothing to do with me. I've realized you can control only so much.

Her relationship with Ashton Kutcher: "We can't bullsh-t each other. I literally can't lie to him. He can call me out on everything, and I can do the same, because there's nothing about the other person's face that we don't know. We know when they're acting, thus we know when they're lying. Sometimes he'll look at me, be like, "Really?" And I'm like, "F–k." There's nothing we don't know about each other because we've known each other for so long: the ugly, the bad, the good. We went through a period where I thought he was crazy. At the height of his career, I was like, "Ugh, I don't like you. I don't even know you anymore. You think you're such hot sh-t."

She never wanted to get married: "Commitment sounded great, but I didn't believe in marriage. I grew up in West Hollywood, and my brother has reminded me that when I was like 12, I said, 'When gay people can get married, then I'll get married.' I was ahead of my time. The Supreme Court decision [on same-sex marriage came down], and that's when Ashton and I got married."

What she & Ashton compromise on: "I love The Real Housewives of Beverly Hills. He thinks that show's killing brains. And he lives and breathes football. When we started dating, I downloaded the ESPN app to know if his team won or lost so I would know whether to call. If the Bears lose, your whole Sunday's gone to sh-t. So it saved our relationship."
Ha, I don't wear makeup either! When I say that, I feel like I'm getting a lot of side-eyes but it's true. I also think when you have a particular kind of coloring (dark hair, olive skin), it's much easier to go natural. Or semi-natural, because if you have dark hair, you might have facial hair issues. As for the rest of it… she talks a lot about how she and Ashton are best friends and she says really nice things about Ashton being a supportive partner and a hands-on dad, which I enjoyed. I mean, I think Ashton is an asshat, but I do hope that fatherhood changed him for the better, and that Mila brings out his good side.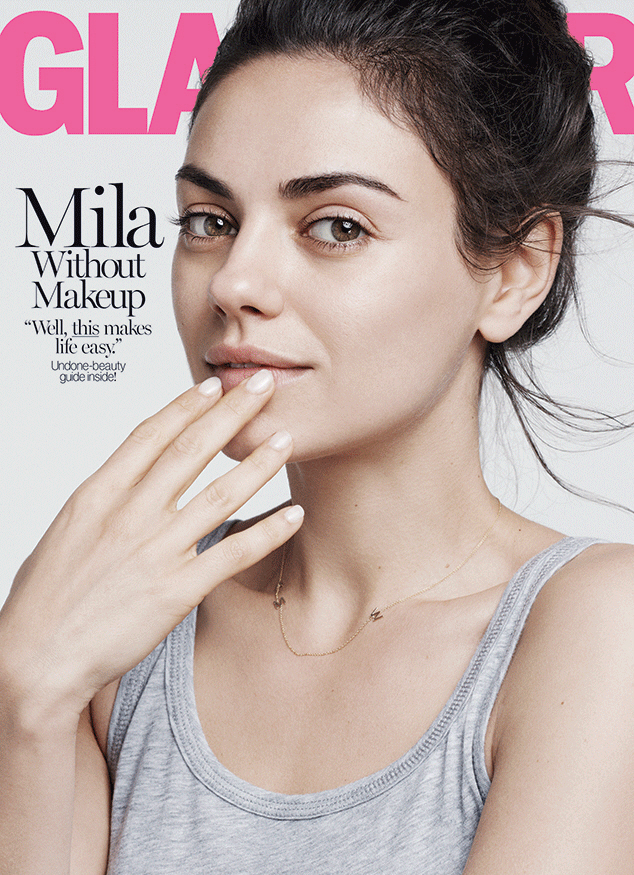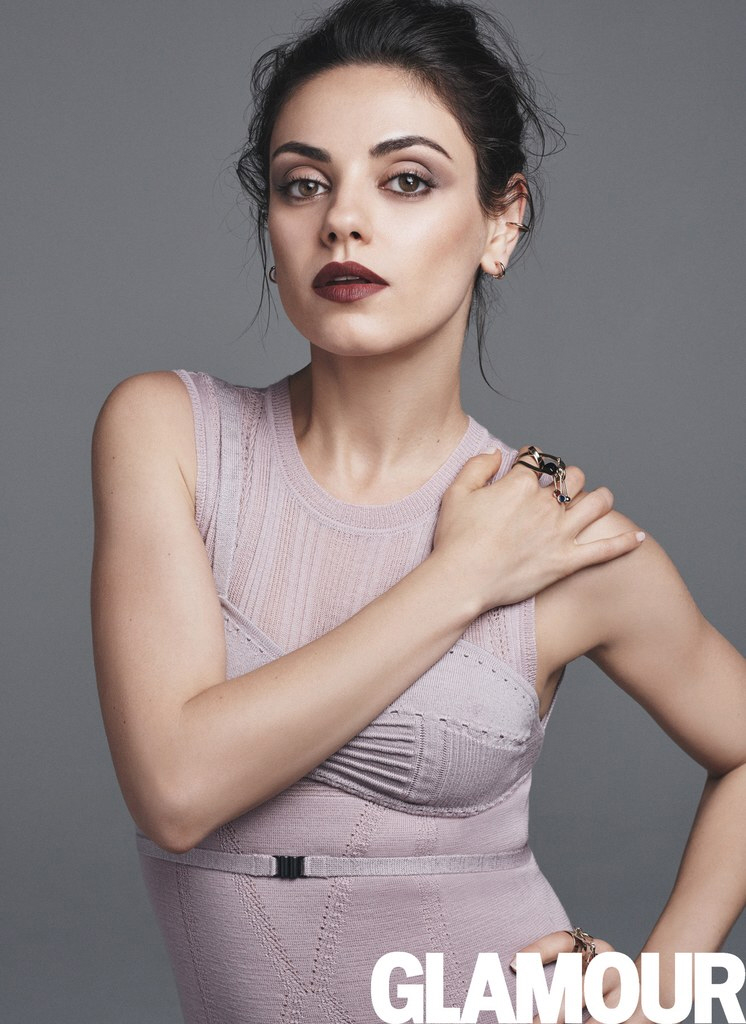 Photos courtesy of Glamour.