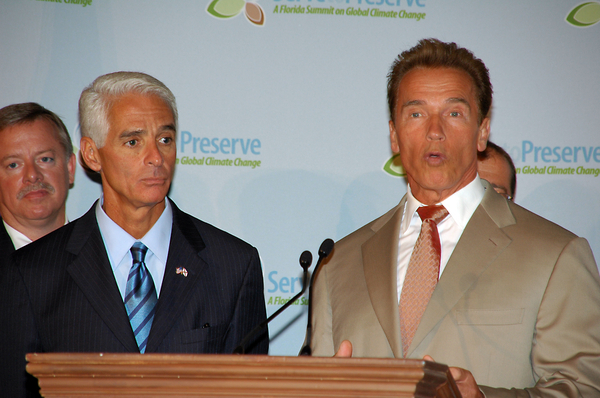 The people of Austria went all out for Arnold Schwarzenegger's 60th birthday Monday. Not only did officials in Thal Bei Graz – the small village where Arnold was born – declare it "A Day for Arnold," they also had a special birthday Mass for the former bodybuilder/actor/governor, and a ceremony with the mayor. There were strudels, schnitzels, a brass band, and most importantly, the original address numbers from the house where Arnold was born. Apparently the numbers were also retired, similar to what's done for famous athletes. Town Mayor Peter Urdl said "This belongs to him. No one here will ever be assigned that number again."
It doesn't appear that Schwarzenegger was present for the ceremony, but simply that it was done in his honor. When interviewed by Vienna newspaper Kronen Zeitung in Sacramento, Schwarzenegger was asked what his birthday wish was, and it was actually pretty good.
"'My wish is that this great country [the U.S.] once again gets the reputation it once had around the world.'"
[From the Washington Post]
It's nice that he was realistic enough to admit that America's reputation is really lacking. The interviewer also asked what Arnold would ask for if a magic fairy appeared and granted him five wishes (I'm guessing she's their star reporter now).
"Schwarzenegger said he hoped for continued married bliss with his wife, Maria Shriver; that they would be good role models for their children; for political success in the rest of his term as governor; and for continued health and vitality.

"'When my father turned 60, I was just 20, and at the time he seemed terribly old. Now I'm 60, too, but I don't feel old at all,' he said."
[From the Washington Post]
That was only four wishes, so I'm going to assume he counted his birthday wish as the fifth. Bad math, Arnold. All of the things he said sounded pretty sane and level, especially for a guy that's a bit of a kook. Arnold's birthday honor was an especially big deal because Austrians had soured a bit on the governator after he didn't block the execution of a gang member in 2005. Austrians, and Europeans in general, do not support capital punishment. The execution led to protests in Austria, which culminated in the renaming of a soccer arena in Graz, which had once been named after Schwarzenegger. Apparently that really annoyed him, and he severed ties with the city. Things seem to be going a little better for him, at least in his birth city, if the massive "A Day for Arnold" celebration is any indication. I mean yes, they renamed a giant stadium to hurt his feelings, but they did retire the numbers to his house, so that's almost as big an honor.
Header image is from the Florida Summit on Global Climate Change on 07/13/2007, thanks to PRPhotos.