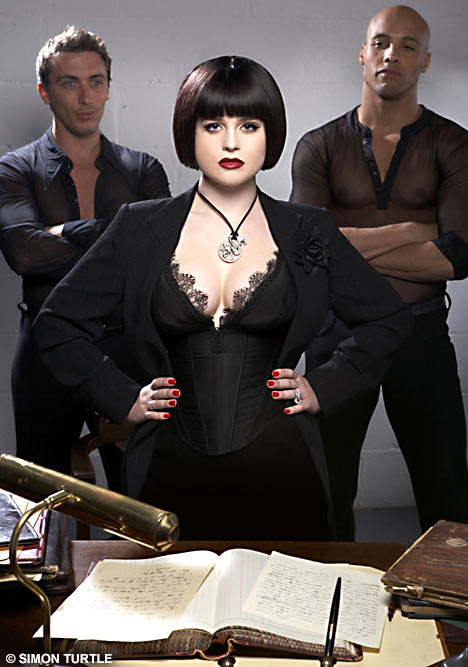 Kelly Osbourne will join the cast of the London product of "Chicago" starting September 10th. She'll be in the show for a seven week run, and play the role of Mama Morton. Queen Latifah played the role in the film version of the play. As I remember it, that particular character requires a lot of bravado – something I'm not sure that Kelly has. On her family's reality show, she came across more as the whiny, complaining type. Kelly also seems a bit young for the role – Mama Morton is, by definition, an older mother type.
"'It's been a dream of mine to be in the West End, I can't wait to work with such an amazing cast.'" And Chicago producer Barry Weissley adds, 'We're very excited that Kelly is joining the production. She's internationally recognised, she's unique – it's the perfect match.'"
[From PR Inside]
Kelly is a master at changing her look. Every time a new picture of her comes out, you have no clue whether she'll be chubby or thin. I remember everyone making a big deal out of her weight loss a while ago, and she told a reporter she wanted to pose nude in Playboy, to which Hugh Hefner cattily replied "'I can't see it happening somehow – we don't airbrush to that extent.'" Kelly's mother Sharon Osbourne famously struggled with her weight until she had a gastric lap band put in several years ago. Recent pictures of Kelly seem to show that she's put weight back on, but that could be for her role, which generally is played by a larger (and older) woman. It'll be interesting to see her reviews, and if she actually has any singing or acting talent. Her album was pretty much panned and didn't produce a hit single, but her acting was decent, if a little stilted, on the short-lived ABC drama "Life As We Know It." Maybe she'll prove herself and get some credibility.
Update by Celebitchy: Can I just say how much I loved that "Live as We Know It" show? It was a shame that it was canceled. Kelly wasn't that great on it, but the guy who played her boyfriend, Chris Lowell, was just awesome. Plus it was an excellent show all-around. Anyway, Kelly does look like she's lost weight again, and I don't think JayBird has seen these recent pictures. Thanks to I'm Not Obsessed and The Daily Mail.