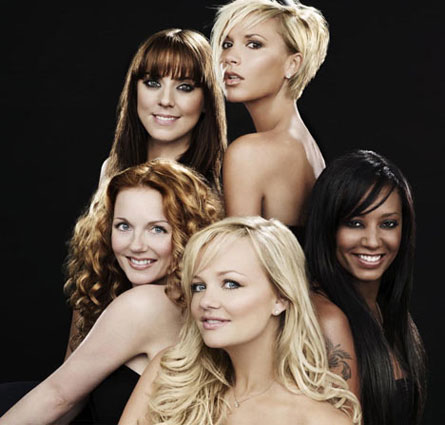 The Spice Girls just added three new dates to their tour – and ten hair and make up people!
"There's so much competition between the girls. They all want to look their best so each of them brought in their own separate team. It's hilarious – and completely over the top. Why can't they just share like in the old days?" the Mirror quoted the source, as saying.

The band of aids include 10 hair stylists and make-up artists, plus fitness trainers and nutrition experts, as well as personal assistants, managers and security guards.

"It's a far cry from the old days when they had one make-up artist and a hairdresser between them," the source said.

However, a band spokesman insisted: "It's normal for each girl to have a team."
I think it's appropriate to have a team for each Spice – there's five of them, so it would take hours to groom them for public viewing. Also rumored to be on the Spice Train is clothing designer Donatella Versace. A source describes her as being "a big fan of the girls back in the day."
Reports in today's papers claimed the Spice Girls had found their much-needed fairy style godmother in the shape of Donatella Versace, who was said to be designing £200,000-worth of designer stage outfits for their comeback reunion tour – but a spokesperson for Versace has denied that this is the case. "It's simply not true," he told us. "I have no idea where the rumours have come from."
I guess it makes sense to have so many more stylists and trainers on hand then before – the girls have put on a few years! But what we all really want to know is – does Ginger have her Union Jack dress back yet? I'm sure Donatella could knock up another, but a new dress just isn't the same as vintage. Besides, it's kind of like your wedding dress. Every few years you try it on to see how much weight you've gained. Admit it, we all do it. I'm surprised Geri didn't want to keep it for that purpose alone.
Photo via http://www.dlisted.com">DListed.