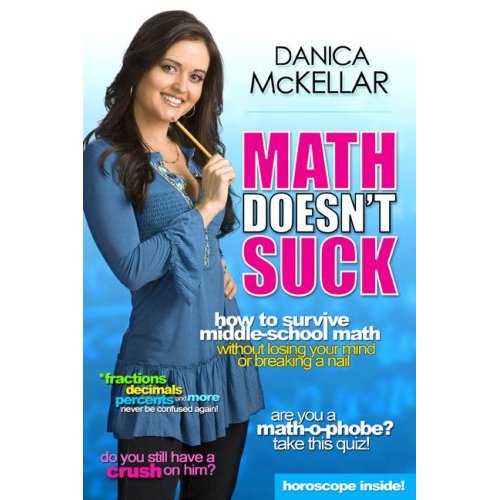 Actress Danica McKellar, who played Winne Cooper on "The Wonder Years," is coming out with a book to encourage teenage girls to get into math, noting, "'I want to tell girls that cute and dumb isn't as good as cute and smart.'" Touché. McKellar, 32, has just written a book titled "Math Doesn't Suck: How to Survive Middle-School Math Without Losing Your Mind or Breaking a Nail
" to persuade girls that there's value to being intelligent, and it will ultimately bring you more success than focusing on your looks. And McKellar clearly doesn't need to reassure herself; she has some gorgeous shots in this month's Details magazine. She's also not simply putting her name on the book, as she graduated summa cum laude from UCLA with a degree in Mathematics. During that time, she had a paper published in Britain's "Journal of Physics A: Mathematics & General" which provided a mathematical proof for a theorem dealing with magnetism in two dimensions. She now has a theorem named after her, the "Chayes-McKellar-Winn Theorem." So it's fair to say, McKellar definitely has a leg to stand on.
"'When girls see the antics of Paris Hilton and Lindsay Lohan, they think that being fun and glamorous also means being dumb and irresponsible,' the 32-year-old McKellar told Newsweek for editions to hit newsstands Monday.

"'But I want to show them that being smart is cool,' she said. 'Being good at math is cool. And not only that, it can help them get what they want out of life.'"
[From the Washington Post]
Regardless of if it's cool or not, I can't do anything fancier than long division. But I'm impressed with people that can. I hope her book gets more press, especially among teenage girls. I'm not sure when it became cool to be dumb, vain, and materialistic. I read some feminist magazine article that traced it back to the re-emergence of pink as the "it" color. I won't go there, but I do think it's great that there's someone out there who is both brilliant and beautiful, which shows girls that they don't have to compromise either one. McKellar's book also has profiles for three gorgeous mathematicians. So instead of taking your daughter/niece/kid you baby-sit to the next Lindsay Lohan movie, spend the $10 on a book that teaches her there's more to life than good hair and bad movies.