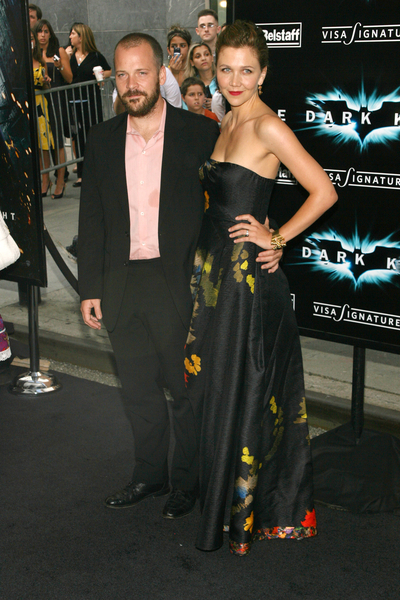 Maggie Gyllenhaal and Peter Sarsgaard got married in Italy over the weekend. There were rumors swirling about the impending nuptials last week, but I doubted they would go through with it. The wedding took place in Brindisi, Italy on Saturday, with Maggie's brother Jake and Jake's girlfriend Reese Witherspoon in attendance. The couple has been together for nearly seven years, and are thought to have gotten engaged in 2006. That was the year Maggie got pregnant with daughter Ramona, now aged two and half.
Hollywood couple Maggie Gyllenhaal and Peter Sarsgaard have finally made it official. The two New York based actors tied the knot in a small chapel in Brindisi Italy on Saturday.

Maggie's younger brother Jake and his lady love Reese Witherspoon were among the guests at the ceremony.

Gyllenhaal and Sarsgaard have been dating since 2002 and have two-and-a-half-month-old daughter Ramona together.

Gyllenhaal has starred in such movies as The Dark Knight, Sherrybaby, Donnie Darko and Secretary. Sarsgaard, like Gyllenhaal, is also a favorite of the indy film sect, having appeared in such movies as Boys Don't Cry, Shattered Glass, and The Man In The Iron Mask.
From Radar Online
I wonder if Maggie will change her name to Maggie Gyllenhaal-Sarsgaard? Lord, that's a mouth-full. Anyway, they've always seemed like a nice couple, and it's always great to see a seemingly permanently "engaged" couple finally get down the aisle. I'm actually a bigger fan of Peter Sarsgaard rather than Maggie – I think he's so lovely and talented, where Maggie is a bit overrated as an actress (my opinion). Their backgrounds are very different too – Maggie comes from a very artistic, intellectual, grounded family where Peter was an Army brat with a very nomadic childhood. Currently, Maggie, Peter and Ramona live in New York. Congratulations to Maggie and Peter!
Maggie Gyllenhaal and Peter Sarsgaard are shown at the Dark Knight premiere on 7/14/08. Credit: PRPhotos.