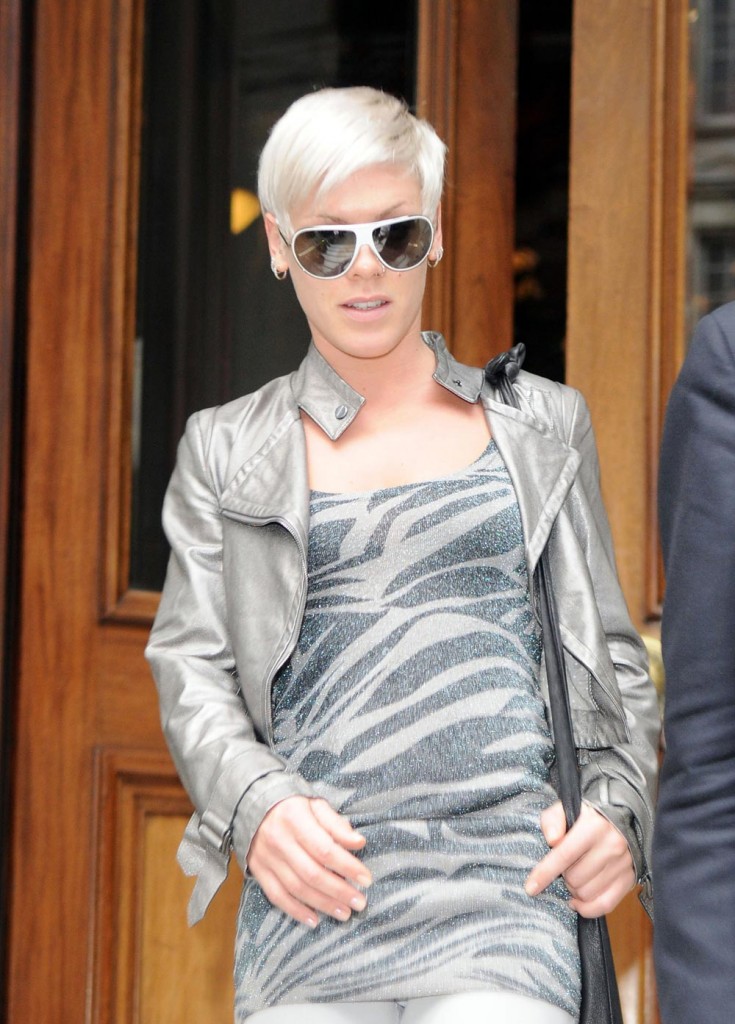 Shocking absolutely no one, pop star Pink has confirmed that she is bisexual. Did your monocle drop into your high tea as you gasped? Probably not. Pink "came out" as bisexual in an interview to Britain's News of the World. She claims she's not bisexual just because all the kids are doing it these days, but because she thinks "love is pure" and she believes in "love in all its shapes, forms and colours."
Ah, but what about her recommitment to ex-husband Carey Hart? Last we heard, they were "working sh*t out". Well, Pink says that she likes/loves Carey and all, but she still wouldn't mind being with a woman. That part of the interview is a little vague, almost like she's leaving it up to our imaginations if she and Carey are having threesomes with women, or if Pink is open to an affair with a woman, with or without Carey's blessing. My guess – with his blessing.
Party popper Pink has waved BI BI to her biggest secret, revealing: "I'm not embarrassed about being bisexual. This is who I am."

For years, the So What singer has denied ever having a romance with another woman.

But in an XSlusive interview, Pink — real name Alecia Moore — reveals she enjoys girl-on-girl action. The star, who put on a blistering performance at the O2 Arena this week, told me: "Love is pure and I try to keep it that way. This is who I am, what I feel."

"I think it's unnecessary to draw the subject out, but I think it even more stupid not to discuss it. It seems as if bisexuality is a trend and I should whip up the masses. Well, I don't believe in trends, I just believe in me."

The superstar has recently reconciled with her ex-hubby Carey Hart after they separated a year ago. But she said: "I would also be just as happy with a new women. I'm not complicated, I sing about love in all its shapes, forms and colours."

Pink, 29, has always been surrounded by rumours about her sexuality, but in the past has always firmly denied she would ever start a relationship with a woman.

As recently as last October she claimed: "I'm not gay so I guess I would not try a relationship with a woman."

The singer, who has sold more than 34 million albums worldwide, added: "My love knows no colour, no gender, no fuss."

I know my revelation will excite Pink's devoted army of lesbian fans who attended her gig on Friday in their droves, but she's already preparing herself for a backlash.

"I speak my mind, I sing about everyday stuff such as homosexuality and sadly the homophobia that always comes with it," she admitted.

And Pink has promised not to join the long list of famous female singers (Lily Allen, for one) moaning about their fame.

She said: "Famous female singers tend to moan and whine a lot about being famous."

"Damn, I'm Pink and my bank account hasn't seen a red zero for a long time, and I can do what I love best-sing. Isn't that something that makes life better?"
From News of the World
Will people get worked up about Pink's bisexuality to the point of homophobia? With someone like Lindsay Lohan, it seemed like people got worked up for two reasons: first, they thought Lohan was with Sam just for the publicity and not out of love; second, because Lindsay was a wholesome child star at one point, and parents didn't want to have an awkward conversation with their kids about why the little red-headed girl from Parent Trap was with that androgynous blonde. It just doesn't seem like people will be surprised by Pink's revelation, and thus, they won't get that worked up over it. And if Pink's boyfriend/ex-husband doesn't mind, why should we?
Update Pink has denied this story in a series of tweets to Twitter:
i just read that im bisexual. so 1991. good thing people write articles about me so i can get my facts str8. i mean straight. read on people
5:40 PM May 2nd from web

@PerezHilton 100% FABRICATION.
1:01 AM May 3rd from web in reply to PerezHilton

cant WAIT for the day when people stop talking about sexual preference or that a woman is a CEO and actually start making the world LIVEABLE
5:54 PM May 2nd from web
[From Pink's Twitter thanks to Sacra for the tip]
Pink is shown outside her hotel in London on 5/1/09 and performing in Dublin on 4/19/09. Credit: WENN.com