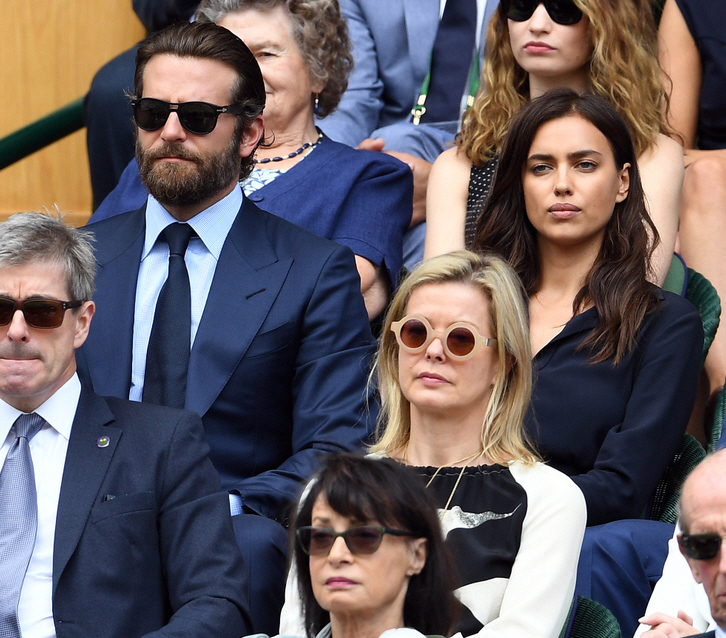 Several of you guys wanted to talk about this, so you better click & comment! Because when I saw this story earlier this morning, I didn't give a crap. Bradley Cooper and Irina Shayk were in London for a week to attend Wimbledon games. They were spotted nearly every day, mostly at the men's matches. They attended Andy Murray's final on Sunday, and Bradley and Irina were seated just next to Benedict Cumberbatch and Sophie Hunter.
Suddenly, everything seemed to go wrong for B-Coop and Irina. She turned stone-faced at one point, even though Bradley was trying to make her laugh. She ignored him when he spoke to her. Some even thought she was crying at one point. What was this all about? Did Bradley say something rude to her? Was Bradley's ex-girlfriend Suki Waterhouse – who was also in attendance – an issue in the fight? Was there some kind of breakdown in (alleged!) contractual negotiations?
The best replay from #Wimbledon Bradley Cooper appearing to be in a fight with Irina Shayk during final pic.twitter.com/1BPx5kysUL

— talkingbaws (@talkingbaws) July 10, 2016
Hours after their Wimbledon fight, Irina and Bradley were holding hands in London. So…? Whatever happened between them, everything's fine now. Until we learn two weeks from now that they actually broke up and suddenly Bradley is with some new swimwear/lingerie model.
Photos courtesy of Getty, Pacific Coast News.