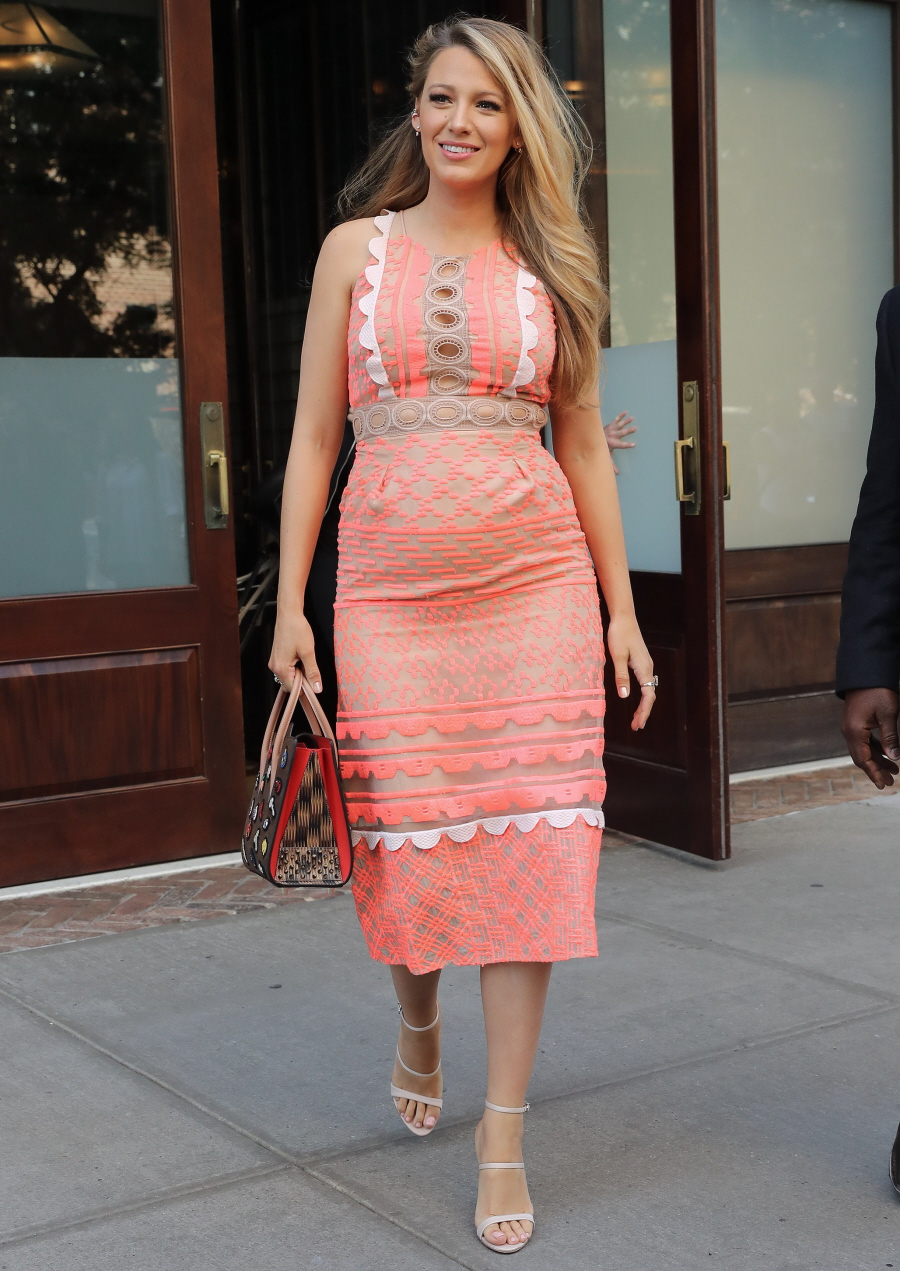 Much like Kristen Stewart's weighted energy, Blake Lively is in New York to promote Woody Allen's new film, Café Society, this week. These are photos of Blake out and about on Tuesday. Her dress is Jonathan Simkhai and I dislike it. How do I put this delicately? I want to get the wording right, so let me tread carefully. I think Blake Lively is a pretty woman and I think she honestly gets more beautiful when she's pregnant. She "carries well" and she's so tall and leggy that she can wear nearly anything, pregnant or not. But this dress is bad because of the nude/beige strip under her bust. If you just passed her on street, or you weren't looking closely, you might think (as I first thought) that the fabric strip was just netting, and that Blake had a fat roll hanging out of a faux crop top. Indelicate, I know. But that beigey strip is just awful.
Meanwhile, Blake has a new interview with USA Today. She's still talking about how Woody Allen is amazing. Seriously. She even talks about that "rape joke" at the Cannes Film Festival opening ceremony. Some highlights:
Her Cannes Film Festival fashion show: "It's funny, I didn't realize I was dressing like a Disney princess until people told me… I remember going to Disneyland as a kid and thinking, 'Ah, I want to do that one day.' You get to live out a bit of your childhood fantasies when you wear a ball gown like that."

How she signed onto Café Society: "I didn't know anything about the movie. It didn't matter. It was being part of a film with an iconic filmmaker and somebody that writes complicated women."

The "joke" about Woody Allen at the Cannes opening ceremony: "That was very strange, to have people joking about such sensitive things. To speak to anyone's personal life is a very, very dangerous thing."

How she & Ryan Reynolds parent baby James: "We've both given up projects that we really love because we can't keep our family together. People often think their career is something they have to chase and maintain, but for us, we said, 'Let's always chase and maintain our personal life.' This is a career that's like the stock market: You've got to stay hot while you're hot. But your family, that's the real thing that gives you security and success and happiness."

Her upcoming movies: "I hope that people like these movies, and I get to continue doing what I love. If not, I'll just eat dessert all day, apparently."
"To speak to anyone's personal life is a very, very dangerous thing…" Well, let's unpack that a little bit. Ronan Farrow specifically published his THR op-ed ahead of the Cannes Film Festival so people would talk about it. So people would talk about how Dylan Farrow still says, to this day, that Woody Allen abused her. Child abuse, sexual abuse, assault, these are not subjects that should be taboo, these are not subjects that should be ignored or shrugged off as merely an aspect of someone's "personal life." If Blake wants to say "I really don't know what happened between Woody and Dylan so I don't feel comfortable speaking about it," that's one thing. But Blake is making a blanket statement – probably in an attempt to be vague and inoffensive – that actually comes off worse than a "no comment."
PS… Her purse is by Christian Louboutin and it's adorned with "charms." Hideous.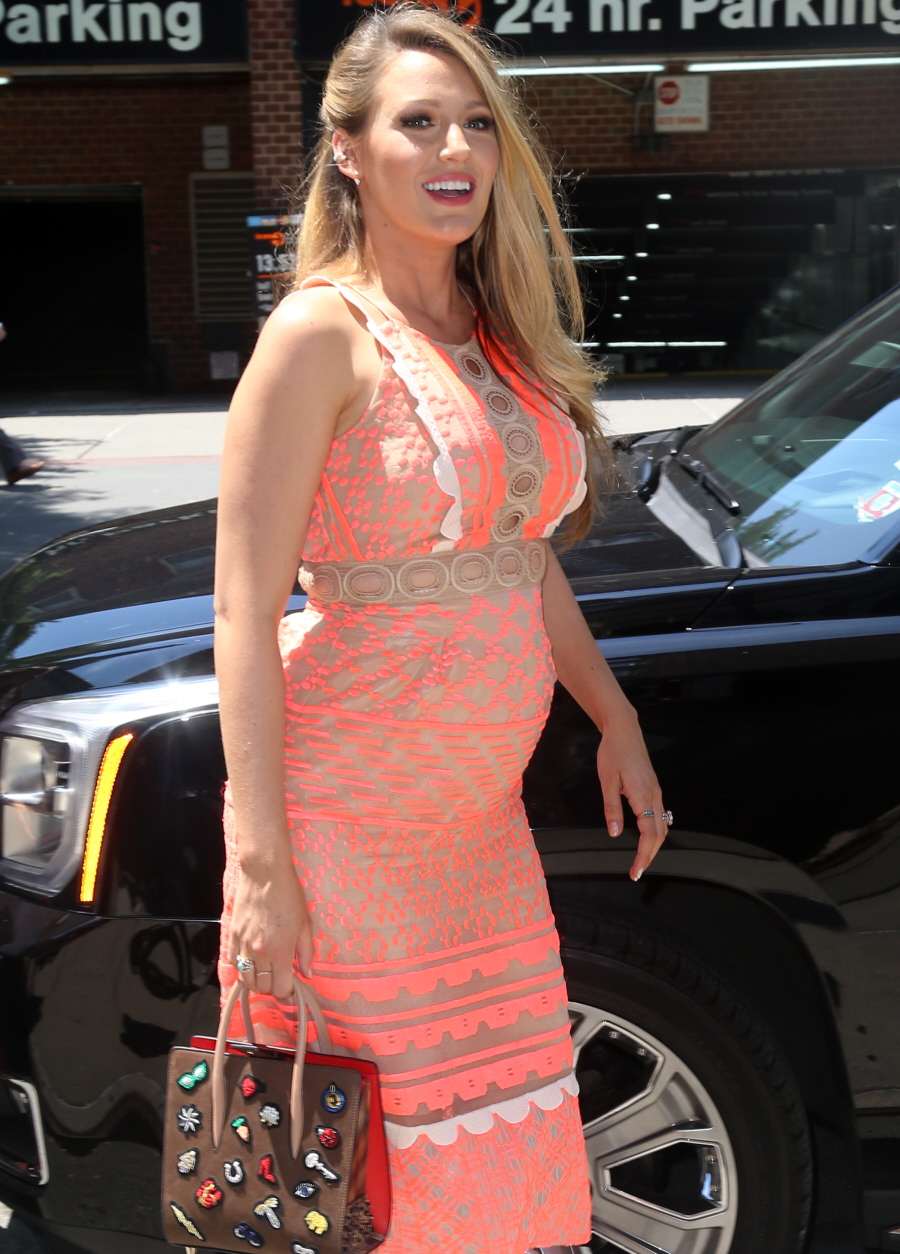 Photos courtesy of Fame/Flynet.