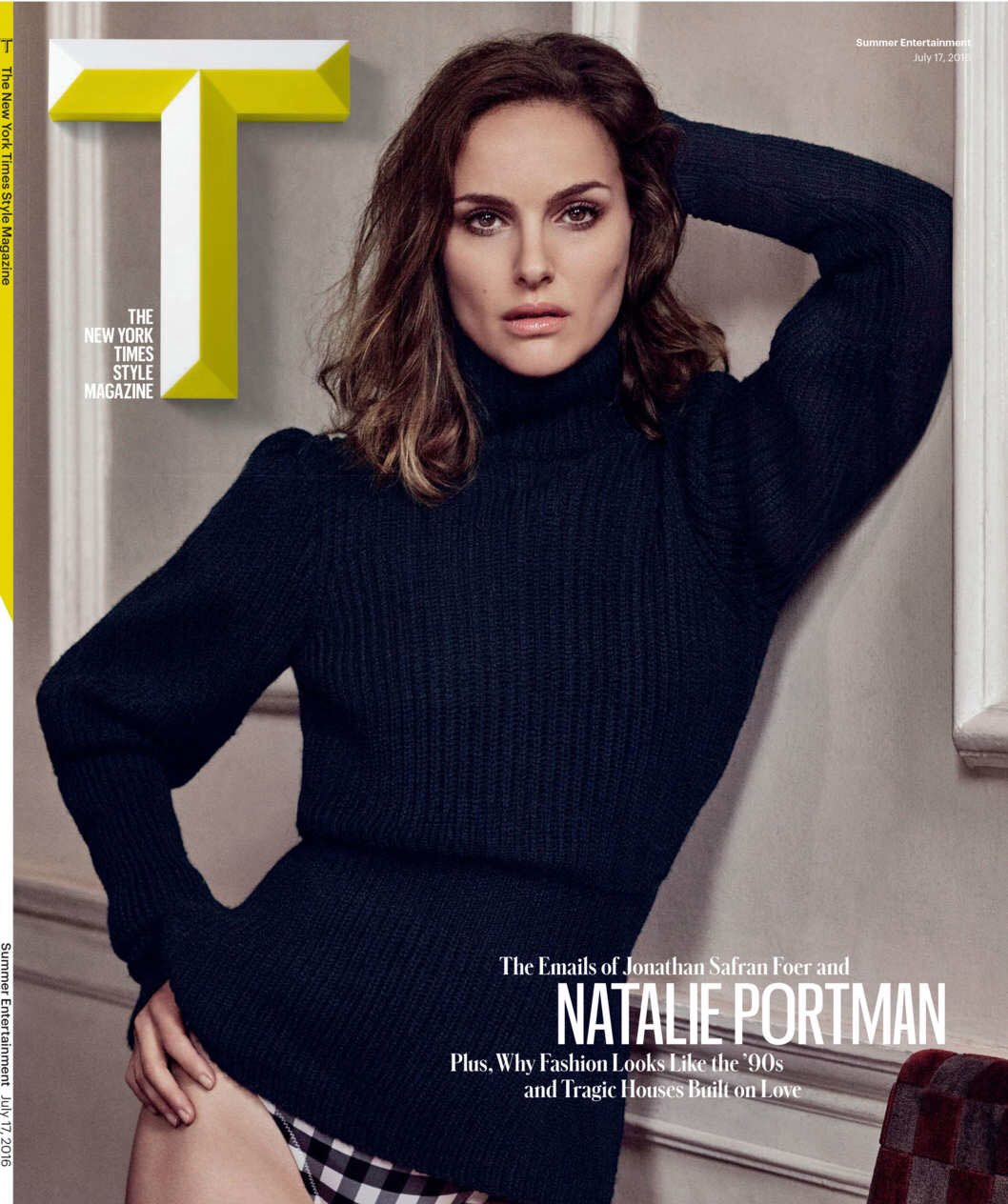 Natalie Portman covers this weekend's issue of the New York Times' T Magazine. Portman is promoting A Tale of Love and Darkness, the film she directed, adapted from the Amos Oz novel of the same name. She's been shopping the film to film festivals for more than a year, and she's yet to drum up much support or buzz for it. But the New York Times is here to help! More specifically, author Jonathan Safran Foer is here to help. Foer is the author of novels like Everything Is Illuminated and Extremely Loud and Incredibly Close. He was also known in New York literary circles for being married to Nicole Krauss, another popular and well-respected author. Krauss and Foer separated in 2014 and there were whispers of another woman. I remember those whispers because I thought the "other woman" was Michelle Williams, who dated Foer last year, although I don't know if they're still together. But as it turns out, the "other woman" might have been Natalie Portman? This is according to New York Magazine.
Natalie Portman is on the cover of T Magazine's new summer entertainment issue promoting her directorial debut, A Tale of Love and Darkness, an adaptation of Israeli author Amos Oz's best-selling memoir about his childhood in Jerusalem in the last years of the British mandate. The pictures are gorgeous, but we're equally intrigued the accompanying feature: a new email correspondence between Portman and author Jonathan Safran Foer, penned especially for the Times. The pair have been email pen pals for over a decade, but their "epistolary archive mysteriously disappeared" earlier this year.

As you may recall, it has long been rumored that Foer developed a whopping unrequited crush on Portman after she decided to adapt one of his books. Portman allegedly rebuffed him, but not before Foer told his wife, Nicole Krauss, about it (oops!), leading to the dissolution of the literary power-couple's marriage back in 2014. While there's no explicit mention of romance here, these emails are certainly the kinds of intense midnight musings — lengthy, pretentious digressions on Jewish melancholy and the nature of freedom — that one might pen if one wanted to convince a very famous and beautiful actress to leave her husband for you.
That's interesting to me, mostly because this is the first time I'm hearing of it. In 2014, Portman was with Benjamin Millepied, but she was emailing Foer enough that he got a bit of a crush? A crush big enough to leave his wife? Yikes.
As for the T Magazine piece, it's absolute awful. I'm not even going to excerpt it, you can read the full cringe-inducing piece here. The "interview" is written as a series of emails back and forth between Portman and Foer, and he's clearly in love with her and she's clearly in love with herself. But she takes time out to gently friendzone him and he isn't paying any attention.
Cover courtesy of T Magazine, additional photos by WENN & Getty.