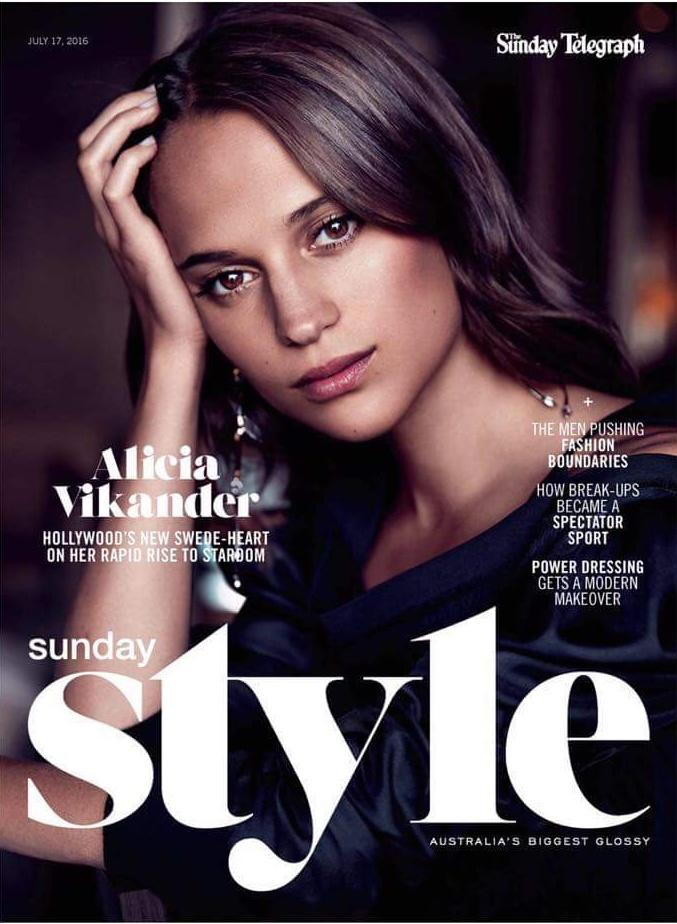 Alicia Vikander covered this weekend's Sunday Times Magazine, from the Australian Telegraph. It's a decent cover shoot and she looks less cutesy than her usual editorials. Sunday Style finally described her character in Jason Bourne: she's playing "Heather Lee, the computer hacker turned head of the CIA's Cyber Ops department who's determined to finally flush out Jason Bourne." Of all the character names they could have given her, they went with "Heather"? I always think of that as such an American name (I went to school with, like, seven Heathers), and is Alicia even attempting an American accent? Because now that I know that she's playing a hacker-turned-CIA-operative, I was like "Oh, that's why they hired a Swede." As in, this is Jason Bourne-meets-Lisbeth Salander in The Girl With the Dragon Tattoo. Are there Swedes named Heather? A question for another time. You can read the full interview here, and here are some highlights:
She won a lot of money in Vegas: "I had beginner's luck. We get per diems [daily payments from the production company] and it felt like Monopoly money. So I put $100 down and then I was like, 'Oh sh*t.' But I won two nights out of four. I should have stopped, of course. I won 22 times my money. But it was pure luck and no intelligence, really."

On making a popcorn movie like 'Jason Bourne': "It's a hard thing making something that feels both gritty and real and a big franchise action movie, that can also have social and political elements, and I think they did such a great job… It's the age of technology, and [the movie is] all about what morals you have and what decision you make about how to use your abilities. It's about the question of privacy and what we are or aren't willing to give in terms of social media."

Where she comes down on privacy issues: "It's difficult sometimes to be a small citizen in a big political world."

When asked about dating Michael Fassbender: "When I go to the movies and see the actors and actresses I look up to, I like knowing as little as possible about them, so I can see them becoming these different characters. If you can find a way to keep a bit of mystery, that's good for the work."

Staying off social media: "I tried — I got a bit stressed out that I had to post things. If you enjoy doing it, it's a great way to keep in touch with audiences. But I didn't have that drive to do it just privately with my friends, so I wouldn't be very good at it."

What her Oscar means to her: "It's like someone giving you a really nice tap on the shoulder and saying, 'You're heading the right way.' It's such an honour. I'll remember that night forever — it's pretty surreal still. Matt [Damon, who won an Oscar in 1998] gave me some advice: he said, 'Just remember to have fun.' The after-parties were incredible, but the highlight of the night was meeting my family and friends backstage, going to this little room with a TV, and all dancing in this tiny space."

On her career: "I never thought I would work in English-speaking films or abroad. When you're from a small European country, it's not really part of your vision of possibility."

Gender equality: "Last year I realised, 'Oh my god, I've done four films and I've never played opposite another woman.' And I was embarrassed for myself, because I thought of myself as being very aware. That's how far it's gone, that it's so much the norm. Over all the films I've made it has been very rare, I can count them, the scenes with women I've had. It's quite rare — except in comedy."
She makes a big deal throughout the piece about how she could have never dreamed that she would work in English-language films or find any kind of success in America, but does that ring false to you? In a now-infamous W Magazine interview last year, Vikander boldly predicted that she would be attending the 2016 Oscars to support "three films." She ended up being sort of right, but the point is that she was thinking about it and making plans and plotting her domination. So is this faux humility, or just trying to rewrite her narrative or what? Also, she makes a big deal in this piece about how she's not going to talk about Michael Fassbender. Just FYI.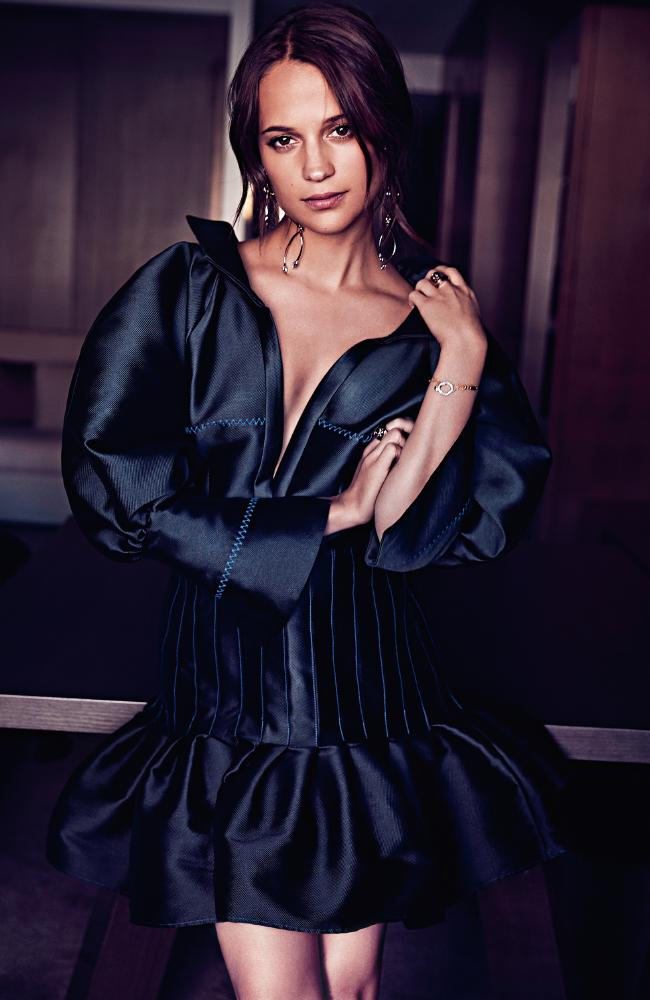 Photos courtesy of Sunday Style.