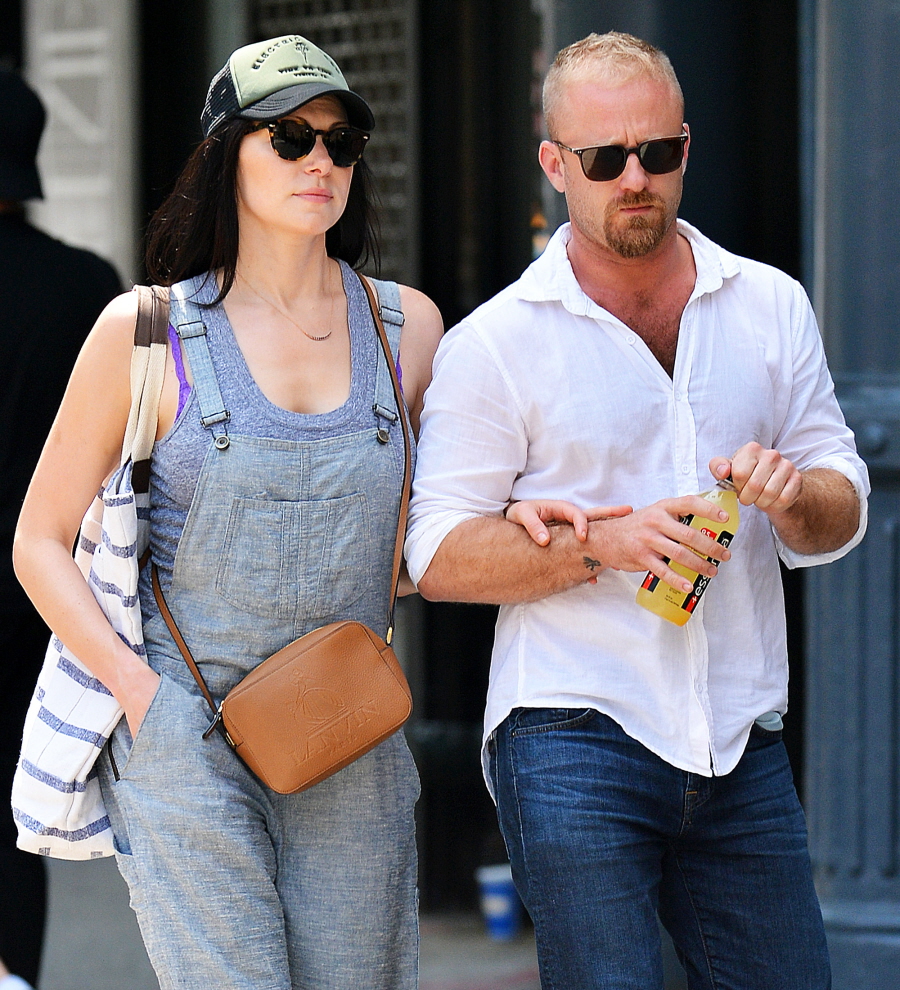 Ben Foster looks hot in these photos, right? I'm usually not a Ben Foster person, but hot damn. These are photos of Ben and Laura Prepon walking around Soho several days ago. I think the photos are just starting to be noticed because… it's kind of random, right? Prepon has only (seemingly) had one other high-profile relationship with another actor, and that was with Chris Masterson. They were united by Scientology, because the Masterson family and Prepon are all Scientologists. And now she's with Ben Foster, who recently got out of an engagement with Robin Wright. Us Weekly has more details about other sightings:
Summer lovin'! Laura Prepon made her own fireworks on the 4th of July weekend — with Warcraft: The Beginning actor Ben Foster, an insider reveals in the new issue of Us Weekly. At Ugly Mug pub in romantic Cape May, New Jersey, on July 1, "she was holding onto Ben and was all over him," an onlooker tells Us. "They were really close, talking and laughing."

The Orange Is the New Black actress, 36, and Foster, 35 — whose engagement to Robin Wright ended last year — also enjoyed a recent PDA-fest at French bistro Lucien in NYC's East Village, where a fellow diner saw them "making out" during a two-hour meal.

Though it's unclear how they met, Prepon and the Six Feet Under alum do share a mutual friend: That '70s Show alum Danny Masterson, the older brother of her ex-boyfriend Christopher Masterson.
And now there are some rumors that Ben Foster is a Scientologist too, although I don't want to put too much stock into those rumors since they're mostly from CoS-related message boards. I really doubt that Robin Wright would have been down for CoS in any way, so maybe this is conversion-by-dating, which absolutely happens. I always thought Ben was smarter than that. He seems like a really driven and focused guy, not one to fall into a CoS honey trap. Of course, it's perfectly possible that Laura and Ben are just having fun and they genuinely like/love each other and they haven't even mentioned anything about CoS.
Photos courtesy of WENN, Fame/Flynet.