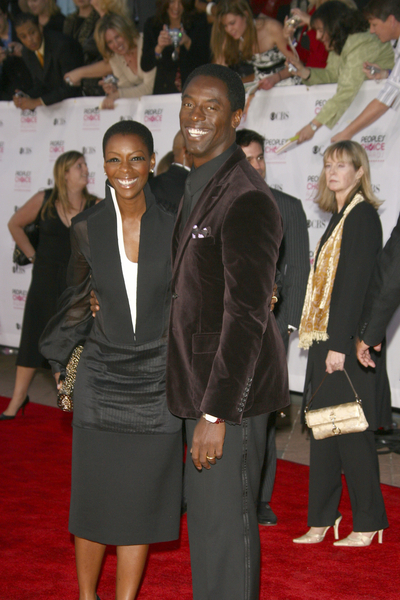 Isaiah Washington has been given a second chance by NBC after he was dropped from Grey's Anatomy following the use of a homophobic insult and resulting on-set fight with Patrick Dempsey. (It was rumored that producers will willing to keep him on for another season, but that cast members banded together to ensure he was fired from the show.)
Washington will appear on five episodes of the fantasy series Bionic Woman this fall, and he is also said to be developing an action series with NBC, in which he will star. According to IMDB, he has a movie coming up in 2008 called The Least of These in which he plays a teacher trying to solve a sex abuse-based murder.
How this guy got so many gigs after behaving like an ass and then bringing it up again unnecessarily is beyond me. At least he did an anti-defamation PSA, but that doesn't absolve him of guilt.
Regardless it's a good thing for everyone that Washington owes money to that he's still getting work. He was deep in debt before he landed the role of Dr. Preston Burke on Grey's Anatomy in 2005. He didn't just have some looming credit card and tax bills, he had bills that he refused to pay for so long that he faced multiple lawsuits from creditors. He eventually paid most of the money he owed, but only after he was ruled responsible for his debts:
In 1998, Beverly Hills radiology group Tower Magnetic sued Isaiah and his wife Jenisa to collect $2,083 in unpaid medical bills. After a court trial, the Washingtons were found liable for the full amount – plus $771 in miscellaneous court fees. The couple paid in full that October.

In 2003, the Ford Motor Credit Company took Washington to court to recover $8,340. The case was settled.

Washington had a role in the Steven Seagal action pic Exit Wounds, which filmed in 2000. Two years later, top talent agency ICM won a court arbiter's ruling that Isaiah owed them $25,000 in agent's fees. Washington paid half the amount – but ICM was forced to take him to court for the other half. In October 2003, a judge ordered Washington to pay the missing $12,500 (plus $1,108 in interest) – but records show that as of September 2004, he still hadn't paid up!

In January 2005, the IRS filed a federal tax lien against Isaiah and Jenisa for an unpaid balance of $41,063 from their 2001 and 2002 tax returns. They paid in full five months later.
[From Star Magazine print edition, August 6, 2007]
It sounds like not paying bills is a pattern for Washington. He probably was living beyond his means, thinking that he was about to hit it big. A lot of people get in trouble with debt and it's nothing to be ashamed of, but to me this is just more evidence that he thinks the rules don't apply to him.