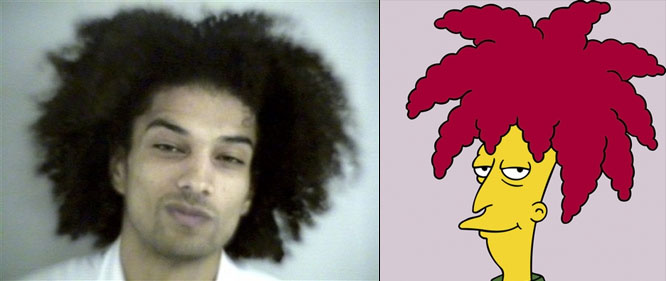 Former American Idol season 2 contestant Corey Clark, 27, was arrested and booked into jail in Little Rock, Arkansas last night. He was charged with possessing a controlled substance and possessing drug paraphernalia. This was the same guy that made it to the finals, but was kicked out of the competition when judges found out he had a previous arrest that he'd lied about. Also the same guy who claimed Paula Abdul coached him during the show, while simultaneously having an affair with him.
"The former 'American Idol' contestant was being held at the Pulaski County jail pending a court appearance Tuesday in North Little Rock, said John Rehrauer, a spokesman for the sheriff's department.

Clark was arrested near Interstate 40 at about 2:30 a.m. Monday on charges of possession of a controlled substance and possession of drug paraphernalia, Rehrauer said.

A warrant had been issued for Clark after he failed to appear in an Arizona court on a summons stemming from an arrest last year for violating a court order and trespassing."
[From the Washington Post]
Clark was disqualified for not revealing his first arrest to American Idol producers. In that incident, he got into a fight with his 15-year-old sister in their home, and was charged with misdemeanor battery on four police officers and his sister, as well as endangering a child. Clark claimed the officers beat him.
That headline about American Idols in trouble with the law pops up a lot more than it should. Clark seems to be the worst offender, with at least three separate legal incidents on his record. He's followed by season 4 contestant Jessica Sierra who was charged with "aggravated battery with a deadly weapon, possession of cocaine and introduction of contraband into a detention facility," after she broke a cocktail glass over a guy's head. An then of course, there's Clay Aiken getting questioned by the FBI for exposing his stinky feet on a plane and getting into a fight with another passenger about it. That incident might sound the smallest, but it's federal.
Picture note by Celebitchy: While doing the link post yesterday I noticed someone pointed out how much Corey Clarke looks like Sideshow Bob, so the header image isn't an original idea or anything. I can't find it again at this point, but once I do I'll give credit. If you saw this yesterday let me know where it was.