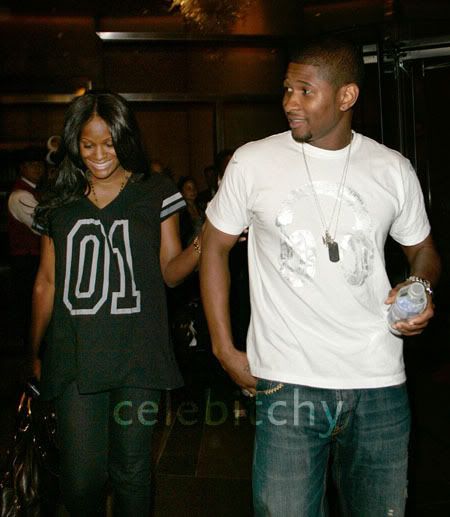 Tameka Foster, Usher's (former?) fiancé, is letting everyone know that the wedding is still on. According to Foster, their wedding was canceled because she was suffering from pregnancy complications. Different sources cite her as going into the hospital on Friday afternoon (before the wedding was postponed/canceled), Saturday afternoon (the day of the wedding) or Sunday afternoon. It's hard to tell from the articles if they have bad fact-checkers or are getting different stories from Usher and his people. According to Foster's most recent statement, after she went into the hospital on Friday, the doctor said the baby was fine, and she was suffering cramping due to nerves. At this point, she and Usher decided to postpone the wedding. If that's the case, I wonder why they waited until a few hours before the wedding to make an announcement? And why in the world would they have been so deliberately vague, when they'd obviously have to explain themselves later? I call B.S. on Tameka Foster and every word that comes out of her mouth. But she made sure People magazine knew everything great:
"No one [in the media] knows why we canceled the wedding, but I can tell you that all of the reasons that everyone is speculating and writing about are completely untrue."
[From People]
Alright, then why all the secrecy if you're just going to talk about it a few days later? It seems like a lot of crap has hit the fan for Usher lately. He fired most of his people (including his mother) after he started dating Foster. Then a few weeks ago, he went apeshit on one of his fan sites for reprinting articles that weren't very complimentary of Tameka. Then they have that tersely worded press release which did use the word "canceled" in terms of the wedding and made it clear they wouldn't talk about it. And now they're surprised or annoyed that people think their wedding is off? According to pretty much every website on the planet, Tameka is a major pain in the butt. She's got a criminal record, is supposedly bossy and domineering, and has alienated Usher's mother from the artist. The two were spotted together today holding hands, and they both confirmed that the wedding is still (or back) on. Usher told Us Magazine "As of right now we don't have a date but we will let you know when we do." Run while you can!
Photos from SplashNews.