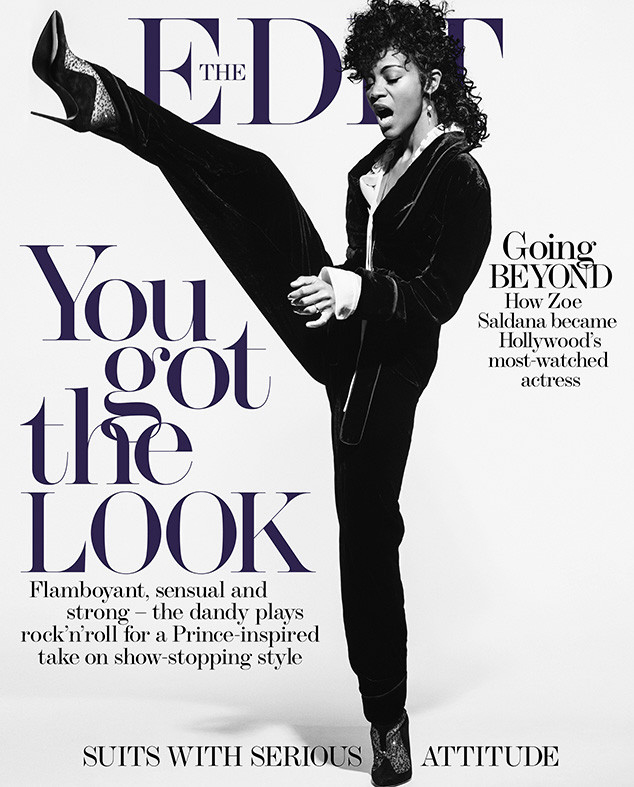 Zoe Saldana covers the latest issue of The Edit, and the editorial is Prince-themed. As in, Zoe was cosplaying Prince for The Edit. I'm not sure what I think of the choice? Zoe can deliver some strong editorials when she's working with a magazine which knows what to do with her. It feels like The Edit should have rejected this concept. As for the interview, Zoe managed to avoid discussing the disaster that was the Nina film. She avoids it because, as far as we know, The Edit didn't even bother asking her. That's the power of a great publicist, people. Even though The Edit would have been widely quoted and sourced if they had asked Zoe about it, they didn't even bother. You can read the full piece here. Some highlights:
Her dual personalities: "My family makes fun of me because there is more than one person in here, and they are like oil and vinegar. One is super-easy, chilled; the other one is so rigid that even the temperature of my water needs to be perfect."

Moving to the Dominican Republic when she was 10: "I know what it's like to grow up with fast food and MTV, then all of a sudden you're in a place where the power goes out every three hours and you're doing your homework by candlelight. We moved to a small community: one culture, one religious belief, one opinion about women. Latinos are traditionalists at heart, and super-machistas. Even though the women are the matriarchs, it's still a man's world."

Feminism & equality: "The high road is no longer silent. The high road is speaking up and saying, 'You're a d***! What you are doing is unfair. I'm not asking you to idolize me, I'm asking you to pay me equally, because you always come to me whenever you need me for a press tour!' The responsibility can't only fall on women in the public eye. The audience have the power. They are the ones buying the tickets to all these man-made movies. There are films being made by female directors, by female writers, with lead female roles, but women are not going to those movies. We're going with our boyfriends to hold their f–king hands to go see a movie that we couldn't care less about! As women in positions of power, we have to use it to help other women. I got used to being the only girl in the room. Look at The Losers, look at Star Trek… It's lonely! I couldn't care less about male-driven stories and war movies, not because I'm not an intellectual individual, but because I want to know what's happening to a woman."

On dating in Hollywood: "We feel sad for friends who are with a–holes, but when we have a true gem, we take it for granted. When a man is wonderful, it's infinitely sexier than a 'real' man! Men are beasts, creatures that can blow my mind. But when a good f–king man has walked beside you? That s–t stops the show."

She & her mom & sisters have Hashimoto's thyroiditis. "Your body doesn't have the energy it needs to filter toxins, causing it to believe that it has an infection, so it's always inflamed. You create antibodies that attack your glands, so you have to eat clean."

She's gluten & dairy-free: "I had a great time in my twenties. Then your doctor says you're losing calcium in your bones. What the f–k is that?! I would hear those conversations with my mom and grandma, thinking I'd never get there. I'm going to live forever! But all of a sudden it hits you. I s–t you not, it's from night to day."

Vanity: "I learned early on that in order for me to be okay, I need to surround myself with better people than me. I'm not being hard on myself, I'm being honest with myself. I have the tendency to get lost in whatever environment I create for myself. And I'm an artist; I'm prone to vanity. So I look to better people than me – my husband, my sisters, my parents and my friends. And I'm like, as long as I'm surrounded by you people, every time I want to go shallow, you guys always remind me that it's not about me."
"I'm an artist; I'm prone to vanity"… wha…??? No kidding, Zoe! Thanks for letting us know! As for the rest of it… I've never heard of Hashimoto's thyroiditis, but it doesn't sound like something that can be completely controlled with simple diet choices. Zoe lamenting her loss of calcium in her bones, that happens to all of us. You hit an age where you have to be conscious of getting enough calcium in your diet. And I seriously doubt she has a side to her personality that is super-chill. I think she always needs her water to be the perfect temperature.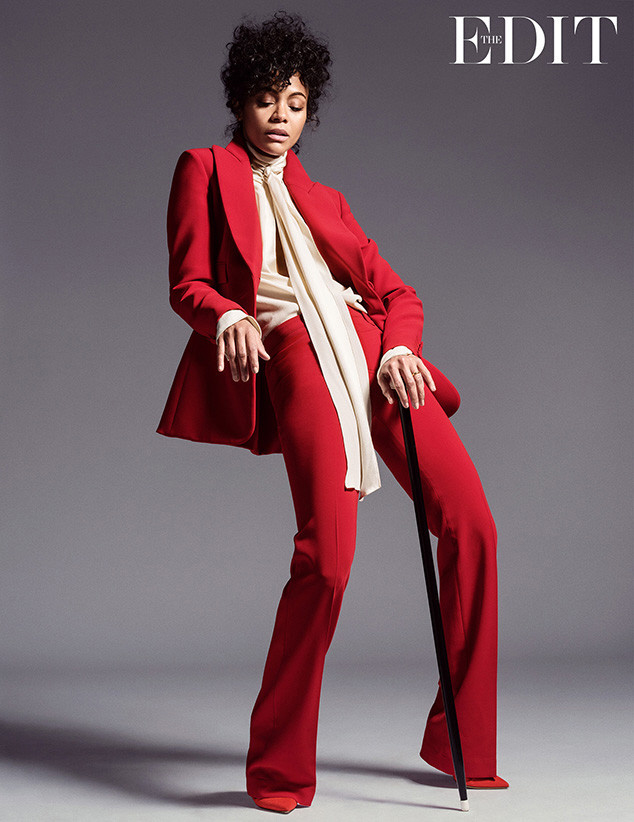 Photos courtesy of The Edit.