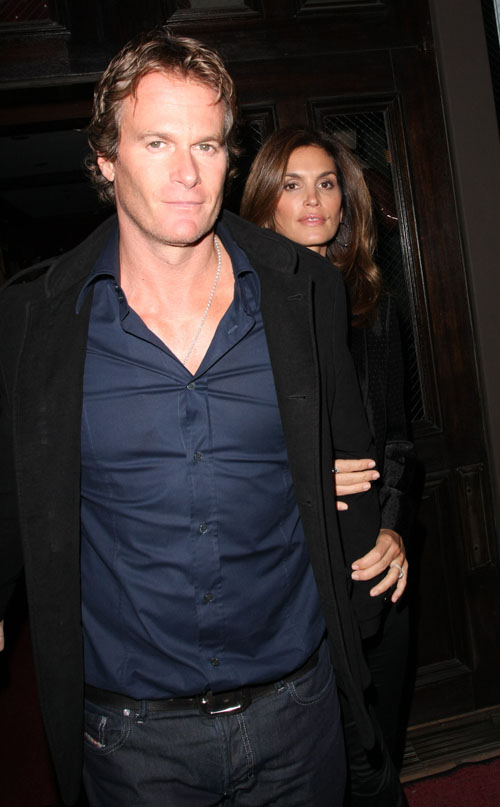 Over the weekend we heard that Cindy Crawford's husband, Rande Gerber, was accused of sexual harassment by two different former waitresses at a restaurant he owns. One former employee at his club claims that Gerber tried to kiss her multiple times during an incident in 2008 and that he put his hand up her dress. It all looked pretty damning to Gerber, but he has at least one high profile friend who is willing to vouch for him in court. George Clooney was hanging out with Gerber on the night he's accused of groping the women. Clooney says that he was with him the entire time and that nothing happened:
Rande Gerber's sexual harassment lawsuit is about to get even sexier — George Clooney will take the stand. Put another way, he's testifying against the chicks, so they may as well fold now.

Gerber, along with a couple of his employees, are being sued for sexual harassment — allegedly kissing and fondling two former waitresses. Gerber calls the claims a "blatant lie" and he's even got witnesses to prove it — including Mr. Clooney himself.

A rep for Gerber tells us, "Mr. Gerber and Mr. Clooney are willing to take a lie detector tests to prove that the allegations against Mr. Gerber are false. Mr. Gerber will not settle this extortion case even for a single dollar and will take all actions necessary to clear his name, including filing a $10 million lawsuit for malicious prosecution once these allegations are proven false."

Case closed.

UPDATE — Through his rep, Clooney tells us, "I was with Rande the entire night — as were a lot of people — they will all say the same thing that I'm saying. This event never happened. Period."
[From TMZ]
I don't know. It's hard to claim that you were with someone the entire night and can say with certainty that they didn't leave your side. It bodes well for Gerber that Clooney is so willing to step up and testify on his behalf, though. I usually think there's some merit to claims like this. That's not to say that false allegations don't happen. In the Rob Lowe case he seems to have been railroaded by an ex employee who was looking for a quick settlement and didn't expect him to fight back. Something similar could be happening to Gerber, but just because Clooney is saying he was with him that night doesn't mean that the case is closed and that it was motivated by money. It's not a simple thing to accuse someone of sexual harassment and these women deserve to have the incidents investigated.
Photo credit: WENN.com