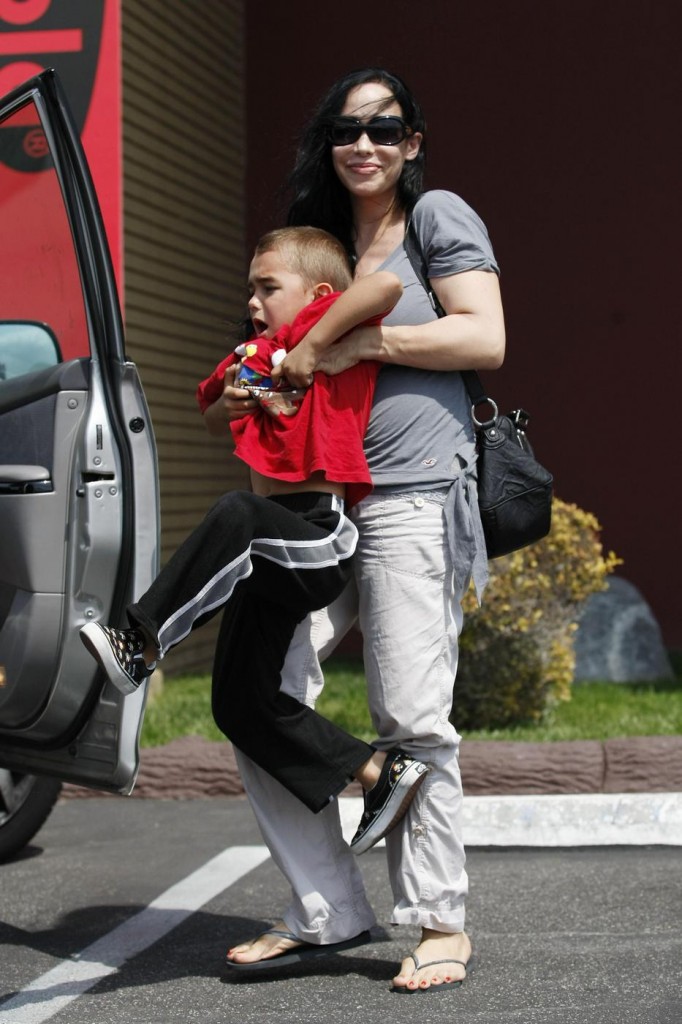 Legal vulture Gloria Allred is trying to block Octomom Nadya Suleman's predictable reality show route to fame and cash. Allred has filed a petition with the court asking that a guardian be appointed to look out for the rights of Suleman's children. Press-hungry Allred has consistently talked smack about Suleman to the media, and worked as a go-between for Suleman and the Angels in Waiting nursing agency. Suleman ultimately decided not to work with Angels in Waiting, saying she felt observed and judged in her own home. It looks like she was right as Allred was all too willing to blab that they'd filed three reports with Child Protective Services against Suleman, all due to "safety issues" over the privacy and security of Suleman's home. For her part, Suleman claimed Angels in Waiting had foster parents already chosen for all eight of her newborns, although she makes a lot of wild claims and has been caught in several lies so it's not like her word is worth much.
Now that Allred no longer has access to Suleman she's come up with a another way to use her name to get press. She claims that the mother of 14 will be exploiting her children with the planned reality show:
Octuplets mother Nadya Suleman has something more than multiple bottle feedings and diaper changes to deal with: Attorney Gloria Allred filed a petition in Orange County Superior Court Monday requesting that a guardian be appointed to protect the rights of Suleman's eight infants now that their mom is reportedly moving forward with plans to film a reality show.

"Rather than choosing to provide her children with a normal life, their mother has chosen to commercially exploit them and it appears she plans to continue commercial exploitation of them in the future," Allred said during a press conference held in law offices. "If she doesn't protect their rights, the courts will do it for her."

Allred filed the petition on behalf of her client, Paul Peterson, a former child actor turned activist for minors working in the entertainment industry. At Monday's press conference, both she and Peterson insisted that an Orange County-based guardian – whom they've selected – is the best bet the octuplets have to ensure that the money they earn as participants in a future reality show isn't spent or wasted by their mother.

"I've been concerned about this since the get-go," said Peterson, a former Mouseketeer who starred on the popular Donna Reed Show in the 1950s and 1960s. Peterson claims he first contacted Allred about the matter after the media circus that erupted when the first two of Suleman's octuplets returned home March 17.

Allred claims that Suleman violated a number of California labor laws by allowing her infants to be filmed on several occasions by the media late at night and without the presence of a studio teacher. She insists that a court-appointed guardian, paid on an hourly basis, will make sure that this sort of situation doesn't happen again. A hearing on the matter is scheduled for June 22 in Orange County Superior Court.

"Nadya is doing the best she can," says her attorney, Jeff Czech. "Nobody has those children's best interest closer to her heart than she does."
[From People]
A lot of commenters are pointing out that they have just about as much disdain for Allred as they do for Suleman so it's hard to know which side to take. Suleman has to keep paying for the Hollywood lifestyle she clearly aspires to and a reality show would provide both the money and name recognition that go along with that. It's not the best childhood for her kids, but several other large families have chosen that route and we haven't heard about legal challenges to their rights to put their kids on television. They don't live in California, though, where the labor laws are different and may keep Suleman from moving forward with this show. She continues to claim it's a "documentary," but she also said she never had plastic surgery and that she wasn't on welfare despite using food stamps and disability for half of her six older kids. Suleman works the system and twists the truth to meet her own objectives, much like Allred.
Nadya Suleman is shown battling to get one of her kids in the car after a shopping trip on 4/14/09. Credit: Dome, Jones, PacificCoastNews.com