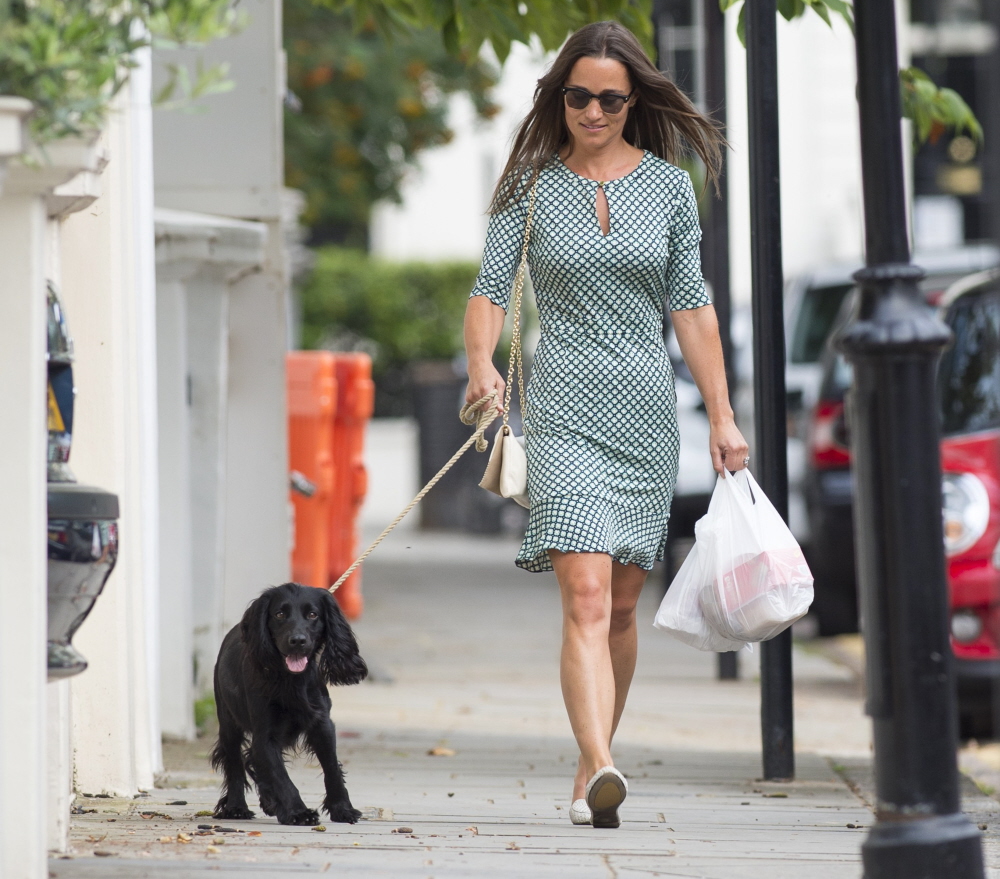 Here are some more photos of Pippa Middleton from her half-dozen pap strolls last week, following her engagement announcement. I think it's half-and-half with the pap strolls… the paparazzi descended on Pippa's home after the engagement announcement, so she was always going to be photographed. But I also think she was having fun with it, being back in the spotlight and getting attention for "landing" someone Terribly Rich™. Plus, I do like seeing this dog. I'm pretty sure this is Ella, James Middleton's beloved cocker spaniel (and relative to the Cambridges' Lupo). James Middleton and Pippa have long shared a flat in London, although I keep hearing that Pippa is moved much of her stuff into her fiancé's luxury home already. Maybe she was just dog-sitting for her brother then.
Anyway, the Daily Mail had an interesting write-up on Pippa's engagement, and it's worth discussing. We already knew that James Matthews and Pippa had a brief romance back in 2012, something that lasted for just a few months. We already knew that Pippa and James had known each other for years beforehand too. But did you know that James was secretly plotting to marry Pippa all along? That's what the DM's "sources" claim! Some highlights:
James wooed Pippa with expensive gifts. He bought her "a £250,000 art deco engagement ring with a three-carat Asscher-cut diamond at its centre" and "the £14,500 Cartier Ballon Bleu watch." He's also buying her "a £100,000 classic car," and he's "enlisted the help of high society dealer Ed Lovett to source a 'sporty, sexy number' for his fiancee to zip around London in. A 1960s Mercedes Pagoda, like the one driven by Kate Moss, is apparently top of the wishlist."

James wooed the whole family: Before he was even with Pippa, he would fly the whole Middleton clan to St. Barths… on his £3 million private jet.

James has been pursuing Pippa for a decade: "The Mail on Sunday can reveal that James has been patiently pursuing his bride-to-be for a full ten years – strategically planning his advances while waiting for Pippa to outgrow the eight-year age gap between them. And while other privileged young men might busy themselves with a series of girlfriends, James used the time to build a business and a fortune so vast he could treat her like a princess."

When they met a decade ago: "Friends say he knew Pippa was the one from the moment she stepped foot on St Barth's and confidently introduced herself to him. But with Pippa taken and an eight-year age gap between them, James was forced to bide his time. Though he always stayed in contact, he had to watch from afar for six long years as Pippa finished her university studies and wrapped up relationships with two serious boyfriends, banker JJ Jardine-Paterson and cricketer Alex Loudon." A friend says: "You got the sense James was holding out for the one, and that was Pippa… The truth was, the only girl he really wanted was Pippa. He always carried a torch for her."
Is this creepy or fine? I'm going back and forth on it. Part of me thinks that it is sort of romantic to think that this guy has been holding a candle for Pippa all this time. But another part of me feels like the DM is painting him as sort of a stalker.
Also: it's been said that modern romance films often fail because there are really no barriers to love nowadays, that anyone can fall in love with anyone, that anyone can marry anyone, that there is no "struggle." So the "barrier" of an eight-year age gap seems… forced. James met Pippa when she was 21 or 22, let's say, and he was 29 or 30. While that's a significant gap in experience and worldliness, by the time she was 25 or 26, everything would have evened out. My point is that an eight-year age gap really isn't a huge deal and back in 2012, when Pippa was 28 years old, it should have "stuck." I mean, if it was really meant to be, why didn't it stick? There's some other reason besides their ages.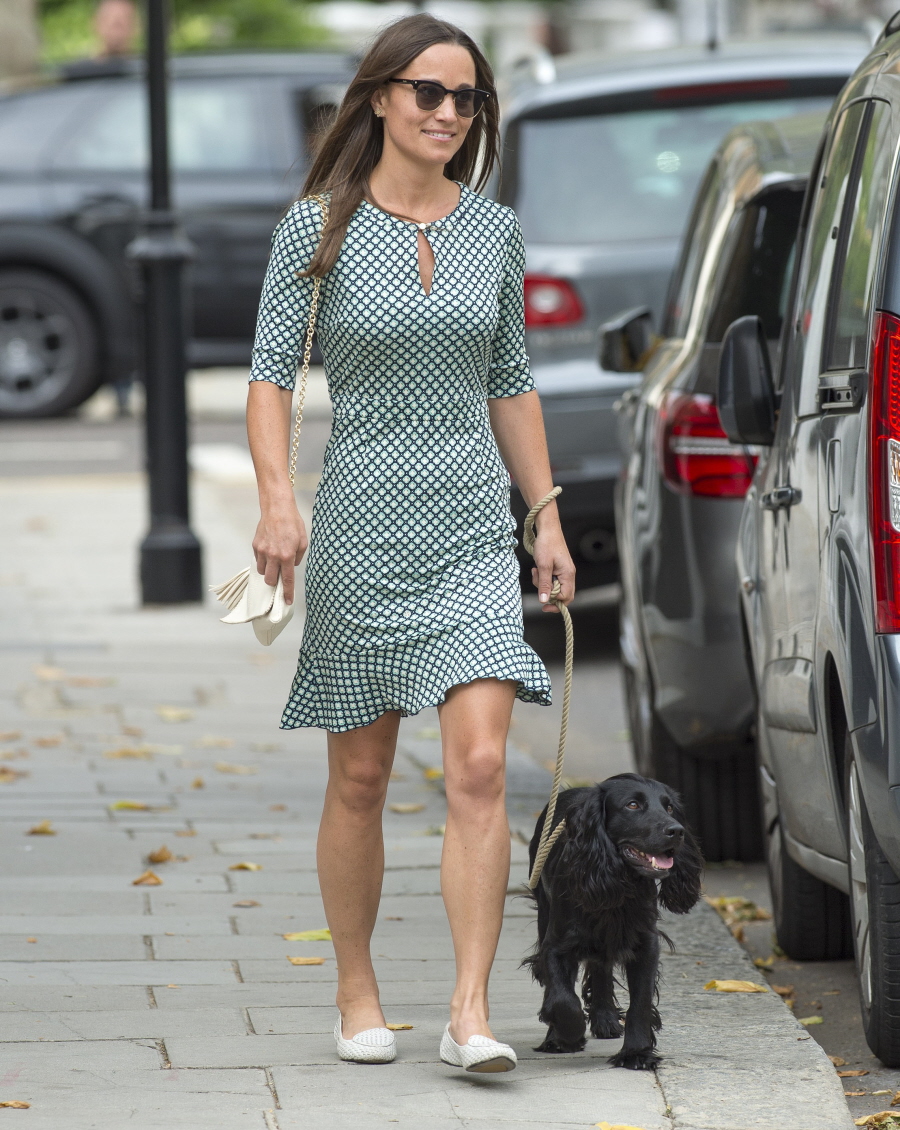 Photos courtesy of Fame/Flynet.