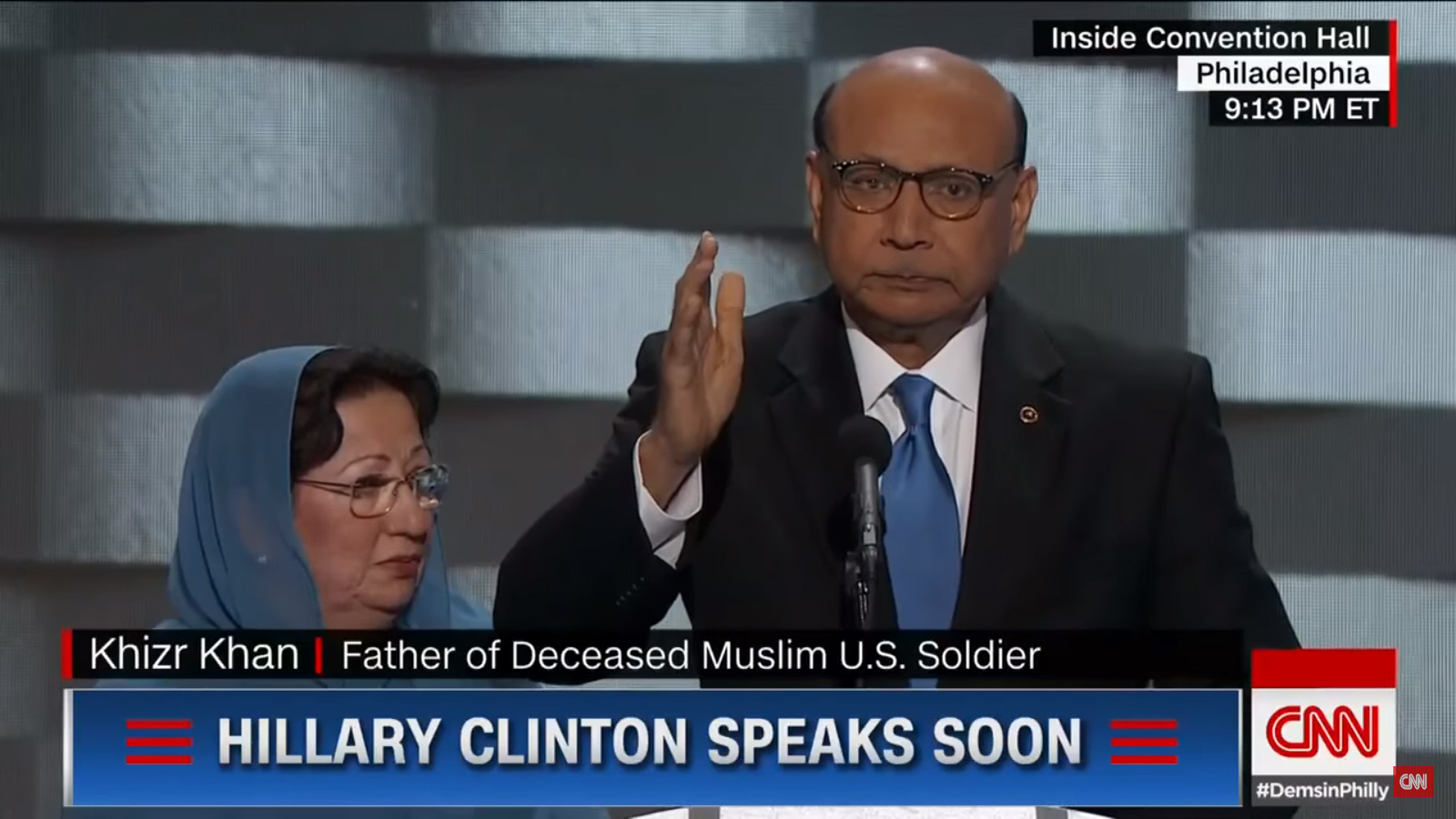 One of the most disgusting and appalling moments in Donald Trump's presidential campaign (a campaign full of disgusting and appalling moments) was his proposal for a ban on Muslim immigrants. As in, Donald Trump believes immigrants should have to pass a religious test before entering this country, and that we should not allow Muslims to immigrate. His anti-Muslim, anti-Islam hate speech has been off-the-charts, although there are many in the Republican party echoing Trump's words and thoughts. Last night, on the final night of the Democratic National Convention, the Democratic party used their forum to stand up for Muslim immigrants by giving a significant amount of time to the story of Humayun Khan, a Muslim-American who died serving in the American armed forces. There was a documentary short about Humayun Khan, which was just a version of a video that the Clinton campaign has had up for months. This moved me tears.
Then Humayun Khan's mother and father came out to speak to the DNC. While I loved Hillary's speech and the whole night was full of history being made, Mr. Khizr Khan's speech was the most moving and extraordinary moment I've ever witnessed at a political event. He spoke about Thomas Jefferson, about his son, about the Constitution and about what makes an American.
I'm just going to leave this here:
"If it was up to Donald Trump, he never would have been in America. Donald Trump consistently smears the character of Muslims. He disrespects other minorities, women, judges, even his own party leadership. He vows to build walls and ban us from this country. Donald Trump, you're asking Americans to trust you with their future. Let me ask you, have you even read the United States Constitution? I will gladly lend you my copy. In this document, look for the words, look for the words, liberty and equal protection (under) law. Have you ever been to Arlington Cemetery? Go look at the graves of the brave patriots who died defending the United States of America — you will see all faiths, genders and ethnicities. You have sacrificed nothing and no one. We cannot solve our problems by building walls and sowing division. We are stronger together."
You can read more of Mr. Khan's story here.
At the beginning of the evening, some of the commentators were saying that the speakers before Hillary were all going to be low-key. In retrospect, they were not low-key. I think it speaks to Hillary Clinton's character that she wanted the Khans to tell their story on the final night of the DNC.
What have you sacrificed #DonaldTrump says #KhizrKhan father of American soldier #HumayunKhan.#Patriot immigrant. pic.twitter.com/1MOyQkkA3R

— MIR MUKARRAM ZEHRI (@Mirzehri7) July 29, 2016
There are 5,896 Muslims in the US military who work day & night to defend our country. #DemsInPhilly pic.twitter.com/bYKhjWfsvg

— Steven Rattner (@SteveRattner) July 29, 2016
Screencap courtesy of CNN.