Kaiser covered Sarah Silverman and Sen. Al Franken's appearance at the DNC on Monday. The most memorable part of Sarah's speech was a unscripted moment at the end, after they had been asked to stretch their time to allow for Sen. Simon to get ready. Sarah returned to the mic to address the Bernie-or-Bust folks booing by saying, "Can I just say, to the Bernie or Bust people: you're being ridiculous." Unfortunately, some BoB person(s) (or Donald Trump's new friend) wasn't done being ridiculous and they hacked into Sarah's Twitter to post an anti-Hillary Clinton video under her account.
Apparently, not everyone was a fan of Sarah Silverman's passionate speech at the Democratic National Convention on Monday.

The 45-year-old comedian took to Twitter on Wednesday to clarify that a tweet from her verified Twitter account linking to an anti-Hillary Clinton video wasn't actually posted by her. "America, are you awakening? #Hilary4Prison," the now-deleted post read.

Silverman, who was an outspoken Bernie Sanders supporter throughout the election, spoke out at the DNC in support of Clinton. At the end of her speech, she came back to the mic to call out Sanders supporters who were booing.

"To the 'Bernie or Bust Crowd,'" she declared. "You're being ridiculous."

Still, she gave a shout-out to Sanders on Twitter on Monday, posting a picture of the Vermont senator rallying the crowd at the DNC.

"I will vote for Hillary with gusto, as I continue to be inspired and moved to action by the ideals set forth by Bernie, who will never stop fighting for us," she also said during her speech. "I am proud to be a part of Bernie's movement and a vital part of that movement, and a vital part of that movement is making sure Hillary Clinton is the next president of the United States."
The tweet is no longer available but you can see a screenshot of it here. And since people cannot help but be a**es on social media, the are now piling on Sarah for being hacked. Although she got rid of the offending tweet, Sarah has not let this slow her down. She is still supporting Bernie Sanders AND Hillary Clinton because that is really not that hard to do. Although the incident did make her forget Kate Beckinsale's birthday.
I wish this election wasn't so exhausting. As an American political history major, election time is usually my favorite. However, I think Ms. Lee-Kennedy says it best in her last line here:
Either Sarah Silverman is having a very confused week or she's been hacked by Anonymous. WHAT A FUN ELECTION THIS IS https://t.co/VFokx7N5H2

— Brydie Lee-Kennedy (@BrydieLK) July 27, 2016
#BERNIE pic.twitter.com/I1zlsR5d4p

— Sarah Silverman (@SarahKSilverman) July 26, 2016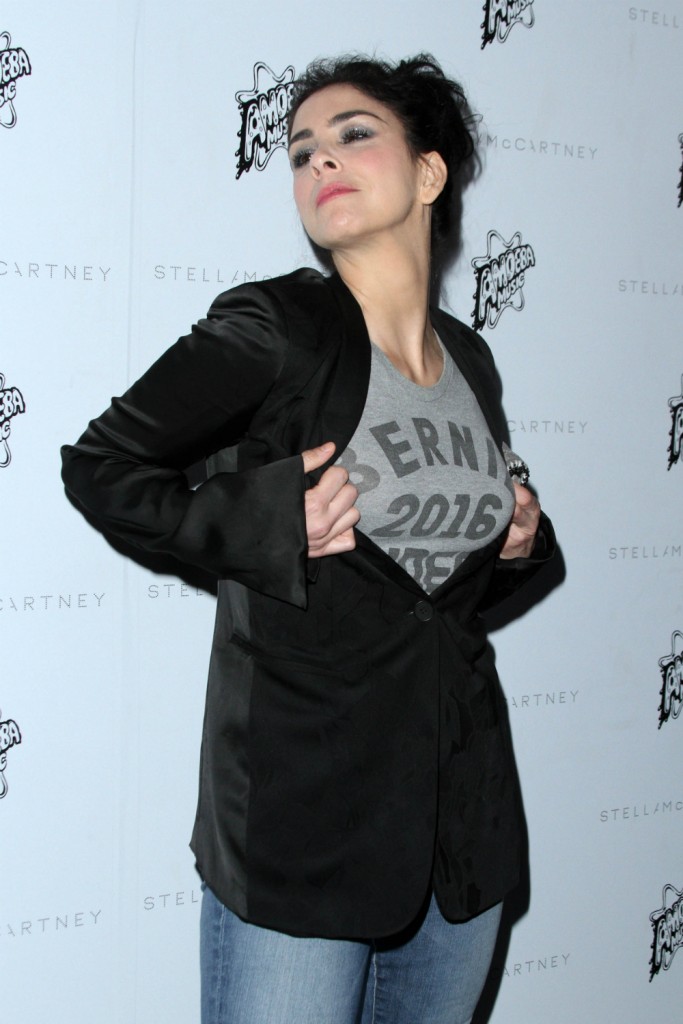 Photo Credit: WENN Photos, Getty Images, Twitter and Instagram