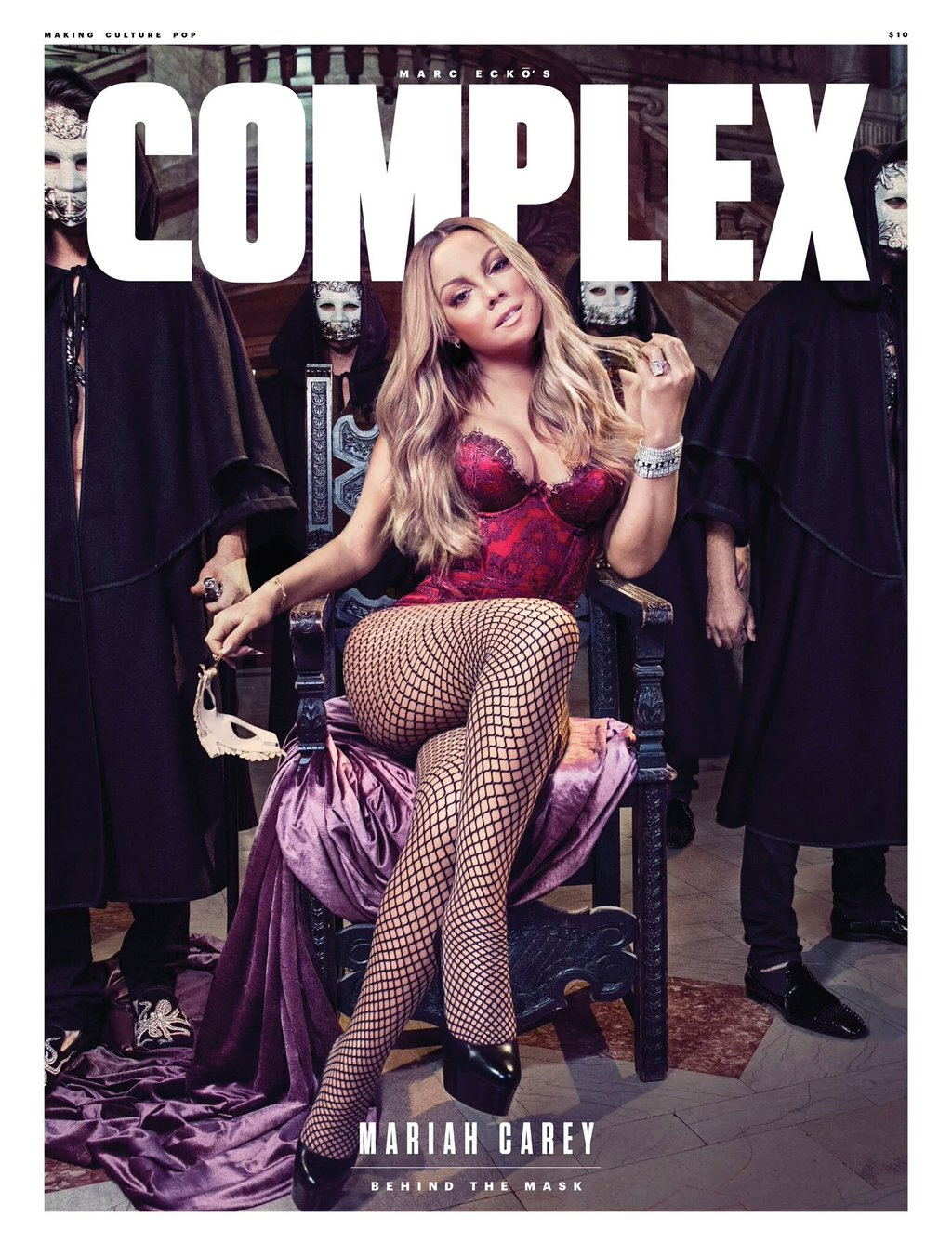 Yesterday, I was primed to think the worst of Mariah Carey. I read a particularly absurd story about her on Page Six, and then I sat down to read this Complex interview. I expected it to be a lot of "dah-ling, I'm me" superficial nonsense. But I ended up enjoying the hell of this interview, because Mariah actually does get deep. Well, deep for Mariah. She talks about her reality show, Mariah's World, her decades in the music industry, her friends, her love of Marilyn Monroe and more. This is definitely one of the best Mariah interviews in years! You can read the full piece here. Some highlights:
Filming Mariah's World for E!, home of the Kardashians: The show won't be, according to Carey, a put-it-all-out-there show in the style of the Kardashian clan—who are, coincidentally, filming something in a private dining room 15 yards away. "Some of us," Carey says, casting a glance toward the room, "talk about other people and what they do and la la la. But I'm not that person."

She's always felt like she was part of hip-hop culture: She's worked with Jay Z, Snoop, Ol' Dirty Bastard, Nas, the LOX, Rick Ross, and Jeezy, but the MC she most regrets not having worked with is 2Pac. "They were like, 'Oh, she's interested in this little rap music.' I was like, 'No, I've grown up on this. You think it's something new. You're kidding me!' I love the grimiest rappers in the world. That's my favorite."

Rappers versus singers: "A lot of rappers don't have to go through what I had to go through as a singer. I was always in a bubble that they put me in, but I was always punching out. It was a tough line to walk."

Her engagement to James Packer: "I don't expect him to be at every little thing that I do, and vice versa. He's got a lot of stuff on his plate and so do I. There's a mutual understanding."

Whether their wedding will be more like a merger: "We would like for it not to be a big thing, but the reality is it has to be. Because there's things that are specifically mine, and he's got huge friggin' conglomerate stuff and I'm not looking to take that from him. So it has to be dealt with. Anytime you get married to somebody [it does]—and I should know. This'll be marriage number three. My bishop said to me, 'I don't want you to go Elizabeth Taylor on me!' I said, 'I'm not'—and then I said 'Bye.'"

What she'll say about Packer: "He's a private businessman and there are a lot of things with his companies that I just can't talk about. It's just not good for me to do." But she does reveal that he's long been obsessed with her music, and listens to different Mariah playlists while he travels. The fact that he was a huge fan didn't scare her off. "Actually, if he didn't like my music, then how would I be able to handle him being around when all I'm doing is creating? It's cool."

Music today: "If Michael Jackson were alive he could sing, [The Weeknd's] 'Can't Feel My Face.' He could sing any of those songs. And sometimes it reminds me, 'Oh, I wish that Michael would've had a song like this'—I loved when he did [the 2001 song] 'Butterflies' and songs like that. They would always hate on that at Sony because they wanted him to do these big pop records."

Memories of Prince: "Prince was one of the best people I've met. He didn't care about the big system. I was always like, at any time Prince could write a No. 1 song, because he's that talented, but he chooses to do what he wants. I respect that. He actually helped me through a lot of situations with his knowledge. He always had a plan. I just can't believe he's gone. I was hoping that it was a trick that he was pulling—that it didn't really happen."

Why Mariah bought Marilyn Monroe's childhood piano: "That was the only thing that she had from her childhood. I haven't touched it—I won't even tune it. I could've bought the dress, the [sings] Mr. President dress. But I'd rather maintain what she cared about. You know that her production company was the first female-owned production company in Hollywood? She paved the way for women in a lot of ways that a lot of people don't think about. She was so 'the sex symbol' that it looks like the opposite, but she really wasn't that."
In a long-form interview, you actually get the nuance and humor of Mariah, right? She's actually quite funny and somewhat self-aware. I laughed when she was basically like "I'm not going to talk about my fiancé… except to say that he was obsessed with me and my music and I couldn't be with someone who isn't a fan." I also found the conversation about her connection to hip-hop rather interesting. Complex brings up the idea that Mariah was perhaps appropriating hip-hop's street cred by collaborating with those rappers, but I do think that she really does feel at home in the world of rap/hip-hop. Also: "My bishop said to me, 'I don't want you to go Elizabeth Taylor on me!' I said, 'I'm not'—and then I said 'Bye.'" Bye, bishop.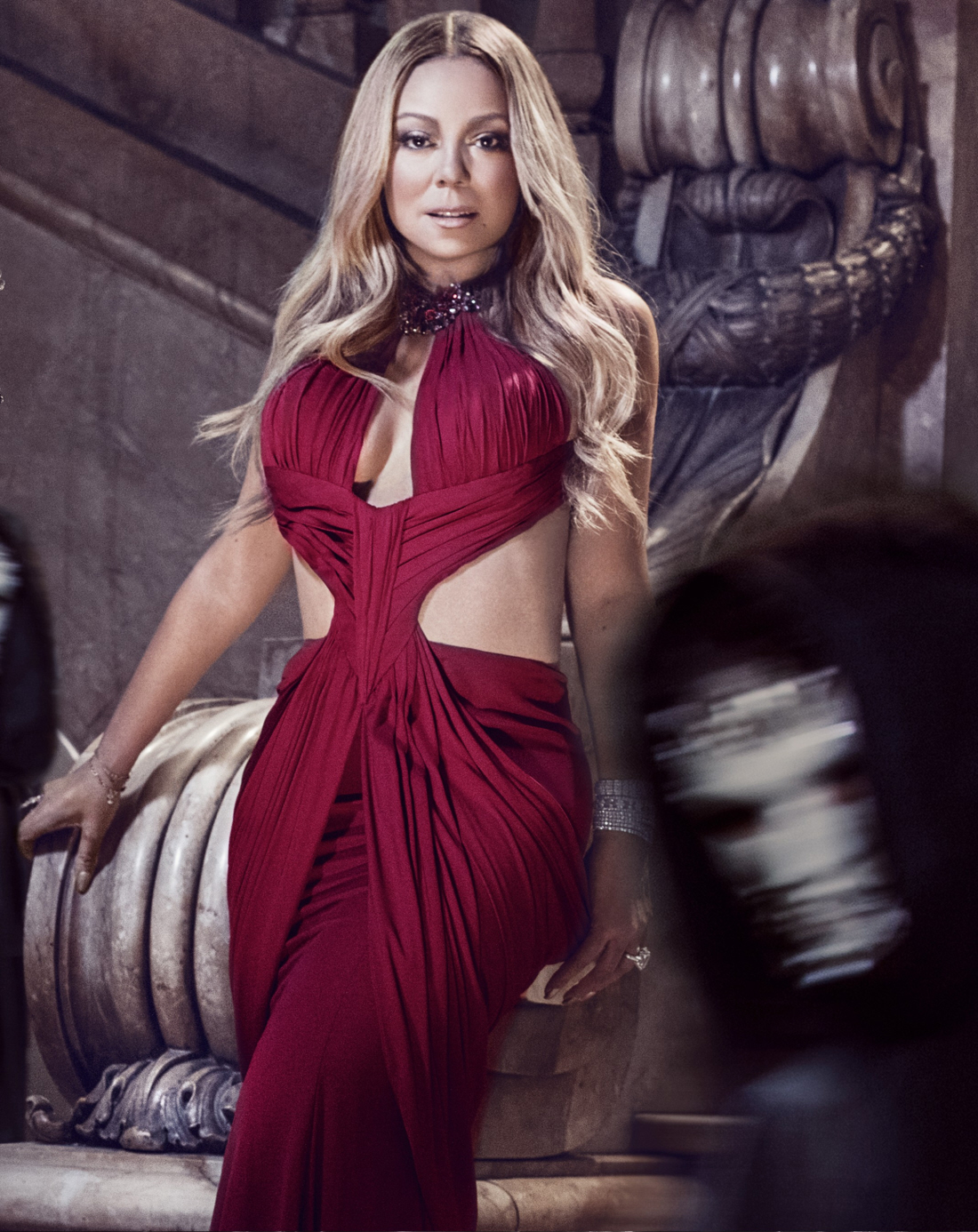 Photos courtesy of Complex.