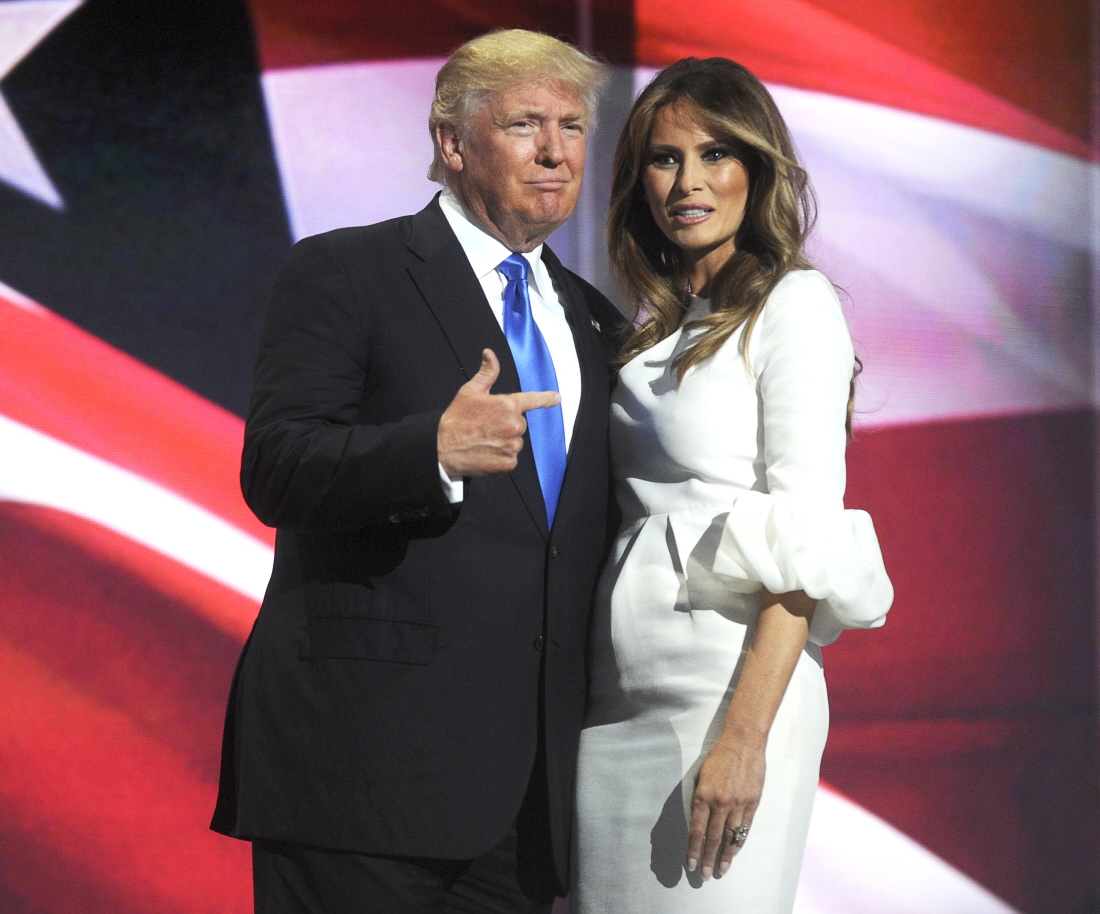 I actually feel sorry for Melania Trump a little bit. Her husband is a dog-poo-covered train crashing into a dumpster fire, but I guess people are like "Donald Trump's insanity is the New Normal," so Melania is being nitpicked to death. Of course, she brought some of this on herself. No one forced her to go out on stage at the RNC and plagiarize Michelle Obama. I'm not even entirely sure it was her fault, but we'll probably never know. But on the other hand, she never expected to be anything other than a trophy wife to a reality show personality, and trophy wives are held to a different standard than the soul-crushing standards for political spouses. This week's big Melania kerfuffle is actually a rumor that's been circulating for months. I remember hearing something vague about it a while back, but now even People Magazine is saying that Melania Trump has probably been lying for years about having earned a college degree.
Melania Trump's official website has been wiped from the Internet after questions arose recently over whether the site's claim that she holds a college degree is in fact true. MelaniaTrump.com now reroutes to the homepage of the Trump Organization's website, the extensive biography page of which bears no mention of Donald Trump's wife. However, screengrabs from her former website obtained by the Huffington Post show that she claimed to have earned "a degree in design and architecture at University in Slovenia" before pursuing her modeling career.

Additionally, much of the 46-year-old's biography on the 2016 Republican National Convention's website echoes the wording used on her former website, including her claim of "obtaining a degree in design and architecture at University in Slovenia."

However, a recent GQ profile of Trump said she "decamped to Milan after her first year of college, effectively dropping out." And a new unauthorized biography of the former model, Melania Trump: The Inside Story, claims that Trump's educational history was fabricated in order to maintain a certain image, The Hill reports.

"[Donald Trump and his advisers] were desperate to give off the impression that the Slovenian model was not just beautiful, but also smart and well-educated," the biographers claim.

Trump's education came into question earlier this month after it was discovered that her GOP convention speech plagiarized parts of a 2008 speech by Michelle Obama. Although Trump originally claimed to have written the entire speech herself, a Trump campaign staffer soon took responsibility for the plagiarism, claiming that Trump had sent her passages of Obama's speech as inspiration for her own speech but the staffer failed to change the wording of those passages.
I'm including some of the screencapped images from Melania's website (before it got taken down), which HuffPo thoughtfully grabbed. HuffPo also notes that if Trump's advisors wanted to make Melania sound smart/educated, they were certainly worried about it a long time ago, because chica has been lying about her education since 2012 or earlier.
Much like the plagiarized speech, I don't understand why the Trump campaign is incapable of simply admitting a mistake and apologizing. But the Donald is never wrong, and neither is Melania, apparently. I also don't understand why we would have to be sold on this idea that Melania is secretly brilliant. I mean…come on. We know she's not a genius.
Also: imagine the glee with which the Republicans would have taken down a Democratic spouse if said spouse had lied about their education.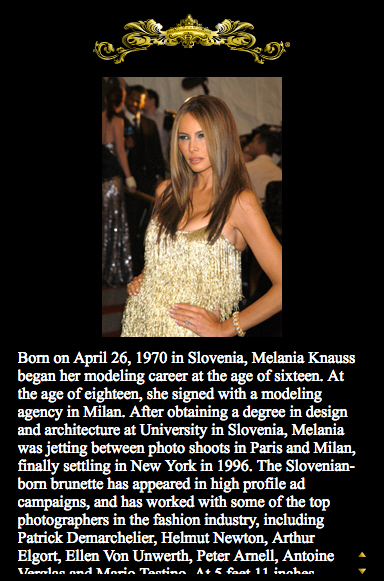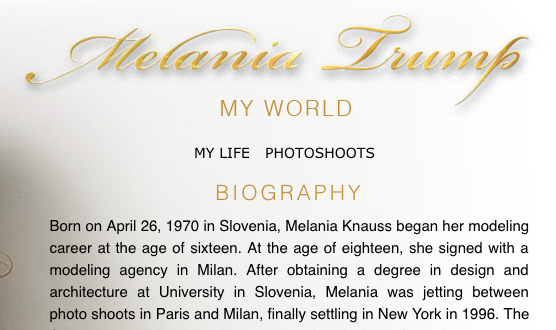 Photos courtesy of WENN.