Can you feel this magic in the air? Inside Taylor Swift and Tom Hiddleston's date night: https://t.co/e86VDFkmgD pic.twitter.com/7uZRzCQ4a5

— E! News (@enews) July 29, 2016
I wondered why there wasn't any significant photo evidence from Wednesday evening's Tiddle-excursion. Now I know: Taylor Swift and Tom Hiddleston were caught out by just one photo agency (maybe?) and that agency sold the photos and video to E! News. I imagine the pics and video cost a pretty penny too, although to be fair, the photo agency had to send a photographer and videographer to document Taylor and Tom's entrance AND exit out of the Santa Monica restaurant Hillstone. And magically, no other paps showed up? Weird, right? Here's E!'s exclusive on their date night.
Taylor Swift and Tom Hiddleston have resumed their sweeping romance back in the states. The Grammy winner and her British beau drove into downtown Santa Monica, Calif. Wednesday night for a romantic evening of dining at Hillstone. The couple arrived at the American eatery hand in hand, grinning widely as photographers captured their every step.

The duo looked equally in "style"—a red-lipped Taylor was dressed in a sleek and mod velvet black crop top and matching mini skirt with gold sandals while Tom opted for one of his signature button-down shirts tucked into a pair of belted jeans. According to an eyewitness, the two looked very happy and were smiling the entire time. "It seems like they are always sharing a laugh or inside joke," the eyewitness added. "They were giggly and sweet."

Upon arrival, they were spotted walking into the restaurant's private entrance up to the VIP second floor. After nearly two hours, they left out of the same side doors while still clutching each other's hands.

While Tom initially forgot to open his girlfriend's door for her, he remembered and, ever the gentleman, returned to her side just in time to close it behind her. The songstress sat in the passenger seat while the Night Manager actor got behind the steering wheel. Before driving away, Tom took out his glasses to see and Taylor pulled down his visor for him, inciting a chuckle between the two. Their security rode in a separate car behind them as they headed right back to Taylor's house.
My question today is pretty much the same as my question yesterday: is Taylor or her publicist just email blasting certain outlets with specific details, and asking those outlets to report the outing in a certain (cloying) way? I half-expected to see some other witness mentioning "Taylor looked pretty" again. You can see the video at E! – go here. I believe they are legitimately dating, but I don't understand the awkward media "performance" dance with these two. What's the point? Tiddles is so confusing.
Taylor Swift and Tom Hiddleston are going strong! Inside their romantic date night out tonight on #ENews. 7 & 11! pic.twitter.com/2qu6RroDAn

— E! News (@enews) July 28, 2016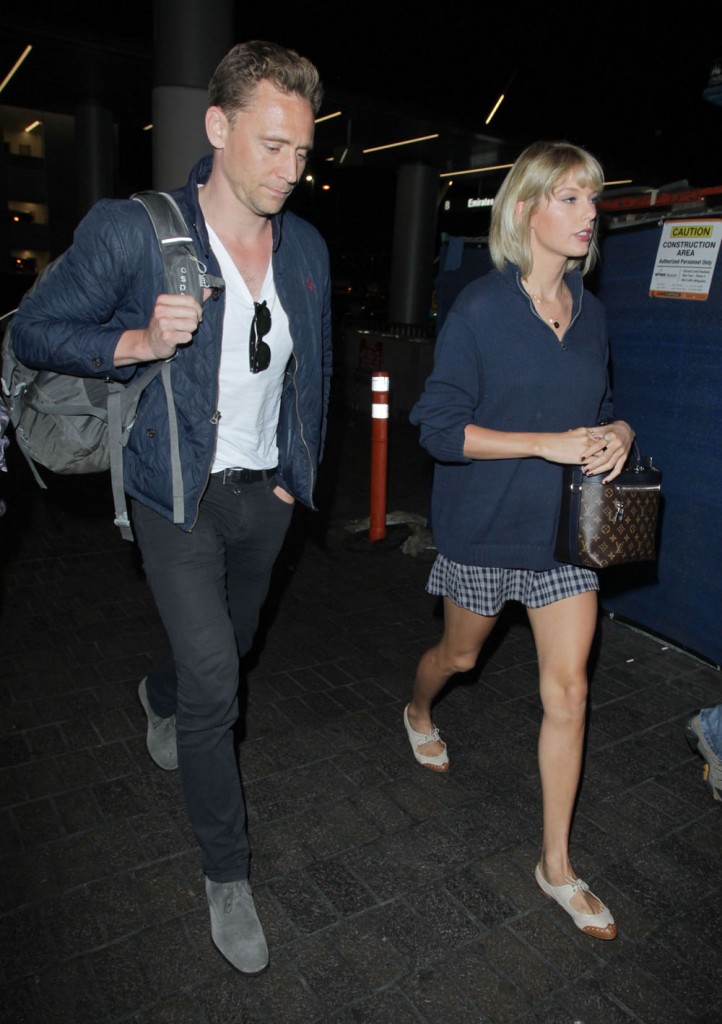 Photos courtesy of E! News' social media, Fame Flynet.