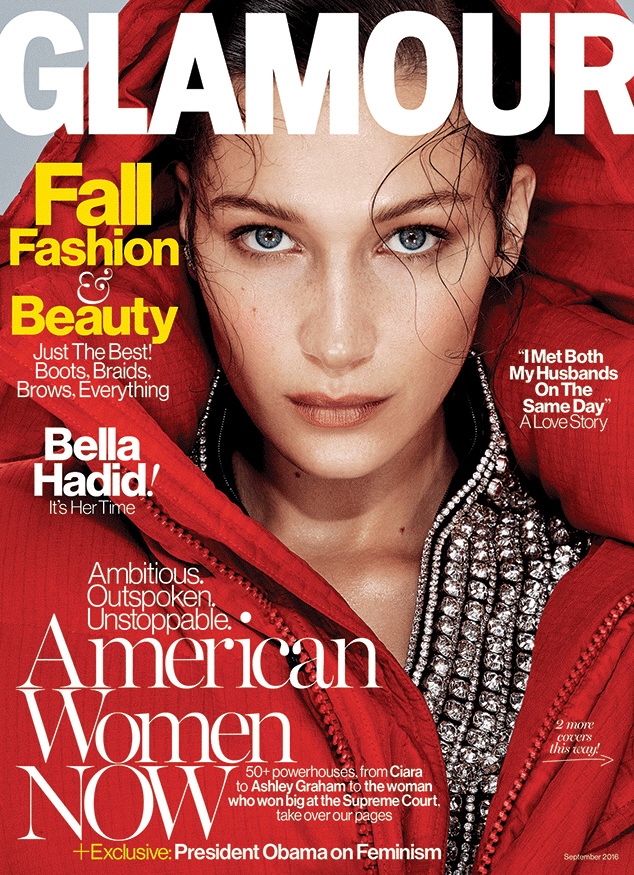 Bella Hadid covers the new issue of Glamour, the September issue. I think we're going to see a lot of Insta-models on the September issues this year – Bella's sister Gigi will probably get some covers, and Kendall Jenner is reportedly Vogue's cover girl for September too. As for Bella's photoshoot… I actually think she's a strong editorial model for the most part, but this is not her best work. She has a real dead-eye problem, but her "movement" photos look good. You can read the full Glamour piece here – she talks about her boyfriend, The Weeknd/Abel, and her horses (because she's a rich girl) and more. Some highlights:
Why she dropped out of college: "Gigi [who's a year older] had already started modeling when I moved to New York to study photography. I met with [her agency] IMG. I started modeling and was working almost every day, learning more with photographers on set than I was in school. Even now I'm going to Europe by myself. I've got a lot of responsibility.

It's lonely to travel solo for work: "It does. Even though you're in Paris and London, at the end of the day, you come home and you're by yourself. Sometimes I break down and cry. But once I am done with a full month in Europe, I step back and think, I'm so lucky."

Whether she dyed her hair dark to look different: "Well, I didn't really dye my hair to separate myself from Gigi. I started dyeing my hair when I was 14. I dyed it black and blue, I wore eyeliner—I was a punk kid. I might want to go blond eventually!"

Whether she & Gigi are twinsies: "I don't know about twins, but we're definitely a lot more similar than people think. We have the same voice, the same mannerisms. Sometimes we'll finish each other's sentences, or we'll be the only people laughing. We've always been close. As kids, especially on weekends, our mom would drive us to the barn at 6:30 A.M., and we would spend the day together riding our horses, and washing and cleaning them."

On Stephanie Seymour's comment that the Insta-models are "the bitches of the moment": "It's crazy. I've worked with Stephanie before and loved her; she was sweet to me. I don't know if she meant it in that mean way. But even so, it's still hurtful. My sister and Kendall work their asses off. We're all working hard. You just have to let your success speak for itself…because at the end of the day, we're making our money… I don't want anybody to fail. Why would you wish that upon somebody? If you're a powerful woman and you're confident in yourself, you want other people to succeed.

Going to the Grammys with Abel Tesfaye, a.k.a. the Weeknd: "It was a big night for him. He has worked so hard, and he did so well that night. As a girlfriend I wanted to be there to support him. Seeing him so happy when he won a Grammy made me so happy… I'm dating Abel. I don't see him as the Weeknd. I'm proud of the Weeknd and the music he makes, but I really love Abel."

Dealing with Lyme disease: "It starts with brain fog; for a while I couldn't put sentences together. I'm really tired a lot. A few weeks ago I had a big campaign shoot that I had to reschedule. It's hard, but I push through, because at the end of the day, if you're not working, somebody else is.
She had more personality than I was expecting, mostly because I thought she would sound like a barely sentient dishrag, that's how low I set the bar these days. But she seems like a pretty typical 19 year old in some ways, and in other ways she seems more mature for her age. I do think all of the Instamodels need to grow a thicker skin though – what Stephanie Seymour said about them was barely insulting, and most people agreed with Stephanie's central point: don't call Gigi, Kendall and Bella "supermodels." Not yet, anyway. They've barely been around for two minutes. That was Stephanie's point, and you can add Bella to the list of "Bitches of the Moment" who are super-sensitive about someone saying they shouldn't be called supermodels.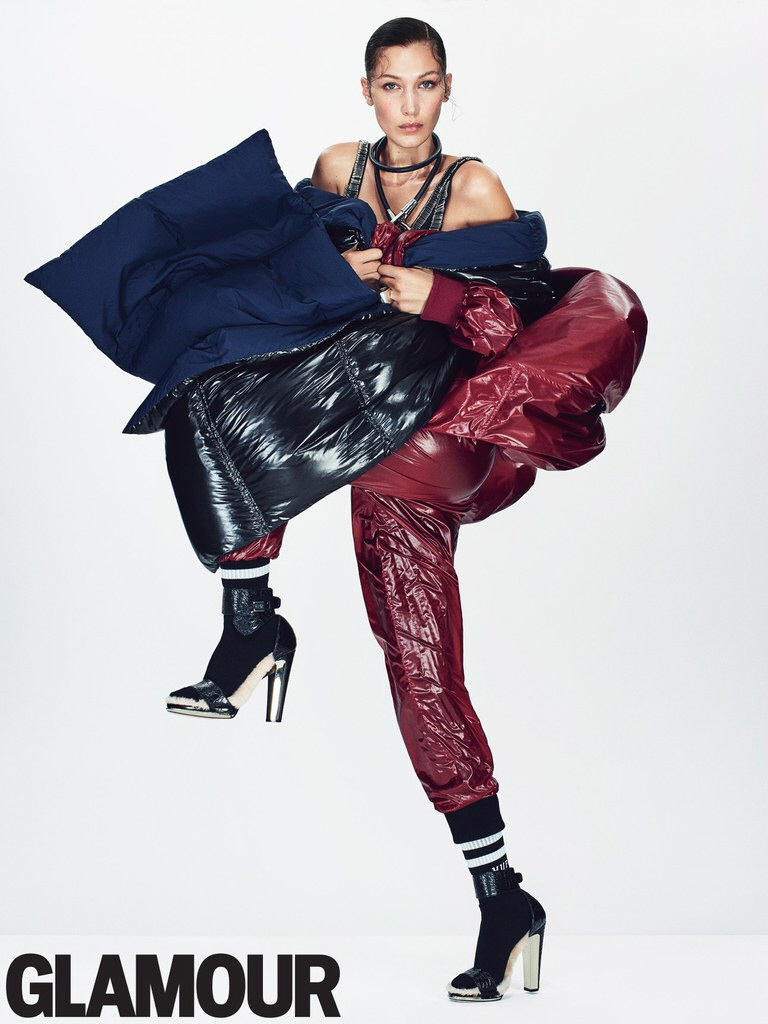 Photos courtesy of Glamour.