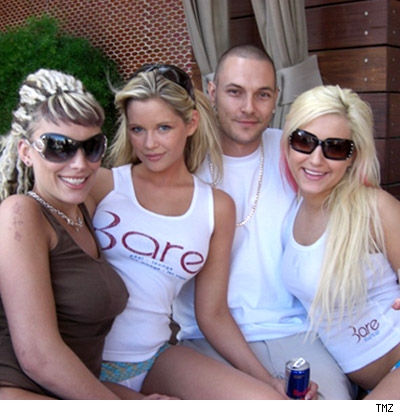 It's weird that Kevin Federline is starting to seem not just like the better parent, but like a good parent. He's done a good job of staying out of the public eye the last few months. Not only do you not see him out with his idiot friends or partying at clubs lately, you also don't see him out using his kids as photo ops. Not to be too gullible, but that makes you wonder if maybe his motivations are decent. I mean how easy would it be to plop the kids in the car and take them to the park for the paparazzi? He's been laying low, and from most reports has aligned himself with the entire Spears family – minus Britney of course. Now that the two are officially divorced, Federline's lawyer Mark Vincent Kaplan had a few statements about K-Fed's plans here on out.
"'When they are with him, he is going to shield his children from unwanted media attention,'" Kaplan said. "'You will not find a picture of Kevin parading with the children out in a public place.

"'He's focused right now on being the best parent that he can be,'" the attorney added.
[From the Washington Post]
As of right now, K-Fed and Britney will have 50/50 custody of their kids, and she will pay him $15,000 monthly in child support and an additional $20,000 in monthly spousal maintenance. For some reason even though their divorce is final, their child custody isn't, and K-Fed is supposedly going after full custody – with the support of Britney's family. When his lawyer Mark Vincent Kaplan was questioned about the financial settlement, he pointed out that famous people just plain need more money than the rest of us.
"However, Kaplan said Federline's life as a celebrity father comes with different demands than many other fathers face, including huge expenses. When they go out, Kaplan said, there must be a nanny and security guards.

"'There are people you have to pay so your kids can pretend they're like everyone else," said Kaplan. "When you are a celebrity parent, there are financial dynamics that others not familiar with it can't understand.'"
[From the Washington Post]
That's fair. Though I really have doubts abut how much of that monthly $25,000 is going to security vs. mansion mortgage payments and diamond-encrusted trucker hats, but at this point, what's his is his. He's certainly the lesser of two evils, and perhaps (surprisingly) has the potential to be a good parent. That'd be awesome, because Britney's kids will really need someone good in their lives to balance all the crazy.
Note by Celebitchy: Sorry for chiming in so much on JayBird's posts, but I really don't feel like writing an entire post about this. Both US Weekly and Life and Style are running stories about what a shitty parent Britney is in light of that big fight her bodyguard got into, which resulted in Sean Preston being hurt. US is saying she tried to get Sean Preston's teeth whitened. This isn't new information, and came out a few months ago in an OK! Magazine article about her nanny tell-all. It is news to me that she gets him to fetch cigarettes for her, calling them her "lollipops." Oh and she also threatened to kill a photographer. That is all.
Header image thanks to TMZ.