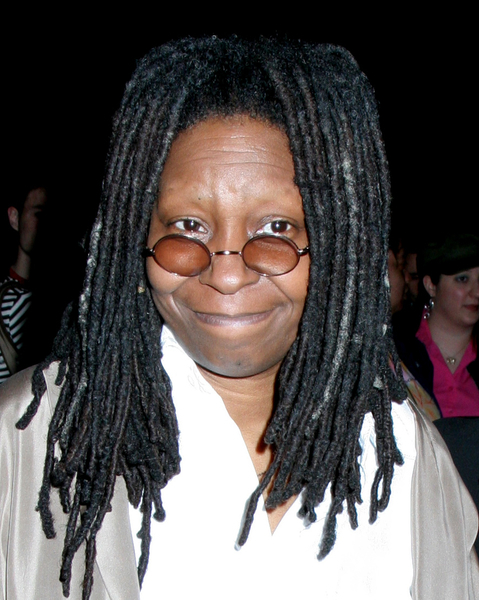 Well it's not much of a surprise, but ABC announced that Whoopi Goldberg will fill Rosie O'Donnell's position as the moderator on "The View." Whoopi makes a lot of sense in that position, as she is similar to Rosie, though she strikes me as someone who is less easily baited. Like O'Donnell, she's also a known commodity, and very liberal.
"I have known Whoopi for years,' Walters said in a statement released to ABCNews.com today. 'She is brilliant, funny and irrepressible, and is an enormously popular and talented star. We are delighted that she is going to join the program as our moderator. This is going to be a great new chapter for 'The View.'"

Goldberg, 51, has sat in as a guest host since O'Donnell's departure. She joins Walters and current "View" panelists Elisabeth Hasselbeck and Joy Behar.

"This is a big old thrill for me," said Goldberg, who appeared with her new colleagues toward the end of the show. "The thing I'm looking forward to the most are the hot topics and everyone trying to get in at the same time."
[From ABC News]
Whoopi has been an outspoken opponent of the Bush administration and the Iraq war, so we'll obviously see some more fighting with Elizabeth Hasselbeck. Somehow I don't think it'll be quite as personal as the Rosie v. Elizabeth matches, but who knows. Rosie could be a little immature and sink to name calling and the like. I can't see that coming from Whoopi. But anything could happen, and "The View" certainly likes to boost its ratings with fighting co-hosts.
Nothing was said of the other vacant position, so no one knows if they'll fill it or leave it open. Technically it's Star Jones' position that's still open. Meredith Viera and Star left at about the same time, after Rosie had already been slated to fill the moderator position, which was Meredith's. There was a lot of talk that comedian Sherri Shepherd would fill the other position, but no other names were mentioned by Barbara Walters.
"With her household-name status and vocal criticisms of President Bush, Goldberg will likely give "The View" the star power and sound bites formerly supplied by O'Donnell. On today's show, she hinted that like her predecessor, she won't shy away from contentious topics, regardless of whether or not her co-hosts share her opinion.

"'I'm going to be a little meaner than normal,' she said jokingly.

"'Just be yourself.' Hasselbeck said."
[From ABC News]
Hopefully the show will take a slightly more sophisticated route this next season. All of the drama, in-fighting, and diva-like behavior really detracted from the smart things the co-hosts had to say. I know Rosie's feud with Donald Trump helped her career (and probably his too) but I think it came at the expense of some dignity, for all involved. With any luck this coming season will be a little more mature, and a little less bitchy. Not that there's anything wrong with bitchy.