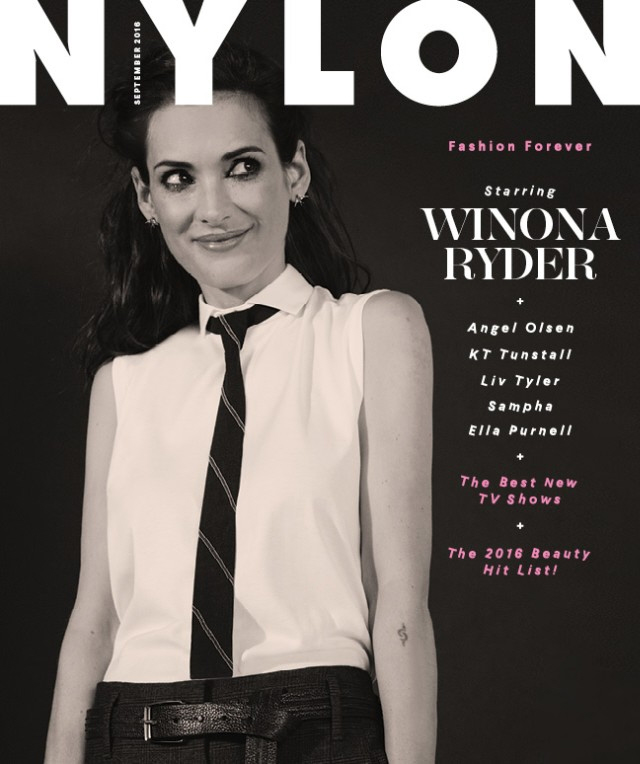 This just confirms it for me: Nylon is the modern version of Jane/Sassy magazine. Whenever I cover a Nylon interview, the editorials and the write-ups always remind me so strongly of growing up in the 1990s and LIVING for Sassy and Jane. More so Jane. And now Nylon has the perfect '90s cover girl, Winona Ryder. And if that isn't enough '90s nostaglia for you, Winona even talks about being a hero to goths and whether she was ever really "grunge." I can smell the clove cigarettes and dirty flannel from here. Quick, someone get me a pair of Doc Martens and some Manic Panic dye in electric blue!! You can read the full piece here. Some highlights:
How she got through her tough times: "You just do. In the scheme of things, there are much bigger problems to worry about."

When asked how she feels about being a goth icon: "I feel kind of proud, I guess, but I can't take full credit," she says. She cites The Cure's Robert Smith, but that's music; she was the queen purveyor of '90s goth vibes in film…"It's flattering to me. It was a long time ago, but I've always felt sort of attached to that time. I was just listening to [The Cure's] 'Pictures of You' because I have these old mixtapes that I don't know what to do with—I'm like, 'How do I transfer them?' I still have a tape deck."

She never embraced the grunge label though: "That whole label was a little bit weird. I somehow got sucked into that. Not by choice, because I was actually listening to Judy Garland albums."

She's into other eras: "I was perhaps a little unusual. I really was always drawn to other eras. I think actors, on some weird level, feel like displaced souls. I have had a lot of conversations about this, and part of it just may be from steeping ourselves in the history of film and the things we're drawn to, like period pieces."

How she cries on-camera: "The only way I know how is to really go there… I don't want people bringing up personal things. I think that can damage an actor, and I know a lot of people who have been incredibly hurt. There are things in my life that I've been through that I do not want to exploit. It's hard, though, when it's crunch time and you're losing the light or we only have 20 minutes left. It's weird. There are certain things that do make me cry, but I feel like they're almost sacred," she says. Ryder shows me one of her tricks: She lays her hands on her lap, palms up and open. "If you put your hands up, you feel vulnerable. It's the little things. I learned that from Jennifer Jason Leigh when I was just starting out."

She was Beetlejuice's Lydia: "That was sort of what I looked like. That was my hair—I was super pale. They really just put some powder on me."

Being 44 years old: "I never really had any hang-ups about aging. I'm not trying in any way to be insensitive to the conversations about ageism going on, because I know it's definitely a struggle. I think just, for me, part of it is probably having started so young and that desire I had—I was always hanging out with, or trying to hang out with, the 'grown-ups.'"
Minus a few questions about social media and her current projects, this interview could have taken place in 1995, no problem. I still feel like Winona is that goth girl, the pale young woman in all-black, listening to her mix tapes and collecting books of poetry. I mean… she still has her mix tapes, people. It occurred to me as I read this too: Winona wasn't just grunge-adjacent and a goth icon, she was also a proto-hipster. Those goths and grungers just morphed into modern hipsters, only in Winona's case, it's authentic. This is who she's always been.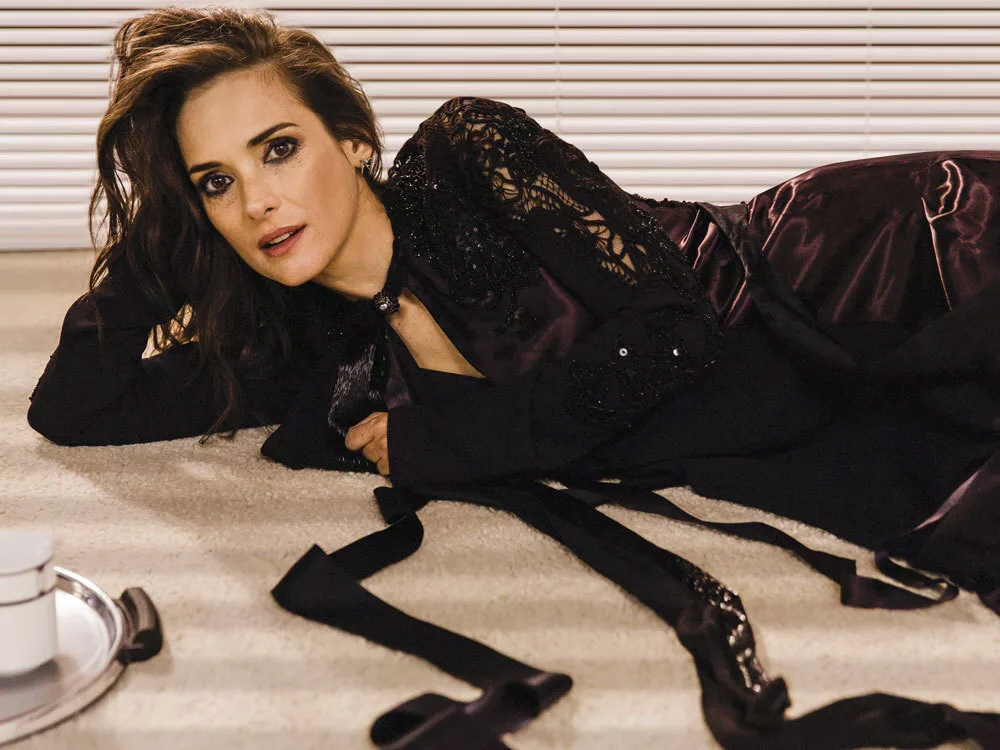 Photos courtesy of Nylon.