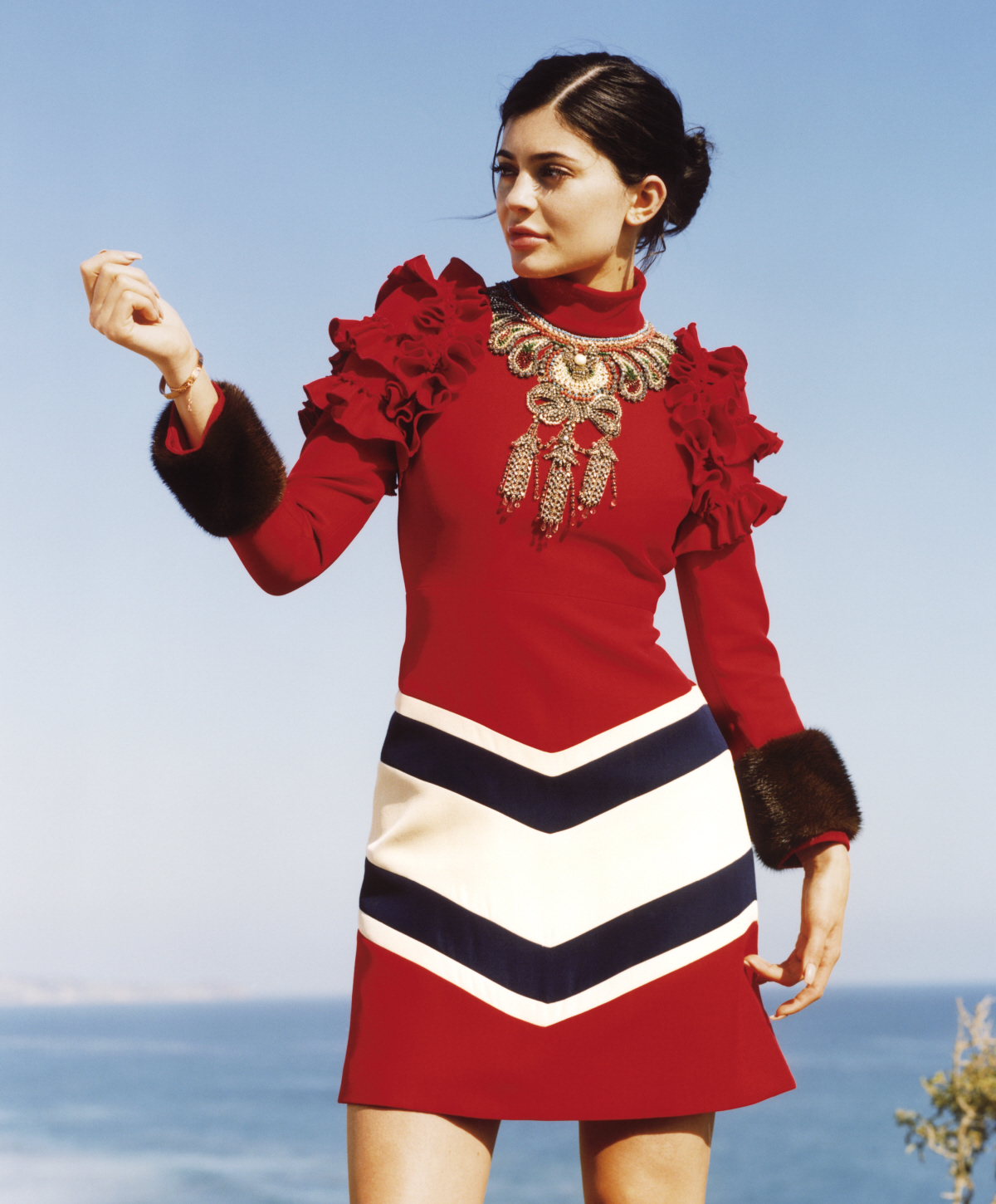 Kendall Jenner is the September cover girl for Vogue, which we saw last week. But did you know that the younger Jenner sister is also featured in the September issue? It's true. Vogue released their slideshow of "young Hollywood" types, featuring people like Jaden Smith, Willow Smith, Zendaya and Kylie Jenner – you can see the slideshow here. That's Kylie's Vogue photo above. This actually isn't the first time she's been featured in Vogue – once Anna Wintour allowed Kim Kardashian on the cover, the Jenner girls quickly got editorials in Vogue too. Earlier this month, Star Mag claimed that Kylie wants her own Vogue cover too, and she wants the kind of modeling work Kendall is getting. But the problem is that Kylie is a terrible model who only makes "duck lip" poses (because that's just her face at this point).
(Also: this is just for the die-hard Kylie-stans, but check out her Cartier bracelet in the Vogue photo. That's the same bracelet she's worn for years, not because she loves it, but because no one can figure out how to take it off. She's even gone to Cartier and they couldn't unscrew it.)
So, what else is going on with Kylie? Ugh. Most of it involves her on-again boyfriend Tyga. Tyga and Kylie went away to Turks and Caicos last week to celebrate Kylie's 19th birthday. They weren't alone – Kendall Jenner, Bella Hadid, Hailey Baldwin and some other friends were there too. They rented the 23-bedroom Long Bay Estate using Airbnb. And Kylie and Tyga are better than ever now! A source told People, "Tyga and Kylie had a ton of fun together on vacation and didn't have any issues with their relationship."
Here are some photos from Kylie's holiday with Tyga.
Photos courtesy of Harley Weir/Vogue, Instagram.