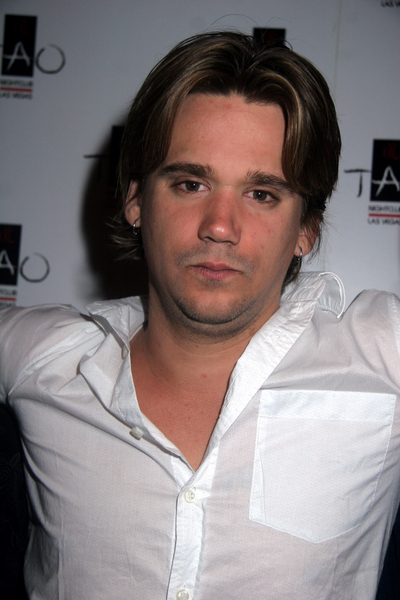 Rod Stewart's doofus son Sean Stewart, 26, is being sued by a guy he beat up outside of the club LAX last year. Stewart stars on the A&E reality show "Sons of Hollywood." Daniel Refoua is accusing Stewart of a whole string of crimes against him: assault, battery, false imprisonment, negligence and intentional infliction of emotional distress.
"Refoua's lawyer, Sean Bral, said his client was beaten up Jan. 5, 2006, by a group including Stewart after accidentally bumping into the singer's son at Hollywood's LAX nightclub.

"The melee followed an argument between Refoua and Stewart, who had a bodyguard with him, Bral said.

"'The next thing you know, he gets punched in the face and he's getting punched by Stewart and his bodyguard and whoever it was who was with him,' he said.

"Refoua, who is in his 20s, suffered a fractured nose and other injuries, Bral said. The lawsuit seeks unspecified general, special and punitive damages.

"'We invite him to come forward if they want a resolution in this, to sit down early to talk as opposed to later," Bral said.'"
[From the Washington Post]
Stewart's lawyer countered by saying what actually went down was "much different" from what the lawsuit states. He accuses Refoua of just going after Stewart for money. I could see that happening, as the guy has cash and is a pretty easy target. Except that, unfortunately for Sean, he has a history of beating people up, and has pending criminal charges against him in a separate case. In April he and some of his friends confronted a couple, Tobalus and Ericka Stein, in their truck and then started punching the pair while throwing bricks at them and their car. According to legal documents, "Stewart and friends began 'swinging their arms at, punching, throwing bricks and other items' at them and striking the bodies of plaintiffs as well as striking the [truck].'" Stewart was charged "June 11 with two felony counts of assault with a deadly weapon (the brick) and one count each of throwing substances at a vehicle and vandalism with damage in excess of $400. He was arrested one day later on a felony warrant and released on bail." He is due back in court on that case this Monday. The Steins have also filed a lawsuit against Stewart.
From these two separate incidents, it sounds like Sean Stewart and his friends are just a pack of roving angry guys roaming L.A. waiting to beat up on unsuspecting bystanders. The guys sound like they're jerks, but neither of these stories mentions if the victims did anything to provoke them. I'm not saying the victims could have possibly deserved to be beaten up, I'm just saying it's weird. Either way, from now on I'm carrying a brick on me whenever I'm in Los Angeles, just in case I run into any of the Stewart family. That Kimberly could really use someone knocking her off her pedestal anyway.