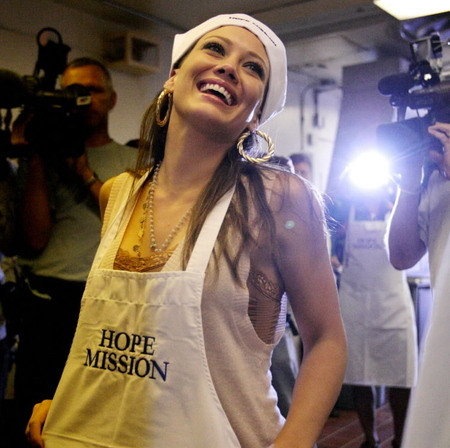 On Wednesday, Hilary Duff dished up chicken stew for the homeless in Edmonton, Alberta at Herb Jamieson Centre as part of her campaign to raise awareness about poverty and hunger. Duff also solicited food donations from those attending her concert. The food will be distributed in Edmonton through Alberta Harvest.
Duff volunteered her time for over an hour and also paid a visit to Hope Mission, a Christian social services agency.
"The Hope Mission was a priority and we wanted to lend a hand. It's so rewarding for me. I love to get down and dirty and help out. A big misconception of charity work and celebrities is that it takes a lot of money. It doesn't take a lot of money. Your time is the best thing you can give."
Duff, who was in Canada for a scheduled stop on her "Dignity Tour" which kicked off Saturday in Winnipeg, has previously collaborated with Canadian Harvest and has raised more than 125,000 pounds of food on her two previous Candadian tours.
Interesting to note that Duff's supposed new man, New York Islanders player Mike Comrie, is also from Edmonton.
"I'm in Edmonton, he's from Edmonton," she said, squirming in her chair. "Some of the guys (at the shelter) asked me about him, about hockey."
Hope Mission spokeswoman Janelle Aker praised Duff's efforts, contributions and time saying Duff dished it up until the last man was fed.
"She stayed for the whole lunch," Aker said. "Until the last man received his food."
Photo: Vancouver Sun