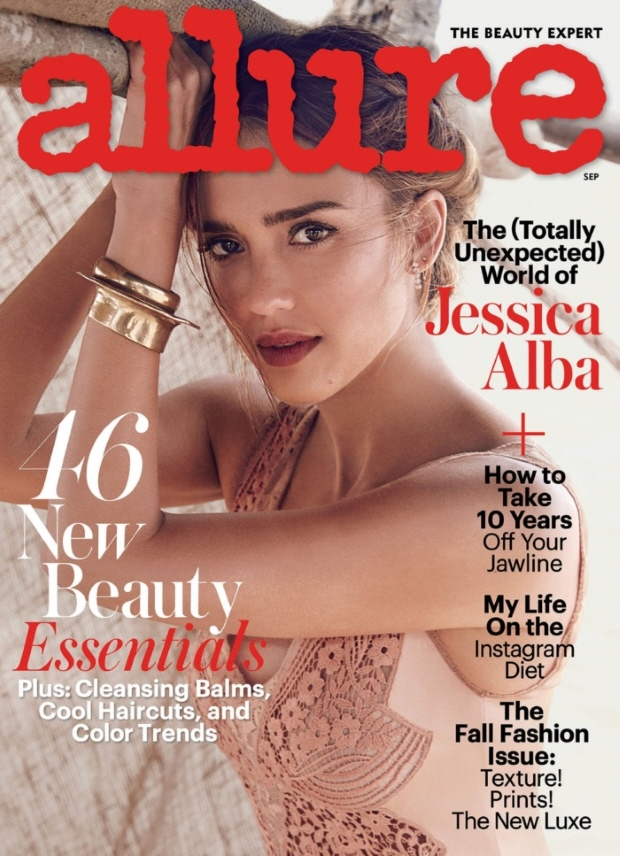 Jessica Alba is on the September cover of Allure. The cover has been out for weeks, but Allure keeps releasing new quotes from the piece, and some of the latest quotes are sort of interesting. I've come back around on Alba, much to the bemusement of many commenters. I used to not care for Alba whatsoever, but she's grown on me a lot in the past few years. Part of that is her maturation and part of it is that she's no longer trying to convince people that she's some serious actress. She founded The Honest Company and she's now worth hundreds of millions of dollars (on paper), so she just takes occasional acting gigs for fun at this point. She's currently promoting Mechanic: Resurrection. Some highlights from the interview:
She doesn't think all chemicals are "evil": "Everything is a chemical. Water is a chemical. I'm not against chemicals. I care about human health, and I want whatever is safest and healthiest. Some people can have very extreme points of view. I created the Honest Company because I'm not extreme. I couldn't identify with people who wanted to do everything completely 100 percent from nature. I don't have a garden growing my own organic fruits and vegetables. I don't have an organic farm where I'm raising my own livestock. That's not my reality. So I want the best options that work for me without me feeling like I want to compromise on health or safety. Honest is about that happy medium, and not extreme."

She didn't go to college: "I would tell my younger self you are smarter than you think you are. I always felt like because I didn't go to college, I wasn't smart. That's not the case. I wouldn't be so hard on myself about being accepted [by others]. I cared so much about everyone liking me. If I could just spend a little less time thinking about what other people thought, I think that would've freed me up [to focus on myself]."

Makeup regrets: "I actually wore too much makeup when I was a teenager. I wore a full face, and I probably [should have] worn a lot less. I didn't know that there was the no-makeup makeup look until I was in my 20s. I used to use a foundation stick and just rub it all over my face, and then I would break out. Then I would wear more makeup to cover the breakout. The most important foundation is great skin.

Tanning beds really aren't cool: "I did it a little bit as a teenager and a young adult. I remember it was a trend, and we all used to do it. You put the sticker on to see how dark you got. I would go to my cousins' dances, like the Sadie Hawkins dance, and we would get a fake tan before. I would never do a tanning bed ever [now].

Don't overpluck your eyebrows: "I got really excited about hair removal when I started shaving. I plucked the crap out of my eyebrows. I wouldn't recommend [doing] that because it really is hard for your hair to grow back, if it ever does.

Protect your hands. "I would tell myself to wear gloves. Back in the day, if I was washing dishes or doing any housework that used a detergent, my hands got ruined. I never used gloves. Now, I have more gentle products so people don't need to use gloves, but back then I didn't have that. I would also tell myself to use sunscreen and lotion liberally on my hands. [My hands] are the things that look not-my-age.

Think twice before getting a tattoo. "You're never going to be in the same place emotionally and mentally at 18 that you are at 20 or 25 or 30. Something that's meaningful to you when you're younger is not going to be meaningful to you five years later. Understand that tattoos are forever. I have a few tattoos. I'm not into them now the way that I was.
I also wish I had understood more about skincare and makeup when I was a teenager. I was always going to have oily skin, but I made it so much harder on myself by thinking that I should wear foundation or concealer… when I was like 16! There was nothing to conceal! Now that there's something to conceal, I couldn't give a f—k. Re: eyebrows and plucking… is it just me or have a lot of celebrity women been giving that advice lately? It seems like #PluckingRegrets are real. I wish I could overpluck and train my eyebrows to not be crazy, but they always grow back. As for the talk about chemicals and how she's not extreme… sure. I read that as a little bit of shade directed towards the celebrity women who do push those kinds of "everything has to be all-natural, all the time!" narratives.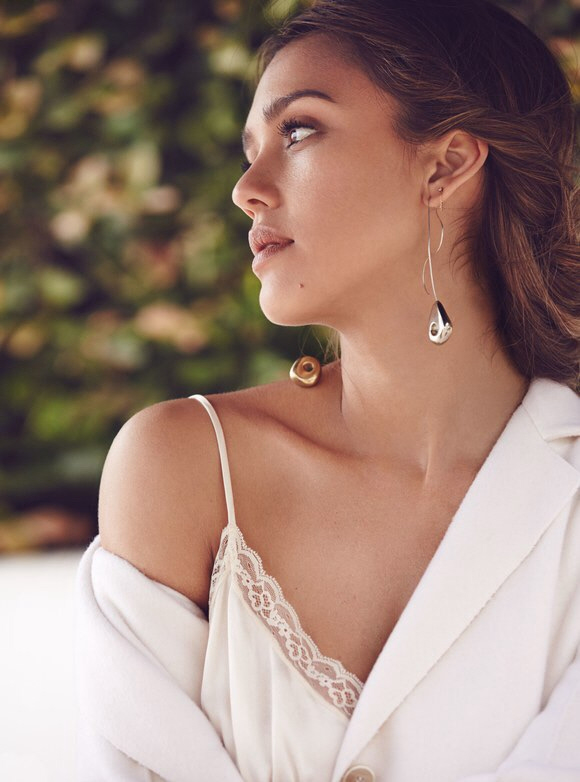 Photos courtesy of Allure.