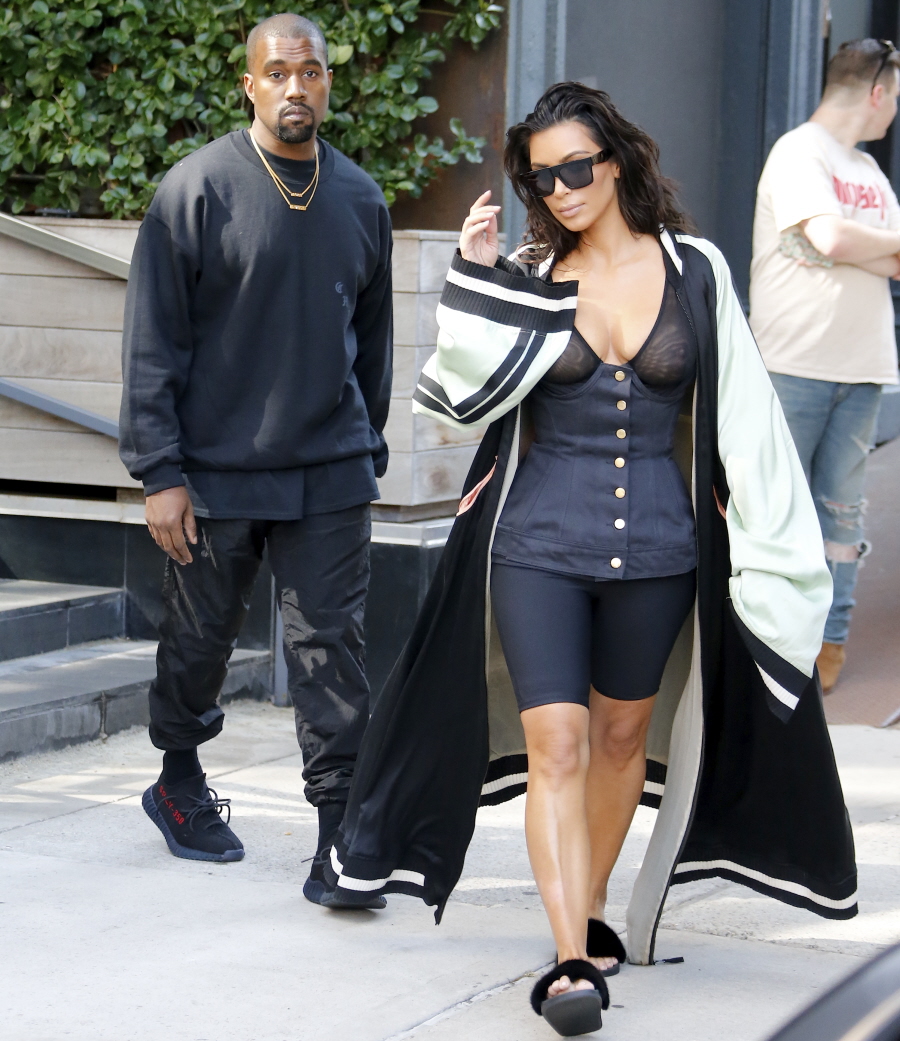 Kim Kardashian has lost a lot of weight since giving birth to Saint West. By her account, she's lost more than 70 lbs. She says she's been dieting (Atkins) and working out (??), and some/many believe she's also been helped out by a plastic surgeon along the way. I do think Kim has worked hard and stayed on her diet, but it wouldn't surprise me if she supplemented her workouts and diet with some lipo here and there too. Kim's body is a mystery wrapped in an enigma, covered in glitter-dust and heavy contour makeup. No one knows for sure.
Still, Kim wants to tell everyone about how she really achieved her dream body-after-baby. On her subscription app, she decided to list her current food/drink obsessions. The post is called "'The Foods I Always Have in My Fridge!" No soda or beer! Hm. Some of her list:
"When it comes to what's in my fridge, I always try and keep it fresh, simple and clean (everything is always lined up perfectly, LOL!). I'm really dedicated to my Atkins diet right now so it's all about staying healthy and lean. These foods and drinks are great for snacking and keeping me energized throughout the day."

She is 'obsessed' with Diet Peach Snapple because 'it's sooo refreshing and perfect during this hot summer!' She also likes Pressed Juicery Activated Charcoal Lemonade, writing: "I'm not super into the whole 'juicing' craze, but Pressed Juicery's fresh drinks taste amazing and make the perfect snack!' she wrote. She added Charcoal Lemonade 'is rich in vitamin C.'

And then there is Bio-K Probiotic. Kim wrote: 'I love that it keeps both my digestive and immune system balanced!'

Kim also named Organic Prairie turkey breast and Sargento string cheese as some of her favorite snack foods.
This surprisingly short list sent me into a dizzying binge of internet research. Charcoal lemonade? That's a thing? Apparently, yes, it is. Gwyneth Paltrow even recommended it on Goop last year, just in case you needed a confirmation that this is a stupid fad. Time Magazine wrote about it too – it's this whole juicing fad where "activated charcoal" juice is believed to absorb the toxins in your body. Some people swear by it, some people are like "nope, nah." As for Kim's refrigerator… I'm irritated that she only listed five items that are always in her fridge. What about food for her children? What about… yogurt, or ginger ale, or chicken (chicken is always in my fridge, in several different forms), or an emergency supply of chocolate?
PS… these photos are from yesterday, Kim and Kanye were wandering around New York. I'm not a "cover yourself, chica!" kind of person, but I am tired of seeing Kim's breasts this week. All she needs to do is wrap that coat/robe around herself a little bit and it would be fine.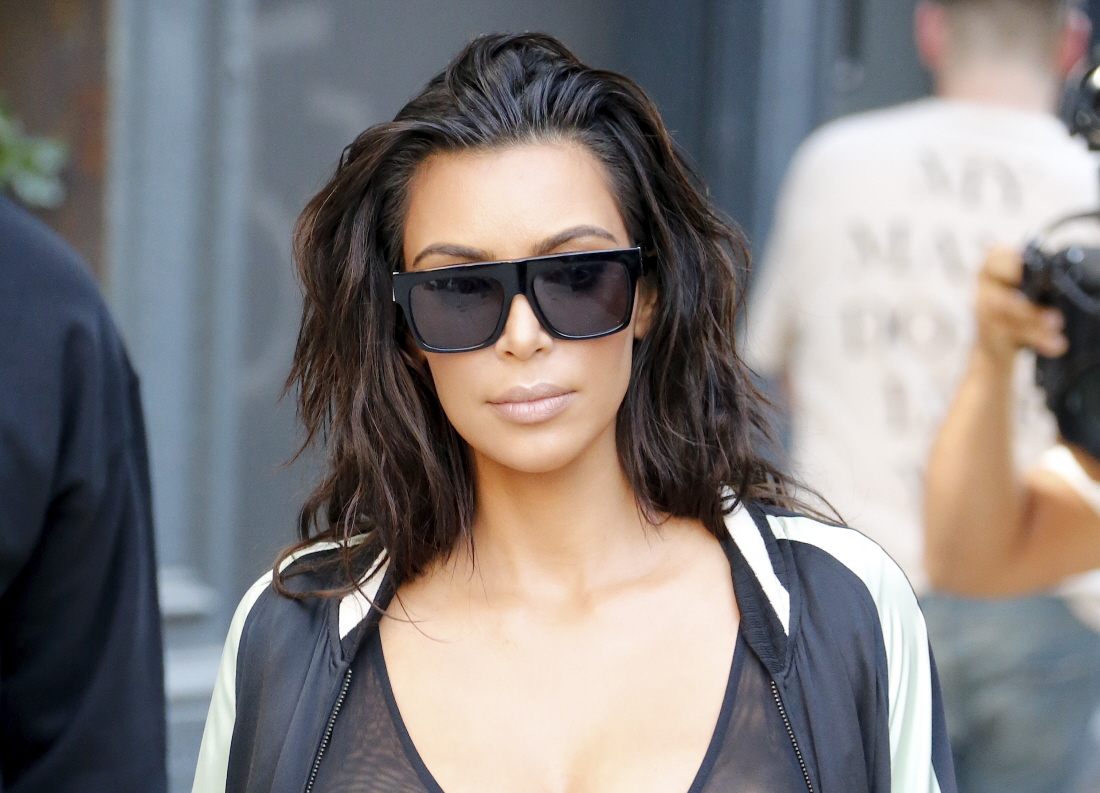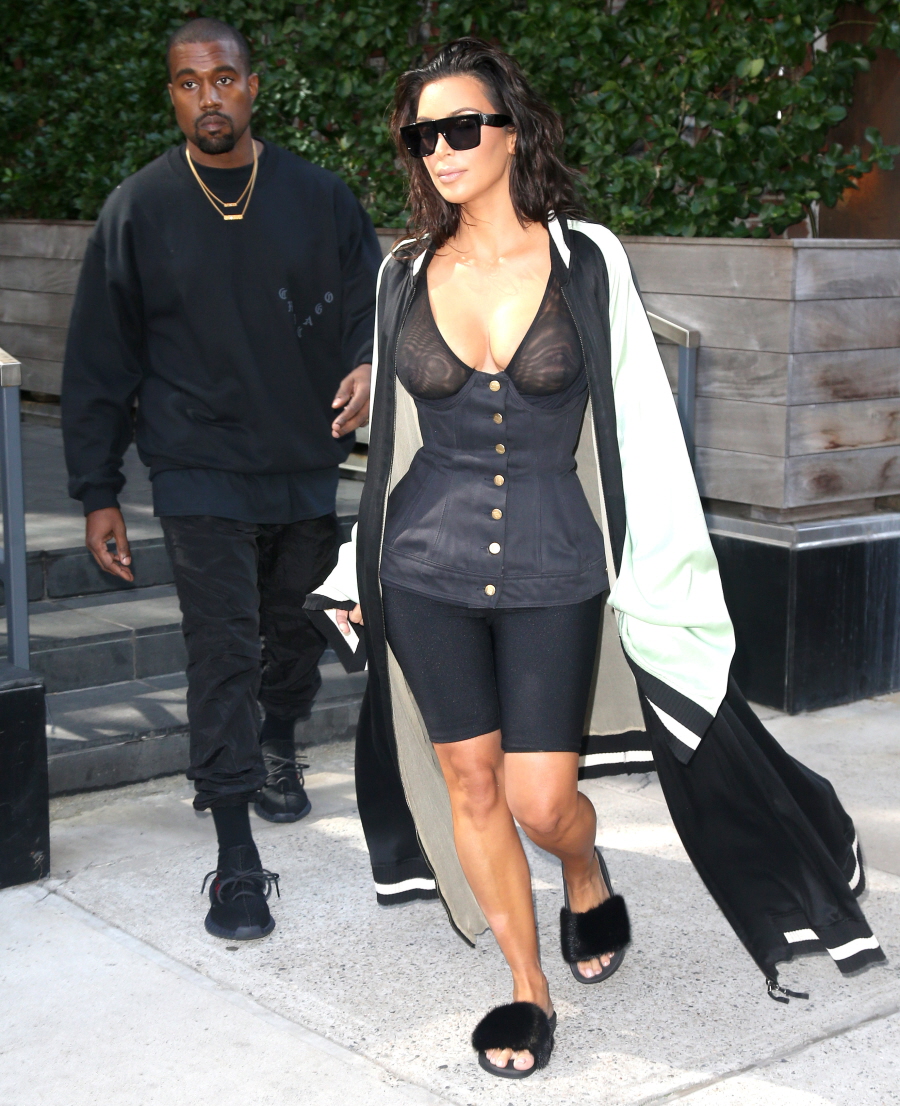 Photos courtesy of Fame/Flynet.