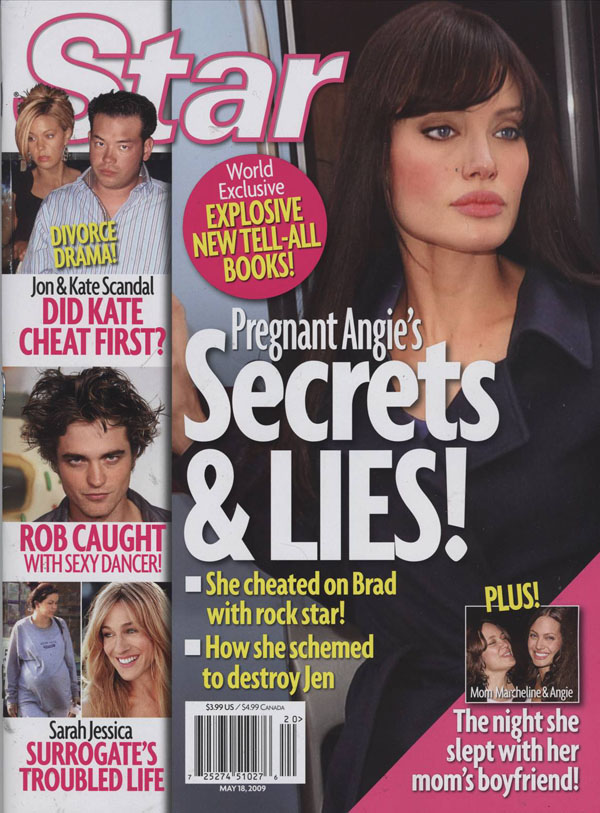 The full text of Star Magazine's cover story is out, and it's complete insanity. This is the story about the two tell-all memoirs coming out about Angelina Jolie, one from Princess Diana-biographer Andrew Morton, the other from Angelina's ex-bodyguard Mickey Brett. Star actually sat down and talked to Morton, and then tried to figure out what kind of dirt he would be getting on Angelina's past.
There are more details on the stuff we've already reported, like how a teenaged Angelina "seduced" her mother's boyfriend. Star also brings up some of the old stuff about Angelina's obsessions with blood and knives, and her stay in a mental institution in 2000. I didn't really think there was anything new there, but Star spins it like the rumors just broke. There were two new rumors – new to me, at least. According to Star's sources, Angelina had been pregnant "two or three times… She was careless and wasn't ready to be a mom." I'm not sure if they mean abortions or miscarriages. I seem to remember a rumor about a miscarriage when Angelina was with Billy Bob Thornton, but I always thought that if it had actually happened, Angelina would have said something about it. They also allege that Angelina has had repeated breast augmentation, putting in and taking out breast implants before and after Lara Croft filming:
Andrew Morton… is already researching every aspect of [Angelina's] life, including her stint in an L.A. mental institution in 2000. Just hours after her release, she married Billy Bob Thornton.

"That period in Angelina's life is still a mystery, even to people who are close to her," Morton tells Star. "Was she committed, or was she a voluntary patient? I want to get at the truth and discover why she was there at all."

In fact, insiders tell Star that Angie's relationship with Billy Bob Thornton is rife with shocking details that Morton may expose.

"She was so obsessed with him that she threatened to kill herself if he didn't marry her," says a source. "Angelina was very dramatic, and because she carried knives and did drugs, he thought it was possible she could harm herself. He was so worried that he agreed to tie the knot."

In her teens, the actress was captivated by vampires, a family insider reveals. "She was always asking her boyfriends if she could taste their blood. She even wanted to become a mortician."

Morton flew from London to L.A. on May 3 with a team of researchers. "I want to separate the truth from all the fiction and all the hype that follows Angelina everywhere," he tells Star. "I'd love to sit down with her, and I've made an approach asking her to cooperate on the book."

In school, "people called [Angelina] Spider Lady and Freak because she was so thin and pale and she only wore black," says another source. "She was the outcast. She was far from popular."

But by the tine she hit sweet 16, Angie was blossoming into a gorgeous woman – and she quickly learned how to use her beauty to snag a much older, married man!

Morton may also reveal that Angelina "had a brief but steamy affair with a guy her mom knew," the family insider tells Star. "Angie knew that he was attached – and 20 years older – but she still seduced him! She was a total sex kitten."

Teen temptress Angie knew no limits and even went after her mother Marcheline's boyfriend! "March and her guy had a huge fight, and Angie saw her chance to seduce him. She felt so guilty about it, she confessed to her mom. She promised she would never do something like that again," says the insider.

As Angie grew older, her taste in sex partners expanded to include women. Actress Jenny Shimizu was just one of them. To this day, says the source, "Angie checks into hotel by herself, and Brad doesn't ask questions. But it's because she still likes to sleep with women."

With his knack for digging, sources tell Star that Morton, 55, could reveal the truth about the babies Angie lost when she was younger.

"I'm told she was pregnant two or three times," says the family insider. "She was careless and wasn't ready to be a mom."

The insider adds that Angie has always felt regret about those babies she didn't have, which could be why the now pregnant mom of six is determined to have a huge family. And her great love for her rainbow brood is one of the main reasons Angie wants to keep her secrets in the closet.

[Angelina] especially doesn't want her daughters to know about her multiple boob jobs, another insider adds.

"She had them enlarged just before Lara Croft: Tomb Raider, then she had them made smaller," says the insider. "She hopes her girls never feel like they need breast augmentation."
[From Star Magazine print edition, May 18 2009]
Personally, I don't think Angelina's had her boobs done. They seem to go up and down in size according to her weight and her pregnancies, and they've always looked natural to me. However, I wouldn't be surprised if Angelina did have miscarriages early in her life. She used to be a very self-destructive young woman, and it's clear from her appearance a decade ago (and her own admissions) that she was on serious drugs in her early twenties.
The funniest part of the story for me was when Star got to the part about Angelina trying to "destroy" Jennifer Aniston. Angelina's plotting started when she first met Jennifer in early 2004. Apparently, as soon as Angelina laid eyes on Aniston, Angie thought "I'm going to ruin her life." Or something like that. Star makes it all about the conflict between the two women, obviously. Even now, when Angelina clearly possesses Brad like a toy she and Aniston were fighting over, Angelina continues to try to ruin Aniston. The line that still has me giggling is: "Angie grabs up all the great scripts she knows Jen wants… At this rate, Jen will never land an Oscar-worthy role." Chuckle. That's right, Aniston – er, I mean "anonymous source". Angelina is the reason Aniston will never win an Oscar. Absolutely.
Another secret Angie is determined to keep out of print: her on-going scheme to destroy Brad's ex-wife, Jennifer Aniston. After years of denying it, Angie finally copped to falling in love with Brad on the set of Mr. and Mrs. Smith, while he was still married to Jen. But that was Angie's plan from the start, the source tells Star!

"Right before filming started, Jen introduced herself to Angelina at Warner Bros. Angelina's appraisal was cool. She meant to take Brad from Jen – and he went more than willingly!"

The love scenes between Brad and Angie quickly turned into the real thing, says another insider. "One time, they made out after the director yelled cut, but forgot to turn off their mics. Everyone heard kissing noises and Angelina tell Brad she wanted him. When they realized everyone heard them, they ran to her trailer laughing!"

The tell-alls could also reveal that Angie didn't stop at stealing Jen's man: She's also been blocking Jen from getting plum movie roles! "Angie grabs up all the great scripts she knows Jen wants," says a source. "At this rate, Jen will never land an Oscar-worthy role."

And Angie is about to ratchet up her vengeance on Jen, the source adds. "They both have big movies coming out: in July 2010 Angie's film Salt opens, and later comes Jen's film The Baster. Angie has already secured the covers of Vanity Fair and another major magazine because she knew Jen wanted to do them too."
[From Star Magazine print edition, May 18 2009]
Aniston is having problems securing magazine covers? Perhaps that's because after she gives an interview, she then complains that the magazine is "tabloid" for quoting her accurately. Ah, well. Looks like we're going to have a few more years of uncool Bermuda triangle dramz.