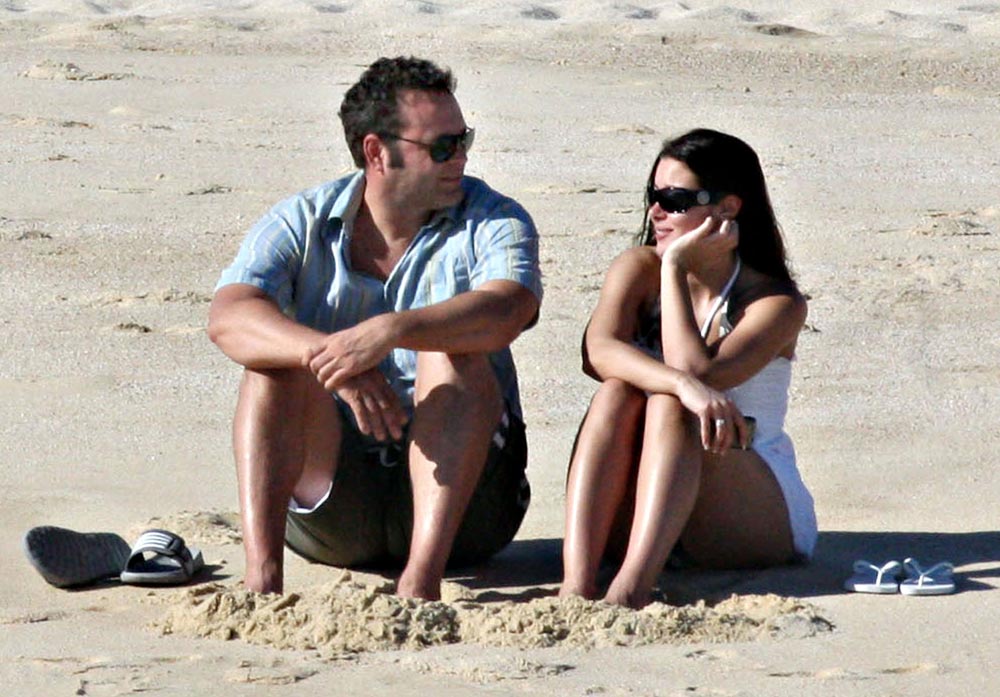 This story is hysterical. It seems that recently engaged Vince Vaughn is caught between two women – his mother and his fiancee, Kyla Weber. Kyla and Mama Vaughn (Sharon) are fighting all of the time, and if Star Magazine's report is anywhere close to the truth, it looks like Vince's mom needs to get a major grip.
Kyla and Vince are planning on moving into the Chicago residence he purchased in 2006 (when he was with Jennifer Aniston) after the renovations are complete. Ah, here in lies the rub. Mama Vaughn wants to oversee the renovations to her son's house, and decorate everything to her style. And no, Mama Vaughn is not going to live with the engaged couple. Sharon is just doing this because she lives her wittle-woogey boy, and Sharon doesn't want some nasty slut fiancee running in and changing the very special dust ruffle she picked out.
Kyla is obviously perturbed by these developments. Not just Mama Vaughn's decorating, but the gross Oedipal codependency Vince and Sharon seem to have. Run, Kyla, run!
Vince Vaughn is caught between two women! The actor's fiancee, Canadian real estate agent Kyla Weber, and his mother, Sharon, clash constantly – and mama's boy Vince can't do much to defuse the explosive situation.

"Vince wants to make both of them happy, but it's rarely possible. Sharon can be overbearing and likes to have her way, and Vince doesn't like to confront her and upset her," an insider tells Star. "That makes it hard on Kyla. It was a problem when he was with Jennifer Aniston too."

Things have been particularly tense between Sharon and Kyla since they both began remodeling and refurnishing Vince's three-floor Chicago residence, which he bought with Jennifer but then took over after their December 2006 split.

"Kyla wants to make the changes, since she's the one who'll actually be living there, but Sharon is not thrilled about her ideas," says the insider.

"Sharon already decorated the place the way she wanted it and doesn't like it when people question her decisions. She flipped when Kyla changed the bedding!"

Although Sharon's "claws really came out" after Vince, 39, proposed to Kyla, 29 – her dad confirmed the engagement in March – trouble has been brewing between the two women for months, says the insider.

"For Christmas, Vince got his mom and Kyla the exact same car, so Sharon wouldn't be offended – but he didn't tell Kyla. Neither Mom nor Kyla wanted the cars after they found out."

Ultimately, the hard-charging mama bear is likely to prevail in the battle of wills. "Kyla's really a nice girl, and she hates having all this drama," says the insider.

"She;s beginning to pull back and just let Sharon have her way."
[From Star Magazine, print edition, May 18 2009]
I love that "mama's boy Vince can't do much to defuse the explosive situation". He could tell his mother to chill, couldn't he? He could, oh, I don't know, take his soon-to-be wife's side and actually stand up to his mother for two seconds. All I could think when I read this was "Oh, that's why he never got married… he's already got a wife, his mother." Kyla probably thinks that if she stays, she's smart. That old broad can't live forever, right? But if Kyla was really smart, she would get the hell out of there.
Vince Vaughn and Kyla Weber are shown at the airport on 2/10/09 and in Mexico on the beach on 2/9/09. Credit: Fame Pictures