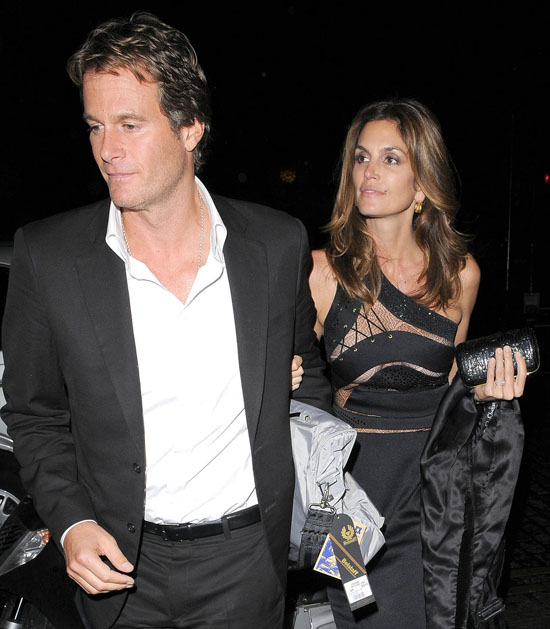 Cindy Crawford's husband, restauranteer Rande Gerber, is being sued by two ex-employees who claim he wrongfully terminated them after they refused his crude and invasive advances. Gerber's friend George Clooney is set to defend him against the charges, claiming that he was with him the night of at least one of the incidents and that he can vouch for his whereabouts the entire time. An alibi from Clooney might not be enough to exonerate Gerber though. The National Enquirer has a quote from yet another employee who claims she was fired shortly after she refused to have sex with him in a hotel room. This is from Harmony Kubiak, an ex-employee willing to go on the record to The Enquirer. She also spoke to Star Magazine in 2004 about the incident, which allegedly happened in 2000. Gerber has been married to Cindy Crawford since 1998 and they have two children together.
Gerber… made his move when they piled into a limo with a group of his friends to drive to a strip club in the Big Easy, Kubiak told The Enquirer in an exclusive interview.

"Rande suggested I sit on his lap. We were all pretty drunk by then," she says.

They kissed several times, and Gerber invited her back to his hotel room. But when they got to his room, the night "got kind of weird," Kubiak said.

She said that she passed out on Rande's bed, and when she woke up, he was wearing nothing but a towel and undressing her!

"That's when things came to a screeching halt," she said. "I freaked out and told him I had to leave."

When she returned to work at Whiskey Blue, "the managers acted differently toward me," and she was fired not long after, said Kubiak.
[From The National Enquirer, print edition, May 18, 2009]
If this is true, it's disturbing on so many levels. Not only did Gerber try to sleep with this woman when she was passed out – he also presumably arranged to have her fired for resisting his advances. This guy is cheating on his wife and he's supposedly so aggressive about it that he sexually harasses his female employees and makes sure they're let go if they resist. This could all be some elaborate plot to frame the guy of course, and you can't assume that someone is guilty just because of allegations. Either way, it's got to be upsetting for Cindy and their kids, who are 9 and 8 and may be old enough to get the gist of what's happening. We'll have to see how this lawsuit turns out and what kind of evidence is provided by the waitresses who got fired.
Cindy Crawford and Rande Gerber are shown on 12/5/08. Credit: WENN.com