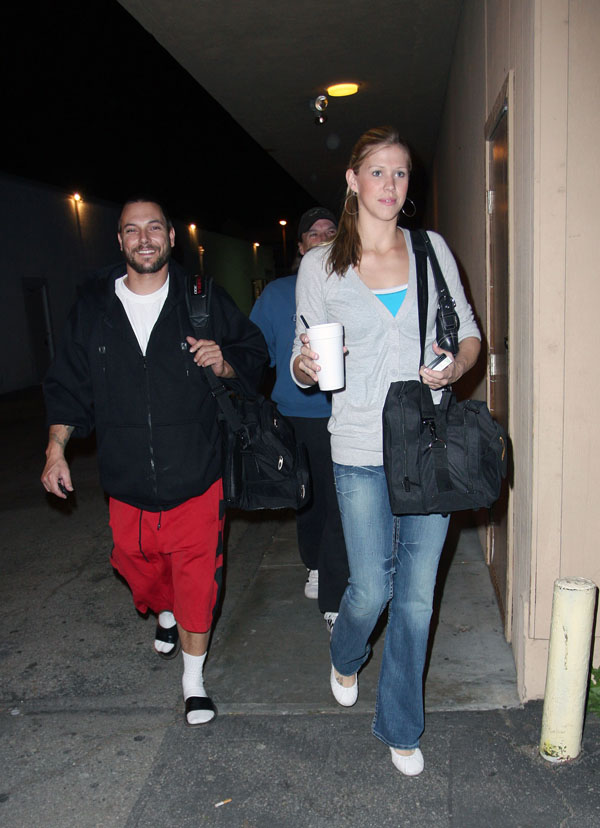 Kevin Federline has been living large since he divorced Britney Spears and gained primary custody of their two boys. Britney pays K-Fed a whopping $20k a month in child support along with additional fees he's negotiated, like $4k more a week for touring with her so she can see her children when she's on the road. All that cash is not enough for money-hungry K-Fed, though. Britney's baby daddy wants more money so he continue to live the lifestyle he's accustomed to. He's also blowing money funding another CD for himself despite the fact that he cannot rap and his first effort was widely mocked:
Kevin Federline is having a tough time making ends meet – despite getting $40,000 a month from ex-wife Britney Spears…

"Kevin has blown through millions of dollars," revealed a source. "When he and Britney divorced, Kevin continued the superstar lifestyle, and he spends all the money he gets."

The $2 million he received when his and Britney's house in Malibu was sold is gone, as well as the $500,000 he received for two years of marriage. The money he earned from photos, interviews and personal appearances – estimated to be in the hundreds of thousands – has also been spent.

And despite getting a $5,000-a-month increase in child support last spring – bringing it from $15,000 to $20,000 – his spare-no-expense existence is proving to be more than his wallet can handle.

"Kevin can't afford the rent, his help, the food and the booze it takes to keep up the place."

K-Fed is also pouring tens of thousands of dollars into a second CD, even though his first was a failure..

To ease his financial woes, Kevin is moving to a less expensive home in the Chatsworth area of Los Angeles. Also, he's been pocketing an extra $4,000 a week during March and April to be with Britney on her "Circus" tour…

"Jamie asked Kevin to come to Europe [on Britney's tour] with the boys," added the source. "Kevin wants double, or $8,000 a week, to accommodate Britney."
[From The National Enquirer, print edition, May 18, 2009]
K-Fed's expenses are out of control, according to The Enquirer, and include a monthly:
– $7,500 for rent, although that's been reduced now that he's moved.
– $2,000 for food
– $500-$800 a month on booze
– $2,800 for the nanny
– $3,000 for body guards
– $1,500 for utilities
Why that leaves less than $3k a month in discretionary income if he doesn't get any extra from Britney to tour with her! How will he ever cope?
The FedEx also pays his ex Shar Jackson's bills, which is probably where a large chunk of his money is going. Federline is rumored to be in talks to represent NutriSystem's new men's line. If he can lose weight on that program he might make enough money to continue to live large, so to speak. Whatever happened to those rumors of a reunion with Britney? Did that ever happen for these two and have they since cooled their hot makeup sex or was all of that wishful thinking by the tabloids?
Header is of Kevin and girlfriend Victoria Prince out on 1/29/09. Credit: Bauergriffinonline. K-Fed is shown below on 3/2/09. Credit: Fame Pictures