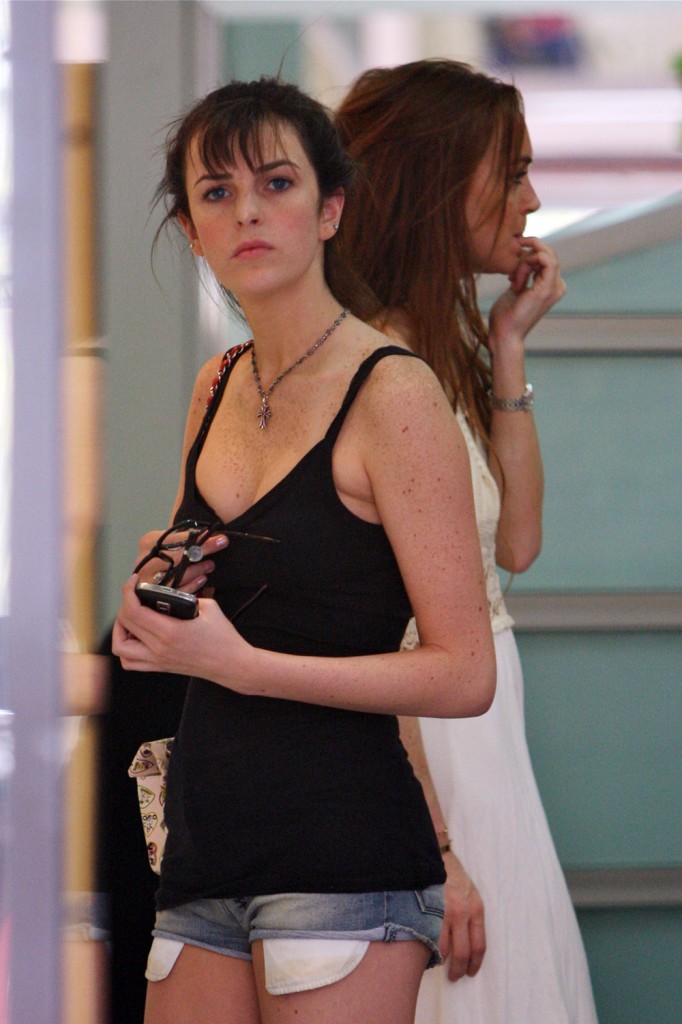 There's nothing to worry about with Ali Lohan's education, y'all. The 15-year-old Ali is being home-schooled, so says mother-of-the-year Dina Lohan. Some were concerned when it seemed like Ali was skipping a lot of school to … you know, to go hang out in Hawaii and go shopping with her sister and stuff. It turns out we shouldn't have worried, Dina's taking care of everything. Except that there's no mention of an actual tutor, so I'm guessing Dina is actually doing Ali's school lessons herself. Mother of God.
Celebu-sibling Ali Lohan's taking a serious time out with her big sis Lindsay … but shouldn't she be in school?

From an extended vacation in Hawaii to red carpets in L.A., the 15-year-old Lohan has been her sister's favorite post-break-up accessory, leaving many to wonder whether she's been skipping class for the past, oh, nine days.

But relax, hall monitors: Dina Lohan says she's got it covered.

"She is home schooled," Dina Lohan tells the Daily News. "I'm a firm believer in staying in school but, in the business, it's gotten difficult for Ali to be in school."

The younger Lohan started studying from home after leaving her Long Island school earlier this year – and she's using the same program Lindsay took up after starring in "Mean Girls."

School is "a little tougher for Ali," says Dina of her youngest daughter, who complained about classroom bullies during an episode of "Living Lohan."

The aspiring singer, who modeled Lindsay's hand-me-downs from an '07 MTV appearance alongside her sis in Los Angeles on Monday, has repeatedly said she wants to be just like her famous sibling.

"I grew up watching Lindsay, and it made me want to do what she does," she told Teen Vogue last year. "Just the whole vibe. Being there, being on camera, or onstage, with everybody listening to you … it's so cool when people look up to you."

While Ali is currently making the rounds with her troubled sis, Dina insists she's not trying to make her little girl grow up too fast.

"People are saying I took Ali to a club, which is absurd," she said, addressing recent reports. "I don't go to clubs and I wouldn't take a 15-year-old to one."
Lindsay, on the other hand …
[From The New York Daily News]
So, yes, we can now assume that Ali Lohan will officially be more screwed up than her sister. I've really had enough with this whole family, but stories like this actually renew my sympathy for Lindsay and Ali. They really didn't even have a chance, did they? With that mother, they could only be this way.
I do have something against home-schooling in general, because I tend to think that everyone has a rotten time in school, so suck it up. I had to, now you should too. But I acknowledge there are some circumstances that home-schooling is better and/or more beneficial for a kid. This is not one of those times. Dina Lohan has pulled Ali out of school to hang out on the beach and audition for porn directors.
Here are Ali and Lindsay shopping in Hollywood on April 21st. Images thanks to WENN.com .