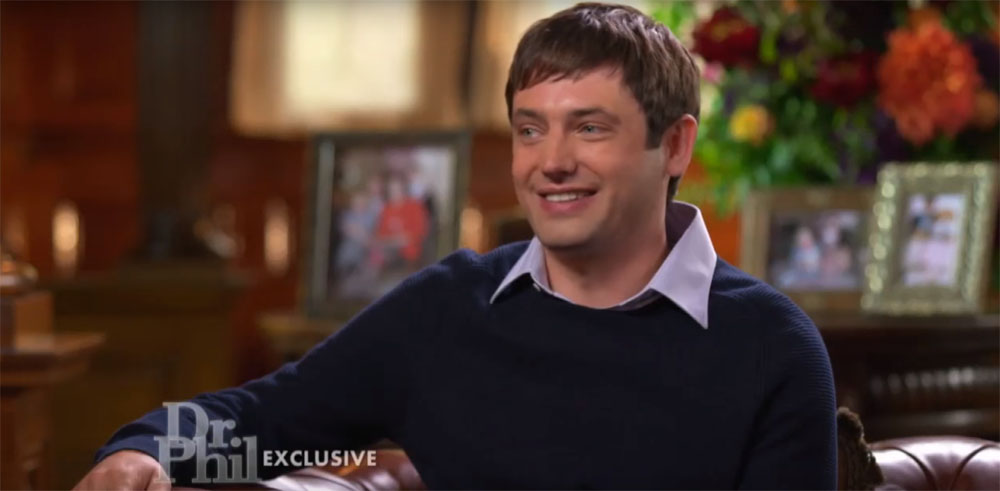 It's been nearly 20 years since the tragic murder of JonBenét Ramsey, who was found dead in the basement of her family's Colorado home. With the recent popularity of true crime docs-series like Making a Murderer, there has been renewed interest in this still-unsolved case. There have already been a number of television projects dedicated to the story with a CBS mini-series and Lifetime movie still to come.
JonBenet's older brother, Burke, has finally broken his silence and opened up about the events surrounding the murder to TV psychologist Dr. Phil. In a 3-part interview, Burke talks about the events of December 26, 1996 and how the crime has affected his family. Seemingly most affected by the murder was Burke's mother, Patsy, who remained one of the top suspects in the crime. On the accusations, Burke told Dr. Phil, "It doesn't make sense. Not to say she never got upset, but nothing near laying a finger on us, let alone killing her child." He went on to say that his mother never even doled out spankings.
While discussing the events of the day of the murder during the interview, including watching his mother frantically searching for JonBenét, Burke is seen smiling, which is slightly disturbing. Check out the clip here:
Dr. Phil talked about this rather uncomfortable aspect of the interview on the TODAY Show last Friday, acknowledging, "He is smiling. People are going to see this throughout the entire interview, [a] really unusual affect, either smiling or laughing." He blames Burke's unusual mannerisms on the fact that the 29-year-old security analyst isn't really a people person telling TODAY:
He's a software engineer. He works remote. He doesn't go in to work every day. For 20 years he has been off the grid. My impression is he's socially awkward. People are going to be very interested in his demeanor, and they're going to find his demeanor atypical. He might be talking about some pretty dark aspects of this story and smiling while he's talking about that.
It is kind of creepy that he keeps smirking, in fact, Inside Edition discussed viewers' outrage on social media over his unusual behavior and featured an interview with a behaviorist who thought his fidgeting was an indication that he had to have something to do with the murder. Dr. Phil defended Burke's odd on-screen demeanor, telling the show, "He didn't grow up like a normal child…he lived a siege mentality." His childhood definitely couldn't be described as normal, that's for sure. I am sure he was nervous to be on national TV, which may account for his smirks and fidgeting but, does anyone else think he may have Asperger's or mild autism?
As to why Burke waited 20 years to finally tell his side of the story, he told Dr. Phil, "it's the 20th anniversary [of the murder] and apparently still a lot of attention around it, and I guess I kind of wanted to make it about remembering her and not just another news story." He went on to say how the case – and the media scrutiny surrounding it – lent to his 20-year silence:
For a long time, the media basically made our lives crazy. It's hard to miss the cameras and news trucks in your front yard, and we'd go to the supermarket sometimes and there'd be a tabloid with my picture, JonBenét's picture, plastered on the front, or they would follow us around. Seeing that as a little kid is just kind of a chaotic nightmare, so I was pretty skeptical of any sort of media, like, it just made me a very private person.
The remaining episode of Dr. Phil's interview with Burke airs on Monday, September 19. The CBS mini-series, Case Closed: JonBenét Ramsey, which can hopefully shed some new light on the case, premieres on Sunday, September 18.