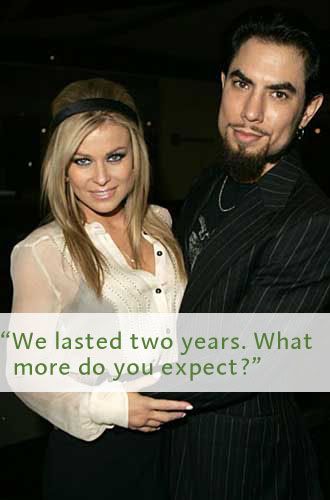 Dave Navarro and Carmen Electra have spent a lot of time apart recently, and Navarro has been partying while his wife is away. People are speculating that their marriage is in trouble:
It looks like the danger signals are flashing for the couple that got married before MTV cameras in Las Vegas back in 2003. The twice divorced Navarro – whose mother Connie Navarro was tragically murdered when he was a teenager – has been battling substance abuse on and off for a long time.
Dave says he's been sober for the last four years – nevertheless, going out on the town certainly can create temptation. And while Dave was hitting Hollywood hot spots recently, we've learned that Carmen was thousands of miles away at The Opera Ball in Vienna thrown by multi-millionaire Richard Lugner.
Navarro and Electra's upcoming schedules are full, making it difficult for the two to spend enough time together to rekindle their romance.
Marriage is work, and we hope that Navarro and Electra will put in the time and effort it takes to stay together.