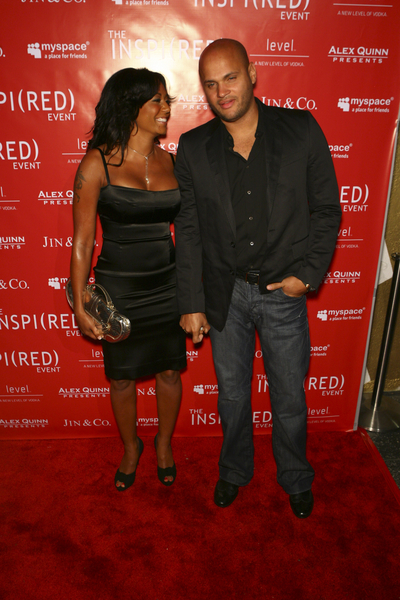 Melanie B and her new boyfriend film producer Stephen Belafonte
In one of the more moving paternal addresses we've seen in a while, Eddie Murphy has acknowledged his daughter Angel Iris Murphy Brown. He also made sure to counter Melanie Brown's statement that "she was planned and wanted by both of us." Heaven forbid the he let the kid think she was wanted when she wasn't. His publicist, Arnold Robinson, released a statement.
"'Mr. Murphy and Ms. Brown dated very briefly and never made any plans of ANY sort,' the statement said. 'He acknowledges paternity of the child Angel, and has paid child support to Ms. Brown as well as covering the expenses of her pregnancy.'"
[From the Associated Press]
Well if it's in ALL CAPS, it must be really really true. Poor kid. I'm sure she'll always be treated as an obligation. Gloria Allred, Scary Spice's lawyer, responded by noting that Eddie seems to think of Angel as a financial obligation instead of his daughter.
"'He has not indicated in his statement or to us that he plans to visit the baby.'" Brown's primary concern is that Murphy 'see his child, spend time with her, hold her, love her and bond with his daughter,' Allred said.
[From the Washington Post]
Gloria Allred actually sounds pretty fair to me. Most psychologists agree that a girl who is treated well by her father will have better self esteem. There's obviously a lot of exceptions. But having your father treat you like you're nothing more than a financial burden can't be good for a little girl. Mel B had a much publicized lunch with Nicole Mitchell, (who Murphy was married to for twelve years) this past weekend. The two met, with Nicole bringing along her five children with Eddie and Mel bringing Angel Iris. There were really cute pictures of them all embracing, and a picture taken through a window of Nicole holding Angel and playing with her. I'm sure it was a well-orchestrated photo op, but it sends a very clear message to Eddie: the women you've screwed over are forming a united front. Somehow it bugs me that he's left such a trail of little children in his wake. He's moving on happily with his life, buying his new doe-eyed fiancé an eight carat engagement ring, while ignoring at least one of his kids. If he doesn't get his act together, pretty soon they'll be adults, writing "Daddy Dearest" memoirs.
Images thanks to PRPhotos.