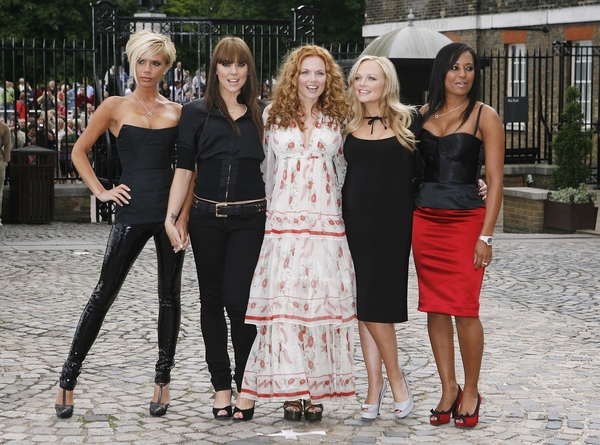 Well it was a close call apparently, but the Spice Girls won't perform in Baghdad. They held a competition on their website for write-in votes for which city they should perform in – dubbed "Spice City" – that was not currently on their itinerary. The winner was Toronto, but only by a hair. Baghdad, Rio de Janeiro and Chicago were all close contenders. Something tells me that the people who were writing in for Baghdad are all in the 12 – 17 age group. But it must have been a massively organized effort to pull in so close.
"'We are delighted to be going to Toronto. We have such incredible fans there and we are amazed at such a positive reaction,' the Spice Girls said in a statement.

"The Spice City competition was set up to give fans the chance to bring the band to their city for an "extra special performance," the group said.

"Adding Toronto means Emma, Geri, Mel B, Melanie C and Victoria will now play 15 dates on their imminent world tour. The "Spice City" show will take place some time in January.

"The Spice Girls announced in late June that they were reforming, seven years after they split, and unveiled plans for a 10-date tour. Four more gigs were added to meet demand.

"Over 3 million people registered online to buy tickets, which promoters say suggests that up to 18 million fans want to see the five women in action again.

"Their revival tour kicks off in Vancouver in December, after which they will play cities including New York, London, Hong Kong, Sydney and Buenos Aires."
[From Reuters]
Several media sources are covering this story as though the Spice Girls narrowly dodged a bullet. Something tells me that, had Baghdad won, something would have come up that made it impossible for them to perform. Just a hunch. I really would like to find out who was behind this whole Baghdad write-in. I really doubt the people of the Middle East were logging onto the Spice Girls website in droves to write in one of the most dangerous cities imaginable. One e-mailer on their website put it this way, "'I think they could get airlifted in to the Green Zone, play a surprise gig and get out with relative safety.'"
Images thanks to PRPhotos.